When I have a baby in the house, I always seem to discover a few new products that become instant essentials for me.
From the flushable diaper liners that make cloth diapering less of a chore to the adorable bandana bibs that help me deal with way too much drool, there are so many things that make caring for a baby a little bit easier.
And my new personal favourite is the Pello floor pillow! This unique circular pillow has quickly become my baby's favourite spot to sit, play and even just relax, thanks to its doughnut-shaped design that helps keep Baby Cormac comfortable and secure.
The Pello comes in an array of designer colours and fabrics, so I chose the blue-toned Nathan Floor Pillow to review.
The reversible baby pillow lounger has a comfortable blue minky fabric on one side and a smooth fabric featuring a trendy blue and white dot design on the other.
After receiving the Pello, I put it down in our family room and set Cormac inside. I could see at once that the curved edges of the pillow gave his neck the support it needed for him to lay comfortably.
He loved cuddling in the pillow and especially liked it when I put a blanket over him and placed the Pello where he could watch the fireplace.
But what really impressed me about the Pello was how it helped transform the tummy time experience in our house!
Cormac originally hated tummy time. He had gradually been growing more accepting of it, but once the Pello floor pillow arrived, he was an instant tummy time convert!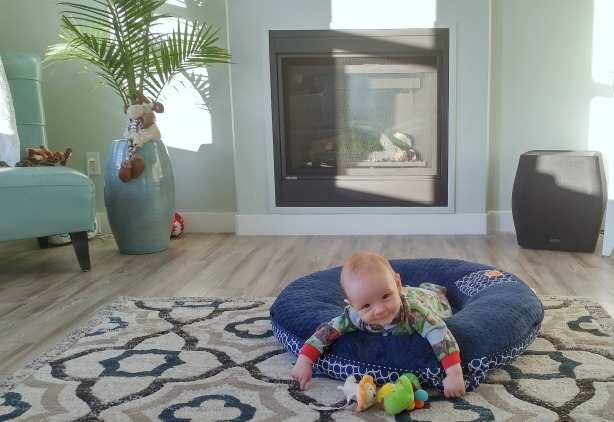 He likes to be placed on his tummy in the Pello with a few toys in front of him on the floor. He'll happily play with them for as long as half an hour at times! Needless to say, I'm thrilled to see that he's having so much fun developing those essential upper body muscles.
And just recently, we've also been using the Pello to help our little boy practice sitting up! The circular design and padded edges of the Pello let me place Cormac in the center and sit him up on his own. When he topples over, he's still safe and comfortable with no risk of a bump.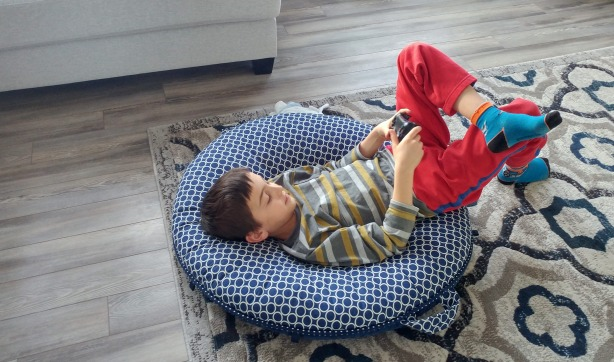 If I needed any further proof of what a great product the Pello floor pillow is, my two older boys would give me that.
Both love curling up in the cozy floor pillow when they're watching television or playing video games. They're always disappointed when I make them crawl out, so their baby brother can use it!
Machine washable, durable and portable, the Pello baby pillow lounger is a great gift for any new babies in your life.
Check out the different fabric options and get one of your own on the Pello website; you and your baby will both be happy that you did!