Disclosure: I am part of the Orange Naturals Mom Ambassador Program and I receive special perks as part of my affiliation with this group. The opinions on this blog are my own.
After almost three weeks of holiday parties, celebrations and fun, I am officially feeling the full effects of too much merriment. Not only do I feel more sluggish, I've also noticed that I'm dealing with more bloating and indigestion than usual. Considering all the rich holiday food I've been eating, that's not surprising. But now it's time to take control of my body again!
That's why I started making a soothing Orange Naturals Peppermint Cinnamon Tea to enjoy every day before bed. With herbs that make it a tea for bloating, it has a delicious spicy flavour that's perfect for a cold winter's night.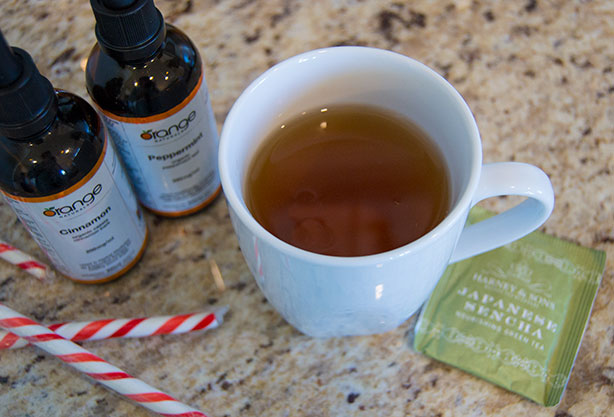 The Orange Naturals Peppermint Tincture in this delicious drink is known for decreasing gas and bloating, which makes it perfect for sipping after a heavy meal. I decided to also add Orange Naturals Cinnamon since it helps regulate blood sugar, and my cravings for sugar spiralled out of control a bit during the holiday season. Finally, the touch of honey adds sweetness and also provides a boost to my immune system.
While I prefer to make this soothing tea for bloating with green tea for the added antioxidant benefits, it's also especially good with herbal peppermint tea or Chai tea since the extra spice gives the tea even more soothing flavour. And in just a few days, I've noticed my sugar cravings aren't as strong and my stomach is less bloated!
If you can't find Orange Naturals tinctures, then peppermint and cinnamon extract also works well. Just remember to start with just half a teaspoon or so of extract, as it can be a bit stronger!
Looking for more ways to improve your digestion? Subscribe to the Orange Naturals newsletter for delicious recipes, health tips and so much more! And if you have a specific question, hop over to the Orange Naturals Facebook page for advice.
With my tasty Peppermint Cinnamon Tea helping my digestion along, I feel like I'm almost ready to dive into my usual routine of healthy eating and daily workouts. I've been putting both things off a bit since Cormac does take up quite a bit of my time. But I know once I start, finding that half-hour a day to walk on the treadmill will be easy!
Whether you're dealing with weeks of unhealthy eating like me or you're just trying to handle a bit of indigestion after an unusually rich meal, this tea for bloating is one that you simply must try. It's simple, delicious and will have you shaking off your sluggishness in no time!
Peppermint Cinnamon Tea
A simple tea with extracts of peppermint and cinnamon to help balance blood sugar and reduce bloating.
Ingredients
1 tea bag, desired varieity
250 ml boiling water
2 ml Orange Naturals Peppermint Tincture (or substitute peppermint extract)
2 ml Orange Naturals Cinnamon Tincture (or substitute cinnamon extract)
1 tsp honey, to taste
Instructions
Add tea bag to boiling water and let steep to desired strength.
Add Orange Naturals Peppermint and Cinnamon Tinctures and stir briefly.
Add honey to taste.
Notes
Green tea is a great choice for this beverage for its extra antioxidants. Peppermint herbal tea provides additional anti-bloating benefits.
Nutrition Information:
Yield:

1
Serving Size:

1 cup
Amount Per Serving:
Calories:

33
Total Fat:

0g
Saturated Fat:

0g
Trans Fat:

0g
Unsaturated Fat:

0g
Cholesterol:

0mg
Sodium:

12mg
Carbohydrates:

9g
Fiber:

2g
Sugar:

6g
Protein:

0g