My family is a wee bit travel obsessed. In fact, on one occasion, we managed to fit eleven different trips into a single year! So, it goes without saying that we're always daydreaming about our next vacation.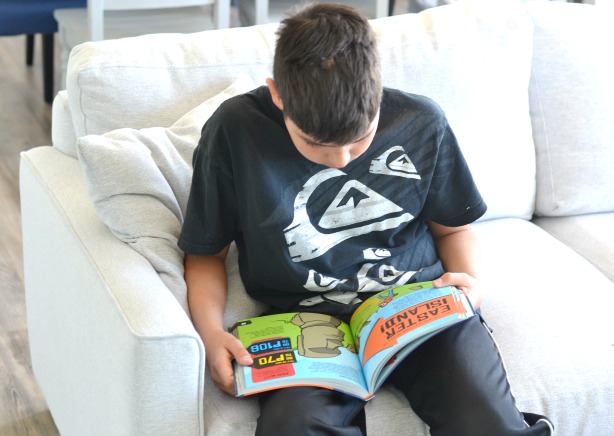 That's why I'm so excited about getting to review some of the new children's book titles from Lonely Planet Kids, distributed in Canada by Raincoast Books! These kids travel books are perfect for introducing children to the wonders of other countries, languages and ways of travel.
First Words: Japanese
I thought this would be a great book for introducing my older boys to some first words in another language, but it ended up being even better for Baby Cormac! The book features sturdy poster board pages and the proper pronunciation for a variety of basic words in Japanese. I like reading it out loud to Cormac so that he can develop an ear for other languages. And he loves looking at the simple, vibrant pictures on every page!
Sticker World: Theme Park
This book is one that I knew my craft-loving middle son would adore. Featuring over 500 stickers, it lets children design their own fun-filled theme park, from choosing the games and rides to including the best food and shows. I loved the way that it let my son go wild with his creativity. Sticker World: Theme Park would be a great choice for a travel activity book, especially if a theme park is on the itinerary for an upcoming vacation!
Around the World in 50 Ways
For my oldest son, this book was the hands-down favourite. It featured not just different locations, but different unique transportation methods in countries around the world. I must admit, I enjoyed this book the most too. It uses a "Choose Your Own Adventure" style and layout to let kids explore from one end of the globe to the other. After reading through it, I'm dreaming of biking to Brussels now!
Tokyo City Trails
When browsing the newest titles from Lonely Planet Kids, this one caught my eye immediately. Japan is my current dream destination, and I can't help but want to read anything about the country. This book was the perfect way to share my excitement about the country and its capital city with my boys, and covered everything from famous sites to unique dining experiences.
To help you fuel your own children's love of travel, Lonely Planet Kids is very generously offering one lucky Mommy Kat and Kids reader all four of the kids travel books I received, a $49 value! To enter to win, just leave a blog comment about which book you think your children would find most interesting.
Of course, nothing will ever beat actually taking that once-in-a-lifetime trip and seeing some of the amazing things the world has to offer. But kids travel books are certainly the next best thing, and these titles are a great way to get your family dreaming of exotic destinations and faraway places!