Disclosure: I am part of the PTPA Media Brand Ambassador Program with Philips Avent and I received Compensation as part of my affiliation with this group. The opinions on this blog are my own.
It's hard for me to believe that almost a year has gone by since I first held my brand new baby boy in my arms. Cormac is now nine months old and as he approaches his first birthday, he's becoming more and more of a handful!
I don't want to stop my baby from exploring the world around him, but I do want to make sure he's safe as he explores. So, over the last few weeks, I've been making some changes so that Cormac's home is a place that helps him learn without putting him in danger. These are a few of the items and techniques I've put on my baby proofing checklist so far.
A High-Quality Baby Gate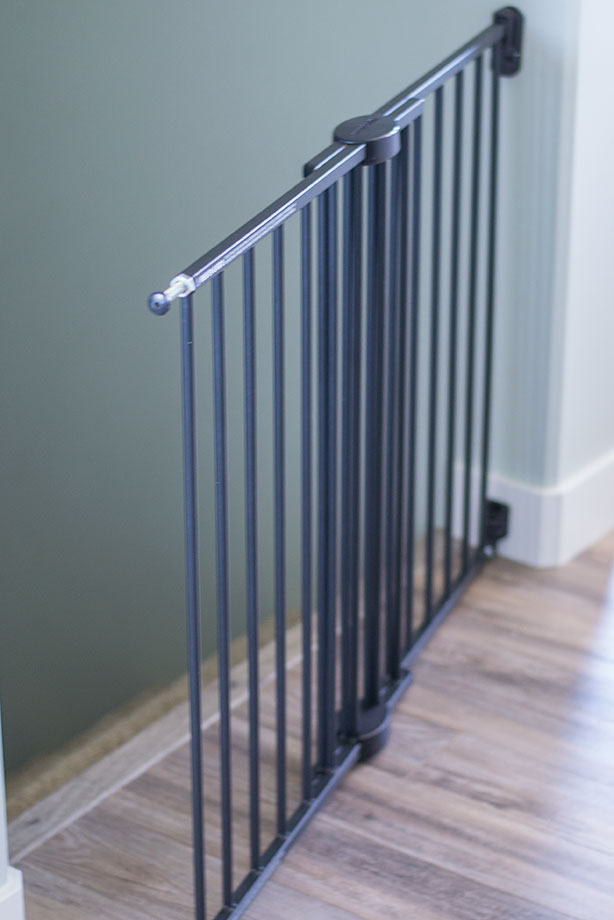 When my older boys were babies, I used an annoying pressure-mounted gate that was awkward to position and a pain to take down when using the stairs. But with Cormac, I spent a little more and got a proper, high-quality metal gate with hinges that easily swings out of the way when needed. I love that with the gate in place, Cormac is free to explore the entire main floor of our house. And my boys love that they can still easily head down to their basement game room when they want!
Cabinet Locks
We don't really keep anything dangerous in our lower cabinets, but we do keep some things that I'd rather not have Cormac getting into! He is obsessed with empty bottles and cans right now, and he quickly discovered that we keep them in a box under the kitchen sink. An inexpensive cabinet lock lets my baby explore the rest of the kitchen without my having to worry about him getting soda residue all over the floor!
A Video Baby Monitor
Cormac is old enough now that he can sometimes play quite contentedly on his own for fifteen minutes or so. And I don't want to interrupt his exploration by hovering over his shoulder all time! The Philips Avent Digital Baby Video Monitor lets me keep an eye on my baby from the next room while he plays. And come nighttime, I just move the camera into his room so that I can make sure he's safe as he sleeps. The monitor features lullabies, a soothing nightlight, a temperature monitor and even a talk-back feature so that I can soothe Cormac back to sleep from my own bed!
Baby Knee Pads
While I want my baby to be safe as he explores, I also want him to be comfortable. His sleepers and pants are slippery on our laminate floor, making crawling more challenging and increasing the chances of a slip. On the other hand, leaving him in just a diaper means his delicate skin is rubbing on the hard surface instead. Baby Knee Pads are cute leggings with grips on the knees that let my baby cruise around without slipping or hurting his little knees.
Closed Doors
When it comes to keeping Cormac away from dangerous spots, I've found there's no need to go overboard with expensive accessories like toilet locks or oven latches. Instead, I close doors strategically to ensure he has a zone of safe areas that he can access as he likes. That way, I can minimize the amount of babyproofing I do for now, while still letting him find new and interesting things to discover. Right now, the hall closet is his favourite spot to explore. He loves examining all our different pairs of shoes!
As much as I hoped my baby would stay a baby for a little while longer, I am loving watching him explore the world around him. Taking him outside is my current top activity choice; he has so much fun playing in the dirt and experiencing the warmth of spring for the first time.
And with a few different items and a little planning, I'm able to give Cormac free reign to explore as he wishes. He's always been an active boy and now that he can get around on his own, he's in his glory. Luckily, as I keep an eye on him with my Philips Avent Digital Baby Video Monitor, I know that he's learning about the world safely and happily!