Spring has finally arrived in Saskatchewan and I couldn't be happier! But with a brand-new house on six acres of ungroomed prairie, I also couldn't be busier! My husband and I have a list of the different jobs we want to complete this spring and summer, and we've already started tackling it.
One of our biggest priorities was adding a back deck to our house. We were both a little nervous about it since neither of us had ever built a deck before. But with a lot of research and some help from family, we were able to complete our dream deck in just three days!
Planning a deck build of your own? Here's the step-by-step process that helped take our deck from dream to reality:
Try Deck Designing Software
There are a few handy deck designing tools available online, and I had fun testing them out to create my perfect deck. Of course, every free tool wants to sell you something, so you may need to create a free account or register for a mailing list to get access. But it can be worth it to create a detailed, professional version of your dream deck.
Personally, I used the deck designing software from Decks.com to create my blueprint. It allowed me to download a blueprint and a complete list of materials, all with just a few minutes of time online! I decided on a large deck with angled corners and two sets of stairs.
Check with Your Building Inspector
While deck designing software is great, the blueprints are generally set to the highest possible building code standards. While that certainly means a deck will be built well, it can also mean it costs more than it needs to. When we checked in with our building inspector, we learned that instead of using the ten foundation posts that were on our blueprints, we could instead use only five and still have a solid deck.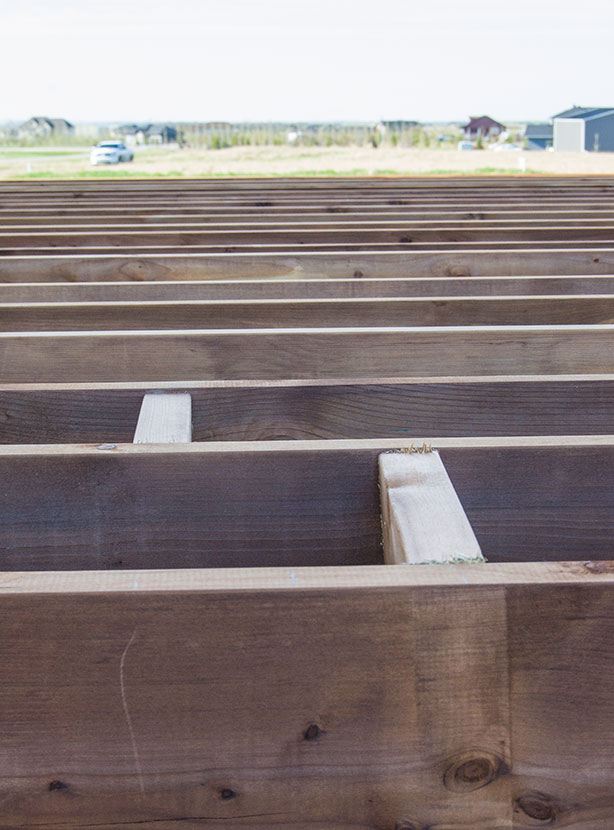 Our inspector also gave us some tips on making sure that the length of our deck was properly supported, as well as some online resources that would help ensure we had all the information we needed to build a strong and long-lasting deck. The building permit cost $125 but being able to eliminate five foundation piles saved us $1000!
Consider Your Foundation
There are many different foundation options for a deck, from simple concrete pads to huge steel posts. The most common method of supporting a deck is usually digging a hole and then filling it with concrete. For our deck, we decided to spend a little more and use screw piles. Because Saskatchewan gets so cold in the winter, the longer metal supports stay below the frost line to prevent the deck from heaving.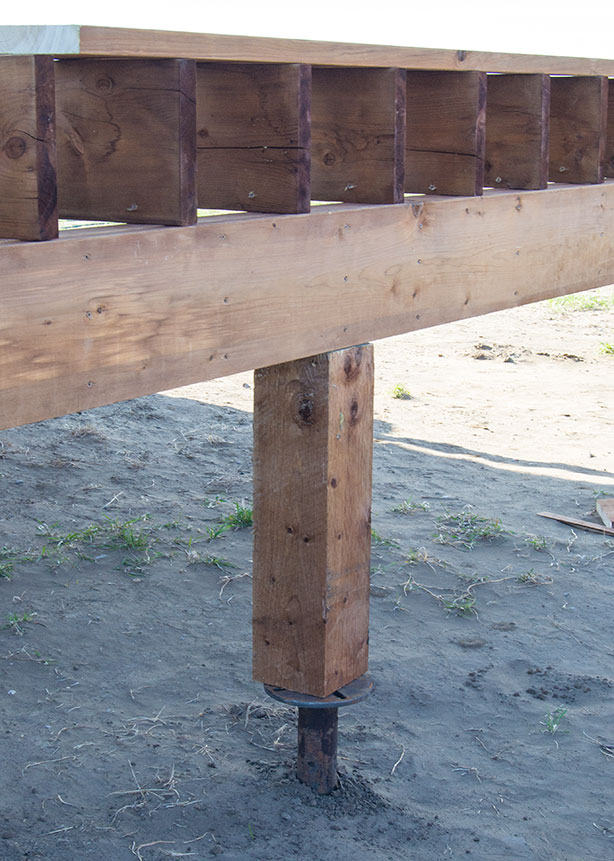 The height of the deck also plays a part in choosing a foundation. A higher deck is especially sturdy when screw piles are used. A low deck may need no more than a concrete pad. And in warmer climates where frost doesn't sink as deeply into the ground, a concrete post may be ideal. Whatever you choose, consider cost, durability and the work involved before making your choice.
Start the Build
With the foundation in place, the building can begin! A deck consists of layers, and our deck was comprised of sturdy six-by-six posts on top of our screw piles, a 3-ply 2×10 beam on top of the posts and then 2×10 joists on top of the beam. Joists are basically just supports for the deck and the boards that will go on top. And assembling the various layers is easy, but does take lots of measuring, cutting and securing!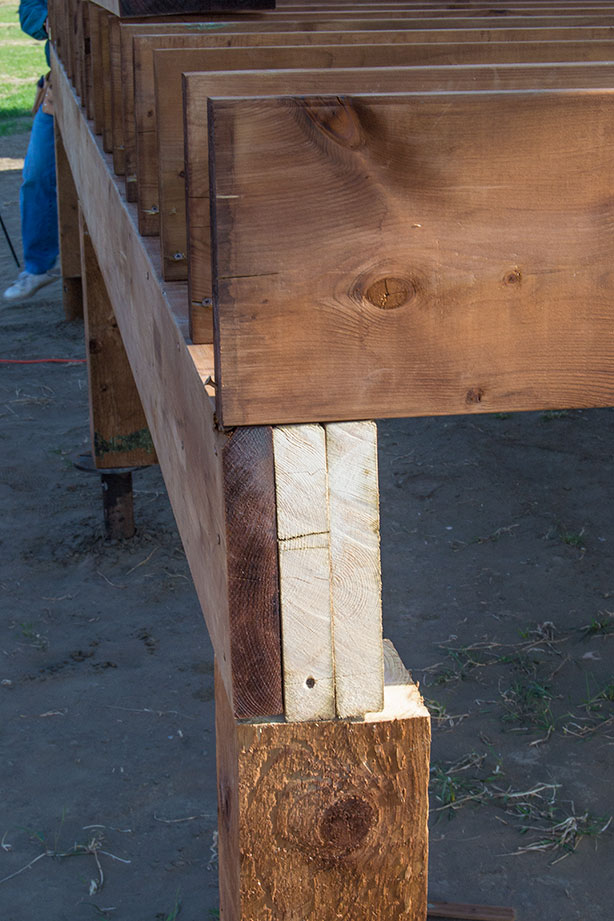 When all the layers are in place, the deck boards can be screwed into the joists. The job is easy, but time consuming. And protecting my hands from splinters was a must! While my husband and father preferred their work gloves, I use my Dig It Long Cuff High 5 Gloves for DIY work like this. They feature unique cushioned fingertips to help protect my nails while I work. And I love how they're fitted to my hands!
Choosing a decking material is another important consideration. While composite deck boards are longer lasting, the low price of pressure treated lumber is a big plus. We chose brown pressure treated lumber for our deck boards. It did splinter a bit here and there when putting in screws, so I just sanded lightly over all the screws to help keep little feet safe.
Railings and Stairs
With our deck built and looking beautiful, we had only two more things to add: the railings and the stairs. Since the deck and our yard are so large, we wanted a set of stairs on either side of the deck. We decided to spend some extra money putting in white metal railings, to save ourselves any maintenance in the future. We're now waiting for the railing to arrive, and I can't wait to put it into place!
We decided to make the stairs five feet wide, using two 2×6 deck boards per stair for a nice, sturdy step. One of the biggest challenges we faced was finding the right height of angled stair stringers for our steps. It took us three tries to get it right! Then it was simply a matter of screwing the boards into place on each metal stair stringer to create our steps, then attaching those steps to the deck.
I am so excited to have our back deck completed and can't wait to get our barbecue and patio set in place as soon as the railings are up. And throughout the building process, my Dig It Long Cuff High 5 Gloves and Eye Dig It Safety Sunglasses ensured that I was building as safely as possible. Whether a screw flew away from me when I was putting in deck boards, or I was lifting a splintered piece of wood, my hands and eyes were protected.
If you're planning some DIY building this spring, make sure to grab your own pair of Dig It gloves and safety glasses. They're fashionable, functional and will help you create the backyard oasis of your dreams. Whether you're building a big back deck like ours or just laying down some paving stones in a favourite nook, Dig It products are the perfect accessory to your project!