I love almost everything about summer. The warmth, the sunshine, the time spent relaxing outside….
But as much as I love summer, I don't love the bugs that come with it! And living on six acres of open prairie means that there are a lot of them!
That's why I was so excited when NuTone, a company that specializes in innovative residential products, sent me the NuTone Haven Backyard Mosquito Repellent System to review. This unique system helps eliminate mosquitoes from an outdoor area, no bug spray required!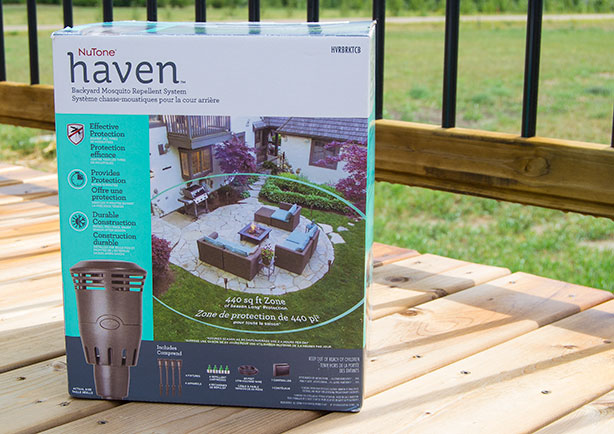 The Haven uses a control unit and four pillars to do its work. Low-voltage wire connects the pillars, so installing it does mean scraping out a few simple trenches between each post and burying the wire. But once it's in place, you can enjoy a bug-free yard for years!
Since we're still doing quite a bit of landscaping and haven't finished our backyard area yet, we decided to mount the posts on our deck to test them out temporarily this year. We inserted lag bolts up through our deck boards to hold the posts in place and then ran the wires around the underside of the deck to each post.
The system provides up to a 440 square foot zone of protection. Since our deck is about 380 square feet, I was confident the system would be working at its best. With the posts in place and connected to one another, I then inserted a cartridge of repellent into each post.
Finally I simply had to mount the controller to the house, plug it in and enjoy our bug-free deck! When the controller sends power to the posts, the repellent is slowly released to keep bugs away.
Each cartridge lasts for up to 216 hours, which means that one cartridge offers the protection I want all summer long, and maybe even longer! A replacement package of four cartridges is about $100 but since it's a once-a-year purchase for bug-free fun all summer, it's worth the cost for our family!
So, the big question about this system, I'm sure, is does it work? And after having it in place for the last week or so, I can say that it certainly does! In fact, I often see mosquitoes buzzing against the patio window prior to turning it on and notice they're gone just minutes after activating the system.
For me, the best part of this mosquito repellent device wasn't the wide protection area or even the fact it starts working in less than 15 minutes. It was that I could finally take my children outside without having to spray them down with chemicals first.
In fact, I had sometimes been avoiding the outdoors this summer because of Baby Cormac. Even a children's bug spray, according to the directions, isn't supposed to be applied more than once a day. That meant we had a pretty small window to enjoy the fresh air, sunshine and stunning view of our property from the deck.
But since installing the NuTone Haven system, we've been able to spend hours outside in comfort. I especially notice how effective it is when dusk arrives. Sitting on the deck watching the sun set and enjoying the cooler temperature after a hot day is a treat, but usually the mosquitoes keep us from being able to enjoy it.
Now, when I turn on my Haven system, dusk is a time of bug-free relaxation. In fact, I've loved having protection on our deck so much that I may get another system for our eventual lower seating area and leave this one in place permanently. It's simply the best mosquito repellent device I've found!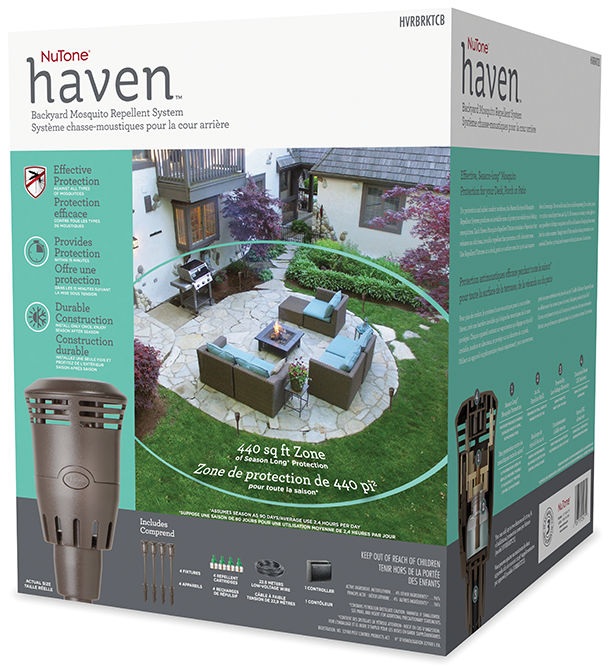 For those that want a little extra bug protection in their outdoor space, the NuTone Haven also offers an extender kit that can be connected to the system to increase its range. And right now, the starter kit is offering shoppers a $45 rebate with purchase! Find the Haven at Rona, Lowes and Ace stores across Canada and take back your backyard this summer!