I love so many things about planting a garden. Seeing that first green shoot pushing up through the soil, watching the first flowers and vegetables appear on each plant…even clearing out weeds is fun when I see my little garden thrive!
But my very favourite thing about planting a garden is harvesting the fruits, vegetables and herbs that I've planted when they're finally ready each fall!
If you're new to planting a vegetable garden, you may be wondering when the best time is to harvest those vegetables, and how to preserve carrots, potatoes and other produce you have in abundance.
If so, grab your Dig It gardening gloves and follow these tips for harvesting and storing six popular varieties of garden produce!
Picking and Ripening Tomatoes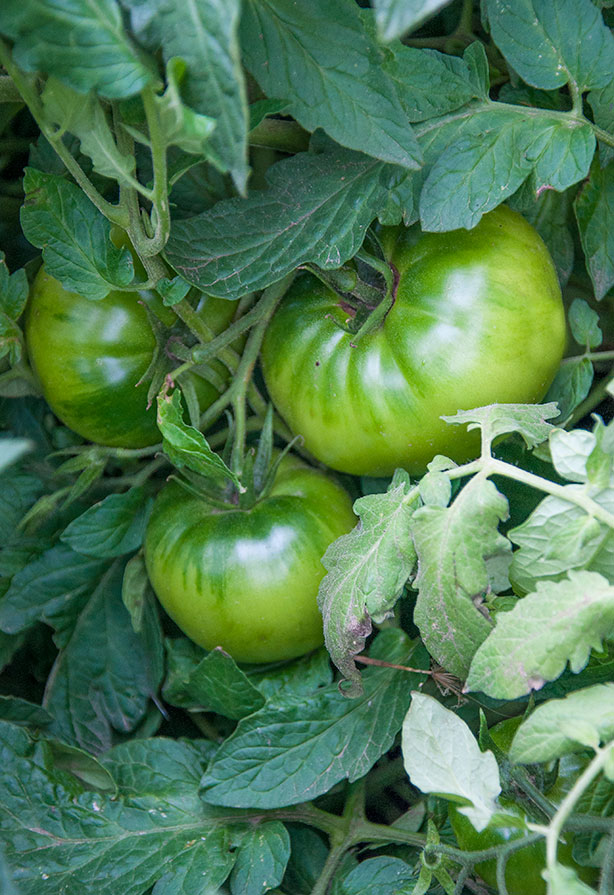 Tomatoes are such a wonderful taste of summer and with a little planning, it's a taste you can enjoy right into the holidays and beyond! Harvest tomatoes off the vine when ripe but pick all of them, including green ones, before the first heavy frost. Wash and dry green tomatoes well and then store them indoors to ripen.
Cooler temperatures mean slower ripening, so if you have a bumper crop, leave some to ripen on the warmer main floor and put the rest in a cool basement area for fresh tomatoes for months! Tomatoes are best left to ripen in a flat cardboard box, not touching one another. Check them often for signs of rot and remove any bad ones!
Harvesting Potatoes
To get as many potatoes as possible, don't harvest them until the plant is completely dead and withered. Then dig up the potatoes and brush off any large clumps of dirt. If you're eating your potatoes soon, you can then wash them off as well.
If you have a large harvest or plan to save the potatoes for winter, leave them dirty and pop them in a burlap sack to store in the basement. The dirt helps the potatoes stay fresh and delicious longer!
Picking Beans
Beans can be harvested all summer long and into the fall as they reach the desired size. Harvest the last of the beans before the first frost or cover them if desired to extend the growing season a little longer.
Beans keep for about two weeks when washed and stored in the refrigerator. They also freeze very well when trimmed, blanched for a few minutes and packed into freezer bags. Enjoy frozen beans for months after harvesting!
How to Preserve Carrots
Carrots can continue to grow after a light frost with no issues. In fact, as long as the carrots are harvested before the ground freezes solid, they can even be left in the ground until the first snowfall and still be good to eat. Harvest them when the tops are between a quarter and a half inch.
Wondering how to preserve carrots when you have extra? Washed carrots last in the fridge for weeks, but if you have more than you can eat, consider slicing, blanching and freezing them for later use. Carrots also stay fresh for a couple of months when kept in a bucket of sand in a cold room.
Preparing and Storing Onions
When onions grow, the green tops can be harvested and used in any recipe calling for green onions. Just make sure to only clip one or two leaves from each growing onion if you'd also like to harvest bulbs in the fall! Like potatoes, onions are best harvested when the top of the plant starts to yellow and die.
When the onion top falls over, the onions can be pulled from the ground. Lay out onions in a cool spot until the outside of the bulb is dry and papery. Then trim the top and roots of the onions and bag them for storage. In a cool place, onions will keep for months.
Preserving Fresh Herbs
There's nothing better than fresh herbs from the garden, but you'll likely end up with more herbs than you can use before the weather turns cold! For flavour that's almost as good as fresh, chop and freeze herbs like basil, chives and mint. Simply strip the leaves from the stems and freeze in an open tray. Then package the leaves in small bags for later use.
Herbs such as rosemary, oregano and dill are better suited to drying. Cut stems and tie them into bundles, then hang the bundles upside down until the leaves are fully dried. And remember, most fresh herbs will also last for a week or two in the fridge, so save some for fresh use in the days after that first frost!
Being on a new property that's not yet landscaped, I didn't have a chance to plant a very large garden this year. But I did manage to plant a few carrots, potatoes and onions. I also planted six small tomato plants I bought for about two dollars, and a few fresh perennial herbs.
Some of my plants did better than others, but it was the tomatoes that really shone this year! My six plants yielded over eighty large tomatoes and about a hundred smaller ones, which might or might not ripen. I've decided to freeze any of the little ones that seem to be softening instead of ripening and then turn them into green tomato salsa!
Harvesting so many tomatoes would have been hard on my hands and nails, though, so I was grateful to have my Dig It gloves. The padded fingertips ensure that my nails don't split or break when I work, and the sized fit was the next best thing to working with bare hands!
Fall is also a great time to plant spring flowers, so once those vegetables have been harvested, make sure to grab some of the many varieties of tulip bulbs currently available! Plant them before the ground freezes to enjoy gorgeous flowers first thing in the spring. Just make sure to protect your hands with your favourite style of Dig It gardening gloves!