It's no secret that I'm a sucker for sweets. And if you dream of Cotton Candy and Strawberry Shakes like I do, it's time to take your love of all things sweet to sleep, with a little help from Sweet Sheets bedding!
I was recently introduced to this fabulous Alberta-based company run by three hardworking moms. Their goal? To bring sweet dreams to North American families with a line of soft and comfortable dessert-inspired microfiber sheets!
The company generously sent me some new microfiber sheets to review, and my middle son was so excited to see the richly coloured Saskatoon Pie sheets. Dark purple is one of his favourite colours and he couldn't wait to add the colour to his room.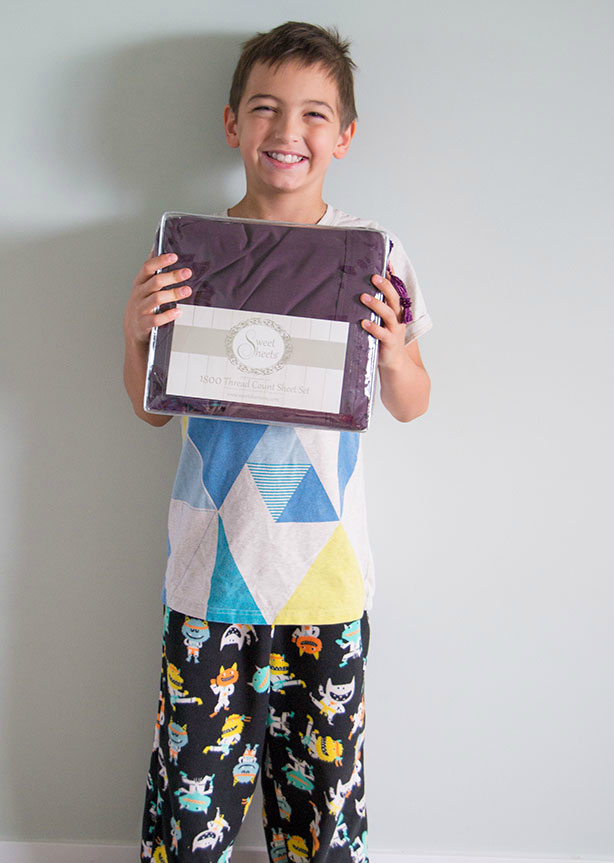 For my oldest son, the soft Black Licorice shade was a better fit. He's currently just shy of his teen years and has developed a new fondness for the colour black. The Sweet Sheets shade was ideal; it was rich and soft without being too depressing.
But for our own bed, I chose the dreamy golden Salted Caramel microfiber sheets! The rich colour fit perfectly with the tones in our vibrant burgundy duvet cover and highlighted the Moroccan bedroom theme we had created.
With our new sheets in place, it was time to see if Sweet Sheets would help inspire sweet dreams. The sheets are made with a high-quality double-brushed microfiber that has a softness comparable to 1800 thread-count cotton sheets. They're guaranteed against pilling and shrinking, with 14" deep pockets to properly fit both standard and pillow-top mattresses.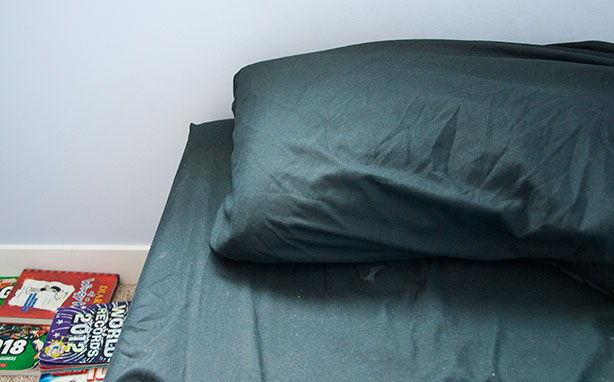 Personally, I loved that the fitted sheet was fully elasticized. I've found that elastic all the way around a fitted sheet makes putting it on properly so much easier. I pulled the fitted sheet into place, added the top sheet and pillows, then finished off the look with our duvet.
But of course, the ultimate test for the whole family was how comfortable the sheets were! I knew from putting them on the beds that they were luxuriously soft, but I didn't fully appreciate the softness until I was tucked into bed that night.
These microfiber sheets are so smooth that they're almost like satin. They had me drifting off to sleep in no time, and I noticed that while they were warm, they also had nice breathability so that I didn't get overly hot and sticky.
And after taking them off and washing them about three times since receiving them, they've stayed just as soft, smooth and comfortable as the first time I put them on. In fact, Sweet Sheets microfiber sheets are guaranteed against pilling and losing their elastic for six months!
I have a special place in my heart for momtrepreneurs, so while I love the quality and comfort of these sheets, one of my favourite things about the company is that they use a direct sales model that lets others earn an income selling Sweet Sheets too. While the company was originally launched by just one mom selling at trade shows, the sheets were so popular that others wanted to start selling too. Now, Sweet Sheets has almost 200 consultants across North America!
Best of all, the company also offers a fundraising program so that schools, sports groups and other organizations can earn money while helping supporters sleep in comfort. After years of buying unneeded coupon books, cookie dough and magazine subscriptions, I would be thrilled to have the chance to refresh my bedding while supporting a great cause!
To help you sleep a little sweeter, Sweet Sheets is very generously offering one lucky Mommy Kat and Kids reader their very own set of microfiber sheets in their chosen colour and size, up to an $89 value! To enter to win, just leave a blog comment about which of the adorably-named sweet shades you'd choose if you won.
With prices starting at just $39 for a Twin sheet set, outfitting a house in Sweet Sheets is an affordable upgrade that will improve your bedroom's style and comfort. Check out all the tasty choices and then find a Sweet Sheets consultant near you or shop online and make your bedtime a little more delicious!