It's always a treat to discover a great tourist attraction right in my own back yard and luckily for me, there are plenty of amazing things to do in Saskatoon, Saskatchewan and the surrounding area.
But there are always new sites and activities to discover, and this year I was introduced to one that the whole family will enjoy! The Wheatland Express Excursion Train is an award-winning Saskatchewan attraction that features themed train rides about an hour outside of Saskatoon!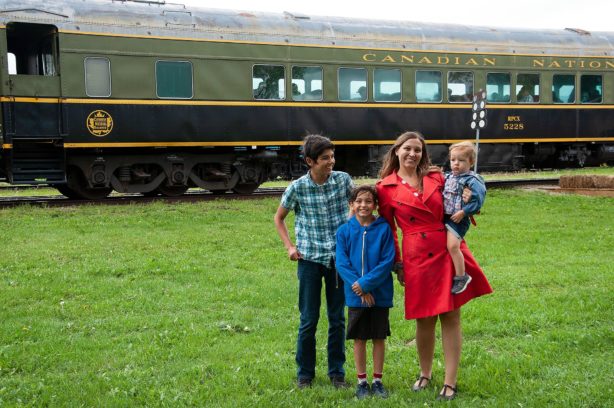 From murder mysteries to music concerts, there's a train ride for everyone on the Wheatland Express. And for families, the Family Summer Express train is sure to be a hit! We were given the chance to hop on board the Family Summer Express on July 28, and I couldn't wait to see what it was like.
The train left from the small town of Wakaw, Saskatchewan. Pulling up to the train was a treat, and of course we had to snap a quick picture before we boarded. Then, we picked up our tickets and the conductor directed us into the appropriate car to find our seats.
The Family Summer Express train is one of the best train rides for kids and we loved the comfortable and casual environment. I couldn't help but smile seeing how quickly my toddler settled onto the train; he couldn't wait to get going!
We pre-ordered lunch to eat on the train, and it was so much fun to get our boxes of food and eat them in our seats once the train started rolling. We also treated the kids to the specialty drink of the day: blue raspberry lemonade! Meanwhile, my husband and I enjoyed an adult beverage from the full bar featuring local beer, wine and cider.
Part of the enjoyment of this train ride for kids was simply walking around the train exploring. The end of each car featured half doors with the top left open so that we could look out at the countryside as we zoomed past. And walking from car to car let us feel the sway of the train as we traveled.
But the other thing that makes the Family Summer Express one of the best train rides for kids is the entertainment! Our ride featured performances by two different entertainers. First, Princess Parties performers Ava and Alex (dressed as Elsa from Frozen and Moana) sang some hit Disney songs. It was adorable watching these little performers; both were just 11 years old!
Then, Singing with Sylvia, a children's entertainer for almost 30 years, picked up her guitar and started her show! She was full of jokes and her addictive songs had the entire train car clapping and dancing along. It was a treat for my husband and I to see how much little Cormac enjoyed the music; he jumped, spun and bounced along to the beat as soon as the first song started!
The performers move from car to car entertaining the passengers, but that didn't mean we were left with nothing to do when they were somewhere else! Complimentary face painting was also offered all passengers, courtesy of Kreative Mum!
My middle son never misses a chance to get his face painted, and our trip on the Family Summer Express was no exception! He decided to be a zombie and I was blown away by how detailed his design was. Kreative Mum has been providing face painting in Saskatoon and the surrounding area for over six years and it's easy to see why her services are in such high demand.
The train traveled from Wakaw to Cudworth and made a brief stop at the Cudworth Museum. While it was closed when we visited, we did get the chance to see Spike, the Wheatland Express mascot, and take a fun and silly farm picture! Then, it was back on the train for the journey home.
On the way back, the boys were treated to a complimentary chocolate chip cookie, colouring pages, crayons, stickers and a few other kid-friendly goodies. Then we were pulling into the station and it was time to head home.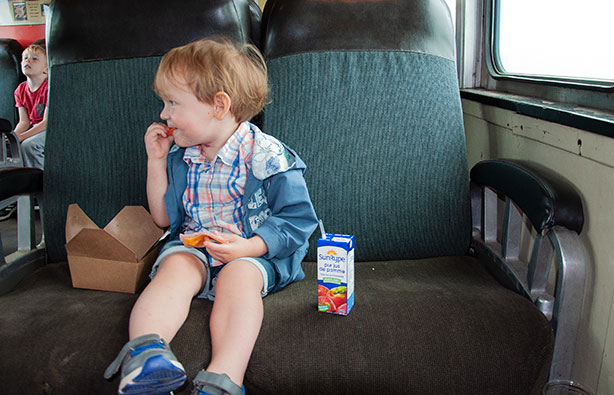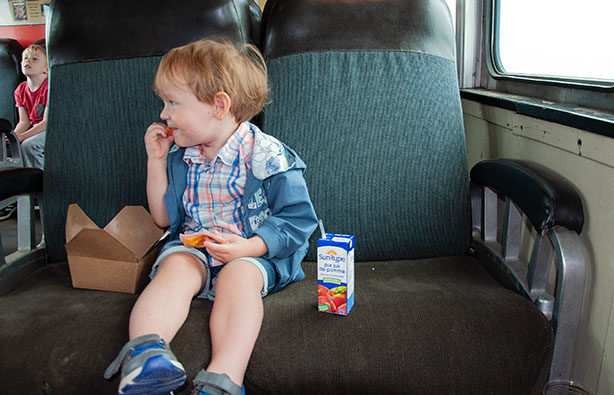 The Wheatland Express Family Summer Express train trip is about 2 ½ hours in total and was such a unique way to spend a Sunday afternoon. When it comes to great train rides for kids in Saskatchewan, this one can't be beat!
If you're in the mood for a more adult experience, there are plenty of those available too. After travelling with my boys, I can't help but want to take another trip with just my husband…perhaps on the wine tasting train!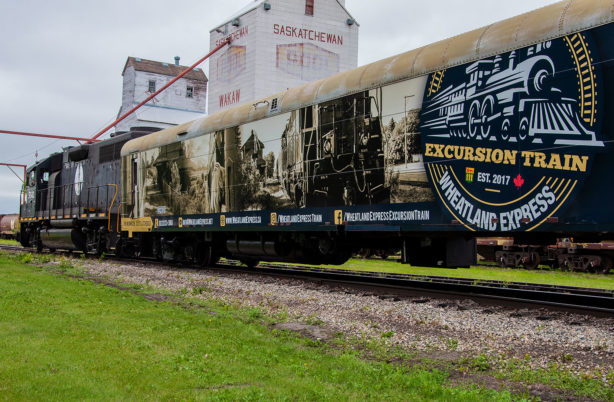 If you've always wanted to travel across the prairies by rail, visit the Wheatland Express website or Facebook page for more information on the various train rides and upcoming schedule. And if you just can't wait to take your family on a ride, make sure to grab your tickets now for the next Summer Family Express on August 25!