Staying home day after day with my three rowdy boys means that I'm in often in need of a little more sparkle in my life. But when options for entertainment are limited, what's a mother to do to add a bit of fun to the daily routine?
For me, the answer is the Drinkmate home carbonator! This innovative new carbonation system has one distinct advantage over most home systems…it can carbonate absolutely anything!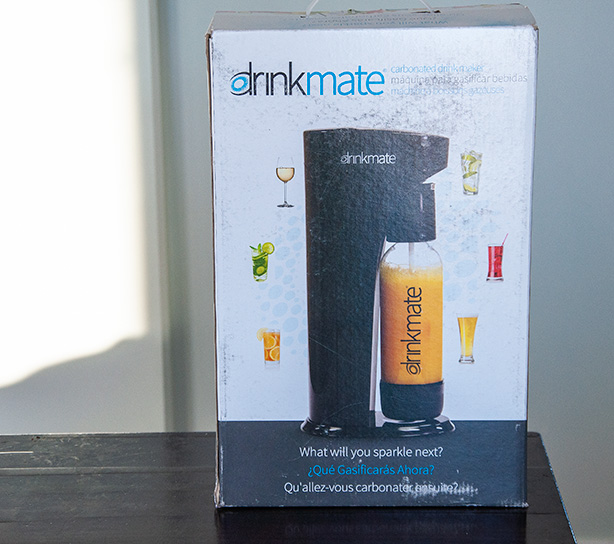 Having had a SodaStream system in the past, I know from first-hand experience what happens if it's used to carbonate anything other than plain water. Simply put, it makes a MESS.
But the Drinkmate system has a unique sealed cap that lets me gradually release pressure after carbonating without the bottle foaming all over the counter. That unique cap lets me carbonate everything from juice to homemade lemonade to wine with perfect results every time.
Of course, as a lover of Prosecco, I couldn't resist carbonating my favourite cheap white wine to see if it compared to my beloved special-occasion beverage. And the results couldn't have been better. The wine was light and bubbly and made my simple glass of evening wine feel like a celebration.
But of course, I couldn't stop there! I wanted to let the kids enjoy the fun of a sparkling drink too, so I mixed up a blend of lemonade and cranberry juice to carbonate next. My older two boys loved the fizzy drink and have requested it numerous times since.
For my husband, who's a big sweet iced tea fan, the system was a great way to make his favourite cold beverage even more refreshing. We brew the iced tea at home and sweeten it with Stevia so it's zero-calorie. Carbonating the iced tea once it was cold was the perfect finishing touch to the drink.
We may still have many days at home ahead of us, but the Drinkmate system has been a great way to make a boring day more fun. And I can't wait to experiment even more with carbonating some of my favourite beverages!
If you've been longing for a little more sparkle in your life, check out the Drinkmate system for yourself and consider adding one to your household. Whether you want to make healthier sodas with natural ingredients or the ultimate cocktails for a special treat, the Drinkmate will let you do it with the push of a button.