Finding a good skincare regime is a must for every woman. It helps keep skin healthy, allows us to treat problems ranging from acne to aging and lets women look and feel their best.
But some statistics show that the commercial cosmetic industry is one of the worst generators of waste in our society.
And many of the products also use potentially harmful chemicals and synthetics. That's why going zero-waste can be a great choice for your skin and the environment!
How Much Plastic Are You Throwing Out?
It's easy to not notice how many empty containers the standard skincare regime produces, since they often simply get tossed in the bathroom garbage.
To get an idea of how much waste your skincare regime creates, save the bottles for a month. You may be shocked by how much you throw out!
Many skincare containers are made of HDPE #2 plastic, which takes a minimum of 100 years to decompose. Switching to waste-free skincare products is a simple way to help out the earth, while also letting you discover great new products for your skin!
Zero Waste Skincare Products
The best thing about zero-waste skincare products is that they also generally contain natural, eco-friendly ingredients.
Look for skincare that uses ethically sourced ingredients and natural blends to ensure your skin is is nourished by nature. Zero waste packaging can include compostable cardboard, reusable glass bottles or recyclable metal tins.
Wondering how to get started? These three must-haves are a great place to start your zero waste skincare journey!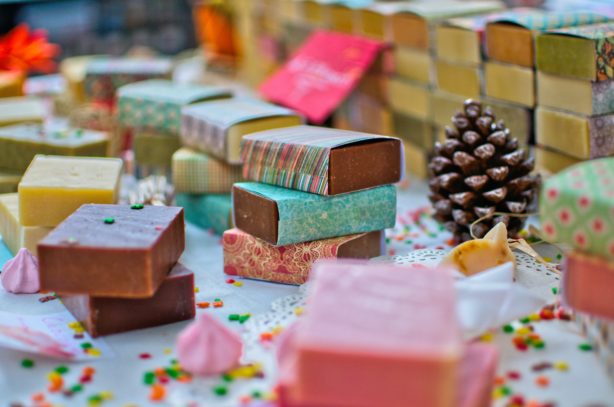 One of the best ways to immediately cut down on skincare waste is to switch to a facial bar. It's the ultimate zero-waste product since it doesn't require any packaging, and the organic ingredients cleanse and nourish the skin.
This Eco Roots facial bar contains ingredients like ylang ylang essential oil and geranium to help soothe acne-prone, sensitive skin.
Just like the name suggests, this moisturizer benefits the earth while giving your skin what it needs to stay hydrated. After cleansing, a good moisturizer is essential to keep the skin hydrated and healthy.
This YFE moisturizer is actually a facial oil, so a little goes a long way. And the natural beeswax, pomegranate oil and olive oil in the formula are all sustainably sourced. The moisturizer comes in a reusable or recyclable glass jar.
If you love a good lip balm, you probably already have some idea of just how many of those small plastic tubes you toss in the garbage.
Apothecary Muse has come to the rescue for lip balm lovers with a nourishing natural balm that comes in a compostable paperboard tube.
Containing coconut oil, cocoa butter, carrot seed oil and other nourishing ingredients, it moisturizes and protects lips, with SPF for added sun protection.
Going zero waste doesn't mean sacrificing healthy skin. Higher demand for zero-waste products has motivated more and more companies to come up with eco-friendly solutions.
And all-natural products, from skincare to eco-friendly makeup, help ensure your skin and the earth avoid exposure to unnecessary chemicals.
To get more product ideas that will help you move to a zero-waste skincare regime read more here. You'll love how many high-quality zero waste options there are!