This content was sponsored by Audible.ca.
Fairy tales have been part of popular culture ever since Snow White first danced across the silver screen, and most people are so familiar with the plots of famous fairy tales like Sleeping Beauty that they can tell these stories from memory.
But there is a lot more to fairy tales than Disney, and artists and entertainers around the world have used the classic stories from the Brothers Grimm and others to their own uses by retelling, remixing, and re-adapting the stories they loved as children.
The tales may be timeless, but they also have a lot to say about everyday issues like overcoming stereotypes, standing up for your convictions, and finding a place to belong.
If you want to hear your favourite stories told with a new twist, here are three fairy tale retellings you need to check out today.
1. The Wrath and the Dawn by Renee Ahdieh
Who hasn't passed a wonderful evening listening to the endless treasury of tales we know as One Thousand and One Nights?
In The Wrath and the Dawn, Renee Ahdieh revisits the unforgettable story of a young bride that must keep her powerful husband entertained night after night if she is to keep herself from the executioner's blade come morning.
But in Ahdieh's wonderful audiobook, Shahrzad does more than simply tell stories to distract the Caliph — she embarks on an adventure that will make you question everything you thought you knew about this classic tale.
2. Natalie Portman's Fables by Natalie Portman and Janna Mattia
A great pleasure of parenthood is getting to rediscover your own favourite fairy tales and explore them with your children. One of the best ways to do this is by looking for fresh versions that will give you a new perspective on the characters.
In the lively and engaging new audiobook Natalie Portman's Fables, the Academy Award-winning actress takes you through three classic fables, The Tortoise and the Hare, The Three Little Pigs, and Country Mouse and City Mouse, imbuing them with new insights and a contemporary relevance.
If you are looking for kids audiobooks that will delight and entertain, this a title you won't want to miss.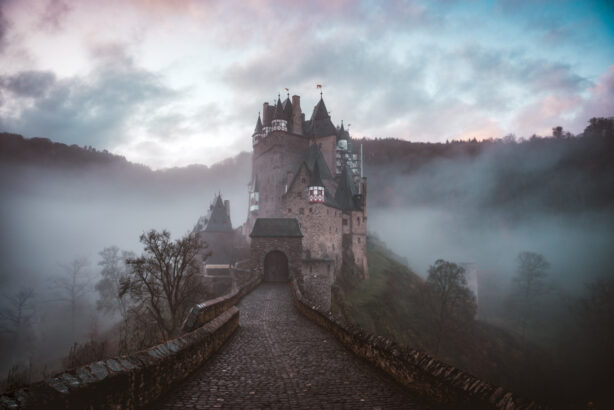 3. House of Salt and Sorrows by Erin A. Craig
One of the things that makes fairy tales so viscerally pleasurable is the way the create magical, haunting settings that feel like they exist out of time and space. In House of Salt and Sorrows, Erin A. Craig builds an unforgettable atmosphere in Highmore, a grand, gothic house that holds incredible secrets.
Listening to the adventures of Annaleigh as she tries to understand the strange curse that seems to hang over her family will remind you of the ghostly, mysterious castles that can be found in fairy tales of all ages.
With autumn drawing to close, nothing makes the rainy nights cozier than baking up some Jam Jams or other treats and curling up in a blanket to listen to classic fairy tales alone or with your family.
Sharing a fairy tale audiobook that offers a fresh spin on classic stories is a marvelous way to transport you to a new world and make these old tales come alive again with unique fairy tale retellings.