Most pet owners have, at one point or another, dealt with a dog's chewing, especially if you recently added a new puppy to your family. While it might seem like destructive behavior, chewing is an essential part of a dog's teething cycle.
Some dogs naturally outgrow their need to chew once their adult teeth come in, but for others the chewing may continue. Often, the reason could be as simple as boredom or bottled-up energy.
And that's where a great dog chew toy comes in! First, determine if your dog is a more gentle chewer or if he gets more rough and aggressive while chewing. Then, find the perfect toy to encourage chewing that leaves your belongings safe.
Factors to Consider When Buying a Chew Toy
Like many dog owners, I've watched our dog destroy a good many chew toys in record time. Which begs the question, should I really waste money buying more of them?
The fact of the matter is that choosing the right toy is crucial. Here are a few of the considerations to keep in mind when choosing a dog chew toy:
Size of the Toy
Make sure that the chew toy you purchase is the right size for your dog. Ideally, the toy should not be so small that it fits in your dog's mouth easily. Instead, buy a toy that is slightly larger, but also not too large to get his jaws around. This encourages the dog to hold the toy with his paws when he's chewing, and also ensures he won't swallow or choke on his new toy.
Age and Size of Your Dog
A dog's jaw strength is dependent on age and size. Choosing a toy that has comparable strength and size for your breed means the toy will likely last longer. And never give a chew toy meant for adult dogs to a puppy! If it's too hard to chew, it could harm the puppy's teeth or jaw.
Type of Chewer
As mentioned earlier, some dogs are more aggressive at chewing than others. Check the product's label, and see what kind of chewer it is made for. Online stores like PetCareRx.com offer several brands like Kong and Nylabone that make chew toys for different types of chewers. No toy will last your dog's lifetime, but choosing a high-quality product suited to your dog lets you get the most value for your money.
Types of Chew Toys
There are so many different types of dog chew toys on the market that choosing the right one can be overwhelming. Here are a few different varieties that you may want to consider:
Classic Chew Toys
Standard chew toys are usually shaped like a bone or something similar, and are ideal for dogs that like gnawing on something relentlessly. They usually have a stronger core that makes them more durable. They are not interactive, and you cannot use them for tugging or throwing.
Indestructible Dog Ball
This is a popular choice because it can be used both as a chew toy and as a way to play fetch. For a dog that loves running and catching, a dog ball is a great choice. The downside is they do tend to roll under furniture and get lost more easily.
Tugging Chew Toy
Generally, these toys feature a squeaker or rubber ball attached to a sturdy rope. As the name implies, this lets you play tug-of-war with your dog. For dogs that get bored of chewing after a time, being able to play together with the toy can help revive interest.
Treat-Hiding Chew Toys
If your dog has gotten in the habit of chewing things he shouldn't and you're having trouble getting him focused on chewing his own toys, a toy that you can hide treats inside can help solve the problem. Let your dog watch you hiding dog treats inside it to motivate him to chew the toy and get the treat out.
Natural Chew Toys
Some chew toys are made with natural ingredients and serve the dual purpose of being part treat and part dog chew toy. They're generally made with real animal parts like beef hide, antlers, or hooves.
Oral Hygiene Chew Toys
Not to be confused with oral hygiene chews, these toys are not edible. They have a unique texture with dental nubs that help improve your dog's oral hygiene as he chews on them. These dog chew toys are quite effective at removing dental plaque and tartar build-up from your dog's teeth.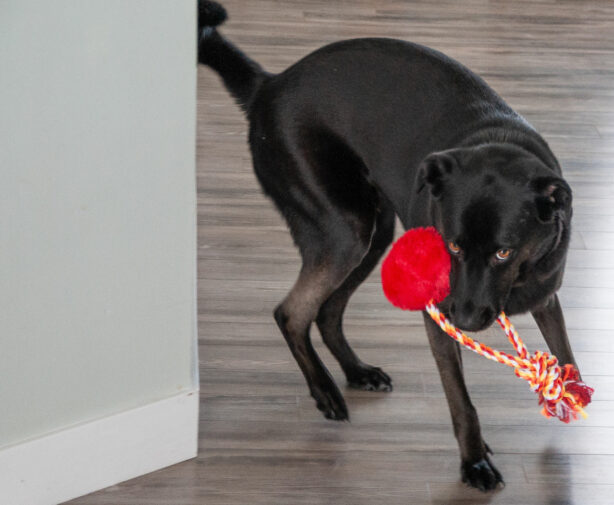 Of course, all toys should be specifically made for dogs of high-quality, non-toxic materials. If your dog tends to destroy his toys, avoid plush toys or squeaker chew toys. They simply won't last. And when in doubt, consult with your vet to help you choose an ideal chew toy for your pooch. Your dog (and your belongings) will thank you!