Covid-19 has made it difficult to contact relatives that don't live with you — especially grandparents.
They are vulnerable at this time, so you and the rest of the family have to keep your distance to make sure that they stay safe.
But even so, you don't want them to miss out on bonding moments with the family. How can you maintain healthy connections from far away?
Consider Window Visits
It may not be an exciting prospect during the chilly early days of spring, but if the temperatures outside aren't too cold, you could do a window visit.
Drop by your grandparents' home and wave hello through the ground floor window/door screen. With the barrier between you, it's a safe way to have a quick chat and see each other in-person.
If your parents are living in a senior community, you should check to see what the community's policy is for window visits. Checking the CMS ratings for nursing homes can give you an idea of the community's quality and policies.
A good senior community will adapt its policy depending on the government recommendations and case numbers.
Look at what these retirement homes in Ottawa are doing to prioritize their residents' health and safety at this time. These steps do more than protect residents — they protect staff and visitors, too.
Do Video Chats
Video chats are much better than regular phone calls, because you get to see the other person's face! Schedule video chats with the grandparents at least once a week so that they can see the whole family and talk together.
If you're new to the world of video chats, take a look at this general guide to video chatting to see what devices and programs you and the grandparents can use to make it happen.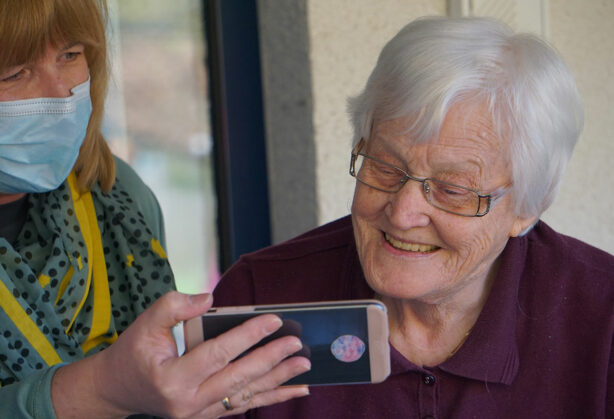 Keep Up Your Traditions
What traditions and routines did you have with the grandparents? Did they come over for Sunday dinner? Did you have family game nights? Did you go out to the movies once a month?
See if you can do these things online. With the help of a computer, you can video conference your Sunday dinners, host a virtual game night and even stream movies together while chatting. Don't let distance stop your traditions; find ways to safely celebrate instead!
Send Small Updates
Don't just focus on updating the grandparents on big news, like birthdays, graduations, and job changes. Share the small stuff, too.
They will want to see the little moments, like good grades on schoolwork, quarantine haircuts, and craft projects that received the coveted spot on the refrigerator. Make it a goal to share at least one update per day.
Share Hobbies
Another way to bridge the gap between your kids and their grandparents is to encourage them to try each other's hobbies. For instance, if their grandparents love to bake, consider setting up weekly baking sessions where you and the kids try out a new recipe and share the results with their grandparents.
You can also encourage your parents to try out some of your kid's hobbies and interests. Let them know about their favourite sports, movies, cartoons, and games. You never know — they could end up liking the same thing! It will be a nice way to forge a stronger bond from a distance.
Families need each other during hard times. But by using these tips to help you and your kids connect with the grandparents from a safe distance, everyone can feel closer together.