Wraps are a fantastic way to reuse leftovers, and make a delicious light and healthy lunch.
If you're looking for some new ideas for wraps, start with this amazing flour tortilla recipe. Then try these quick lunch wrap ideas to kick-start your week on a tasty and healthy note!
Homemade Tortillas
To take your wraps to the next level, start with homemade tortillas! Not only are they cost-effective and tasty, they're also surprisingly easy to make! Consider making tortillas in batches ahead of time, so they're ready when you need them.
Homemade Flour Tortilla Recipe
Easy homemade flour tortillas perfect for your favourite tacos, burritos and wraps.
Ingredients
3 cups flour
1 tsp. baking powder
1 tsp. salt
1 cup warm water
1 tsp. lemon juice
1/3 cup olive oil
Instructions
In a large mixing bowl, combine flour, baking powder, and salt. Mix until dry ingredients are well incorporated.
Make a well in the dry ingredients and add warm water, lemon juice and olive oil. Stir until well combined.
Knead the tortilla dough on a floured surface for 2 minutes, then form the dough into a smooth ball.
Divide the dough into 16 pieces. Roll the pieces into balls and allow to rest for 15 minutes, covered.
Once the balls have rested, press in a tortilla press and stack between layers of parchment paper.
When all tortillas have been pressed, remove the paper and toast each tortilla in a medium-hot pan for 1 minute. Flip the tortilla and cook for an additional 20 seconds.
Notes
Tortillas can be stored at room temperature in a plastic bag for up to one week, or frozen for future use.
Nutrition Information:
Yield:

16
Serving Size:

1
Amount Per Serving:
Calories:

125
Total Fat:

5g
Saturated Fat:

1g
Trans Fat:

0g
Unsaturated Fat:

4g
Cholesterol:

0mg
Sodium:

177mg
Carbohydrates:

18g
Fiber:

1g
Sugar:

0g
Protein:

2g
A tortilla press, like this one at unocasa.com, makes creating good tortillas so much easier, so if you eat a lot of tacos and wraps, treat yourself to one!
Not only will your wraps taste better, you'll save in the long run since you won't have to buy store-bought tortillas.
And once you've whipped up your first batch of homemade tortillas with this flour tortilla recipe, try one of these five wrap ideas for your next quick lunch!
Buffalo Chicken Wrap
Forget the grilled chicken sandwich – wrap chicken up in a soft tortilla for a winning combination. These quick and easy buffalo chicken wraps are sinfully satisfying.
Toss slices of cooked chicken in buffalo sauce.
Arrange the chicken pieces on a flour tortilla with shredded lettuce, tomato slices, onion, and shredded cheese.
Drizzle ranch dressing over the chicken, wrap, and enjoy.
For an added treat, add slices of avocado.
Tip: If you pack this for an office lunch, pack the avocado separately and add it later. Serve with a greek salad.
Roasted Veggie Wrap with Mexican Black Beans
Leftover roasted veggies with a delicious hummus spread and Mexican black beans, topped with fresh lettuce leaves and sweet cherry tomatoes. Meat-free Mondays are delicious and straightforward.
Prepare vegetables by chopping green and red peppers, sweet potato cubes and corn. Toss with olive oil, coriander, salt, cumin powder, and chili flakes. Roast for 20 minutes until golden.
Toss drained and rinsed black beans into the veggie mixture, roast for another 10 minutes.
Spread hummus on a wrap and arrange the roasted veggies on top. Add julienne cucumber slices, fresh lettuce leaves, and quartered cherry tomatoes.
Roll the wrap closed and serve with a creamy and tangy dipping sauce or hot and spicy salsa.
Shredded Beef Wrap
It's the start of a new week, and you have leftover beef brisket from the night before. This is the best recipe for using up a brisket for a quick and healthy lunch.
Using some leftover pulled beef brisket, lightly fry in a pan with finely sliced onions, garlic, and a little grated ginger.
On a fresh tortilla, spread a little cream cheese, add lettuce leaves and thinly sliced red pepper.
Once the brisket is heated through, place it in the middle of a flour tortilla and roll it up.
Slice the wrap in half or wrap it in wax-proof paper before placing it in a lunch box.
Enjoy!
Tip: Swap the beef out for a roast turkey and add in a spoon of cranberry jelly.
Thai Chicken Wrap with Peanut Butter Dressing
This Thai-inspired wrap is packed with flavor and a little spicy kick from the peanut butter dressing. You can make it as spicy or as mild as you like.
Cut chicken into strips and toss with soy sauce and olive oil. Sauté until cooked through.
Combine shredded red cabbage, bean sprouts, sliced basil leaves, thinly sliced carrots, and sliced scallions in a bowl. Toss the vegetables with rice vinegar and a sprinkle of sugar. Season to taste. Set aside.
In another bowl, combine peanut butter with a splash each of soy sauce, lime juice, sesame oil, and rice vinegar. Add cayenne pepper to taste and a little water if needed for a pourable consistency.
Warm a flour tortilla. Drizzle peanut dressing on the tortilla, arrange the chicken, salad, and additional sauce on top. Close the wrap and enjoy.
Bacon and Banana Wrap
Whether you enjoy traditional bacon, turkey bacon or veggie bacon, these unique and delicious wraps are the perfect combination of sweet and savory for days where you just can't decide.
Fry your bacon until crispy. Set aside on paper towels, blot any excess oil from the bacon.
Spread peanut butter on a soft flour tortilla.
Slice a banana lengthways into long strips, arrange on the peanut butter. Top with a bacon slice.
Drizzle with maple syrup.
Alternatively, grill the wrapped roll on a hot griddle before slicing and serving with a healthy measure of maple syrup.
Enjoy!
It's a Wrap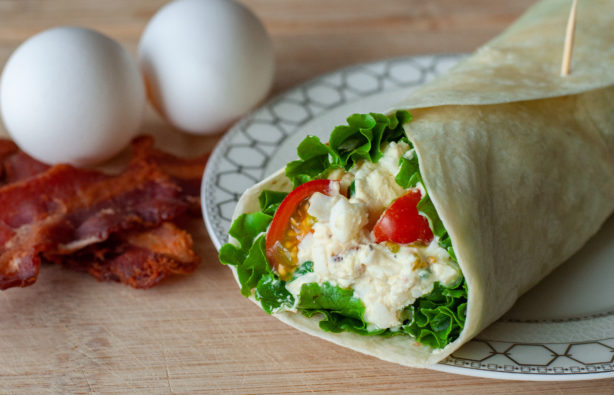 No matter what protein you pick, wraps always make an easy and popular lunch. The whole family will love them as you can change up the fillings throughout the week.
From breakfast-inspired Bacon Egg Salad Wraps to a quick Deli Chicken Wrap, there's no need to get bored eating the same thing day after day!
And once you've tried your favourite wrap with a soft homemade tortilla thanks to this easy flour tortilla recipe, you may never go back to traditional sandwiches again!