A few months ago I shared my first experience with Maple Lodge Farms gluten free deli meats. This tender deli chicken in a variety of flavours is all natural, incredibly delicious and perfect for those that are looking for a healthier sandwich meat or for gluten free lunch options.
So when the company offered to send me a fabulous gift package so that I could get creative and try out some fun recipes with the meat, I was thrilled.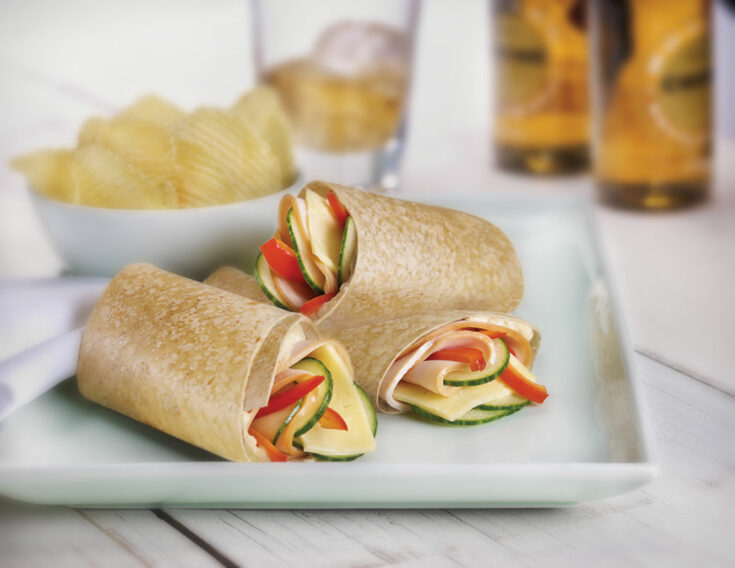 Maple Lodge Farms products are perfect for school lunches but there's no reason to stop enjoying it just because school is out! The meat is also wonderful for picnic lunches, tasty meals at home and all kinds of fabulous recipes!
I decided to visit the Maple Lodge Farms website and try out one of the recipes for myself.

I adjusted the recipe a little by using a whole-wheat tortilla instead of a brown rice tortilla; since I don't have gluten sensitivities I decided the whole-wheat wrap would be more satisfying for me. I also used cheddar cheese instead of Gouda but almost any cheese would be tasty in this fabulous wrap.
Also, though I used regular hummus in my wrap, the recipe could easily be made even fancier with roasted red pepper or sun dried tomato hummus.
And why stop with just cucumber and red pepper? A wrap like this is perfect for loading with your favourite veggies. Alfalfa sprouts are my personal favourite; they add great crunch and so much nutrition to a wrap!
The first time I tried Maple Lodge Farms deli chicken, my son devoured most of it in his school lunches. But this time around I got a chance to test it out too and I have to say it was absolutely delicious!
And with flavours like Mediterranean and BBQ Brown Sugar the recipes that you can create are limited only by your imagination!
You can find other great Maple Lodge Farms recipes on the website and don't forget to visit the Maple Lodge Farms Facebook page to learn about all the latest news and promotions.
So why not check out these scrumptious deli chicken meats for your next picnic and see how gourmet your lunch can be? You'll love that this tasty chicken is all natural, gluten free and, most importantly, scrumptious!
Gluten-Free Smoked Chicken and Hummus Wrap
An easy and delicious gluten-free wrap made with deli chicken, hummus and fresh vegetables.
Ingredients
10″ or 12″ gluten-free tortilla
2 tbsp. hummus
2 oz. gouda cheese
1/4 cup cucumber, peeled and sliced
1/4 cup sweet red pepper, sliced
4 slices Maple Lodge Farms Smoked Chicken Breast
Instructions
Place tortilla on flat surface and spread entirely with hummus.
Lay 2 slices of Gouda cheese on tortilla, then top with vegetables and 2 slices of May Family Farms Smoked Chicken Deli.
Roll the wrap up and cut in half diagonally.
Nutrition Information:
Yield:

1
Amount Per Serving:
Calories:

542
Total Fat:

21g
Saturated Fat:

11.2g
Cholesterol:

145mg
Sodium:

2585mg
Carbohydrates:

40.5g
Fiber:

3.2g
Sugar:

8.2g
Protein:

45.8g