With so many ways to be active outdoors, summertime is a great time to take steps to look and feel your best.
And if you're looking for ways to do that, this roundup is for you! Featuring eight new products to maximize your family's health, they're sure to ensure the best healthy summer ever!
Love Crunch Granola
If you try to choose organic foods, you'll love digging into a bowl of Nature's Path Love Crunch granola! With premium ingredients and mouthwatering flavors including Chocolate Strawberry and Chocolate Peanut Butter, it's a delicious start to any day!
Love Crunch granola is also vegan and fair-trade certified, making it a breakfast or snack you'll feel good about for more reasons than one.
Even better, Love Crunch recently announced a year-long partnership with The Trevor Project, the world's largest suicide prevention and crisis intervention organization for LGBTQ youth. Supporting love never tasted so good!
Kinderlyte Electrolyte Powders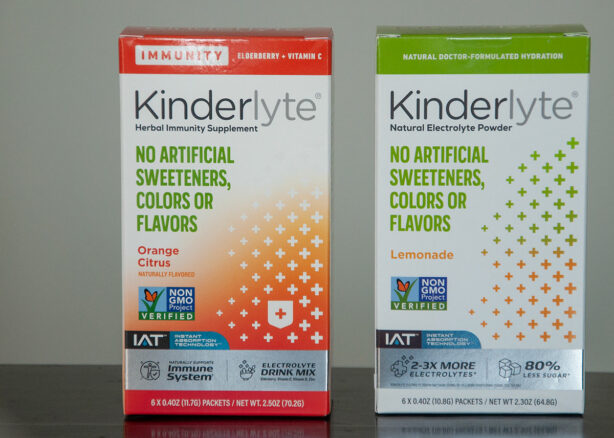 Summer is lots of fun for kids, but between ice cream overload, birthday parties and family vacations, it can also lead to tummy troubles for little ones.
If your child's dealing with dehydration due to stomach trouble, Kinderlyte Natural Electrolyte Powder is a delicious way to help them replenish their electrolytes and stay hydrated. The lemonade-flavored powder features 2-3x the electrolytes of a sports drink, with no artificial sweeteners, colors, or flavors.
And to help ensure kids stay healthy all summer long, Kinderlyte Herbal Immunity Supplement in Orange Citrus flavor boasts elderberry, Vitamin C, and zinc to help keep your child's immune system strong!
BuzzPatch Mosquito Patches
Keep the bugs away naturally with BuzzPatch stick-on patches! DEET-free and fun to wear, these patches use citronella oil to naturally deter mosquitos.
Just stick the patch onto clothing near exposed skin and enjoy bug-free fun outdoors!
And when bites do happen, chemical-free BuzzPatch Itch Relief Patches use a unique grid shape to help drain the insect saliva that causes the itch response. Itch relief is noticeable within 30-60 seconds!
Ruvi Fruit and Vegetable Pouches
Looking for easy ways to increase your fruit and vegetable intake? You need Ruvi! Each delicious Ruvi pouch features four servings of freeze-dried fruit and vegetables, and nothing else.
Choose from four tailored blends: Active, Boost, Focus, or Clean, featuring ingredients including bananas, zucchini, spinach, mango, peach, blueberry, beets, and more! All the Ruvi blends are gluten-free and vegan.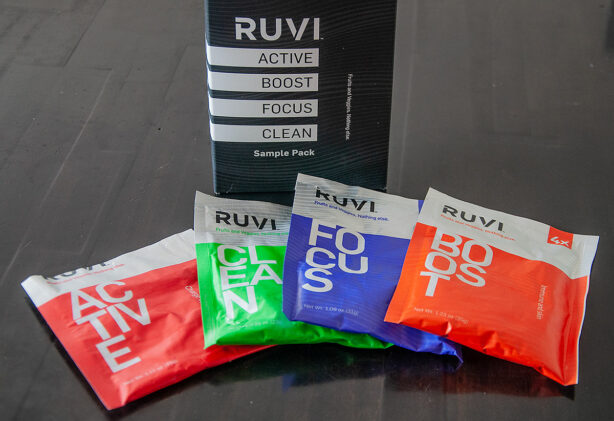 Whip up a smoothie by shaking them up with water, or mix them with plain yogurt, a sprinkle of chia seeds and a drizzle of honey for a mouthwatering smoothie bowl! No matter how you use them, getting your fruits and veggies is a breeze with Ruvi!
Good 2 Go Grain Free Granola
Those that are sensitive to gluten or trying to minimize grains in their diet don't' have to give up granola, thanks to new Good To Go Grain-Free Granola!
This scrumptious blend of organic nuts and super seeds is lightly sweetened and toasted for authentic granola-style crunch. It's free of artificial flavors and colors, certified vegan, and peanut-free. Added nutrients from vegetable extracts ensure it's packed with vitamins and minerals, too!
Choose from Vanilla Coconut or Chocolate flavor, and enjoy it with milk, yogurt, or straight out of the bag as a snack. With only 2g of sugar per serving, it's a great gluten-free addition to your healthy summer!
Aubrey D. Sauces
Add flavor to your food in a gourmet way with the delicious assortment of hot sauces and condiments from Aubrey D!
Featuring a range of hot sauces ranging from merely spicy to insanely hot, Aubrey D's also offers delicious condiments including barbecue sauces, mustards, and rubs.
Best of all, the hot sauces and rubs are virtually calorie-free, the products are free of additives, preservatives, and artificial ingredients, and the hit of spice may just provide a boost to your metabolism!
d.velop Vitamin D Supplements
Did you know that Vitamin D is essential for keeping your immune system working at its best? Many people don't get enough of this crucial vitamin from diet and sunshine alone, but traditional Vitamin D supplements aren't absorbed very well by the body.
That's where d.velop stands out. Its new clinically tested form of Vitamin D is absorbed directly into the blood stream, boosting Vitamin D levels three times faster and three times more effectively than other supplements.
And to prove its effectiveness, the company offers a free testing kit when purchasing a subscription, so that users can test their initial Vitamin D levels and then retest in the future to see the improvement! (Testing available to U.S. residents only.)
Vancouver Island Brewing Pod Pack
This stunning four-pack of craft beer may not technically improve your health, but you'll certainly be able to feel good about the fact that money from every pack sold goes towards preserving wild B.C. salmon stocks, a vital food source for southern resident killer whales.
The Pod Pack contains four exclusive beers created by four Vancouver Island breweries: a Plum & Rosemary Saison from Ace Brewing Co, a Pacific Gose from Mayne Island Brewing Co, a Helles Bock from Ucluelet Brewing Co, and a Rosé Pale Ale from Whistle Buoy Brewing Co.
The beers are each named after one of the southern resident killer whales and come in striking killer whale-inspired cans. It's the perfect summer indulgence that will have you feeling great about supporting marine life.
The warm summer months go by all too quickly, so make the most of them by trying a few of these products for yourself!
Whether you want to spice up your suppers or enjoy more bug-free time at the beach, a healthy summer is just around the corner with these great new products!