There aren't many events in a year that are quite as important to a child as their birthday. And, in most families, a little one's birthday means a birthday party with all their friends!
Kids' birthday party planning can definitely take a bit of work. So, take some time to run through these tips on throwing a birthday party to remember!
Invitations for Guests
Make your celebration more memorable with original invitations. With help from the Internet, you can create unique and memorable invitations quickly and easily.
Consider using a flyer maker to craft a customized invitation in minutes. You just need to choose one of the professionally designed templates that match the theme of the party, and then add your own details to customize it.
At that point, it's up to you to decide between printing the invitations for your child to hand out, or simply sending out the invite via email. Just make sure to include RSVP information so you know how many kids to expect!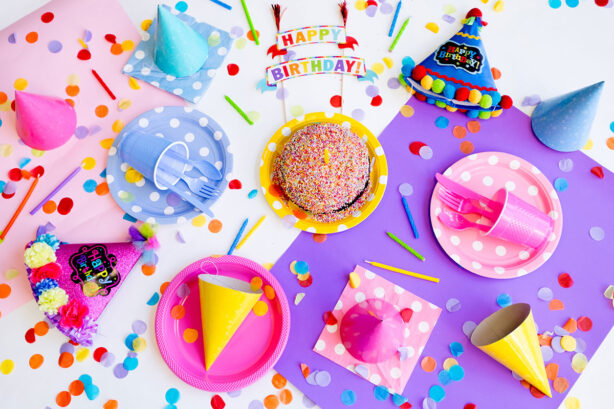 Party Themes
While our own birthday parties as children may have consisted of nothing more than a few streamers and balloons, today's parties often feature more elaborate themes.
But don't worry! Thanks to the popularity of themed parties, it's actually relatively easy to find decor and accessories to match the theme you choose.
Some popular themes to consider might include your child's favorite superhero, a popular cartoon, a space birthday party, or a medieval theme.
Once you've decided on the perfect theme for your child's party, hop online and get some inspiration for possible food, decorations, and activities to fit the theme.
Sweets and Treats
While the ever-popular birthday cake is still an essential at a child's birthday party, it's recently also become a trend to add a candy table as well.
Not only is a table of treats sure to be a hit with kids of all ages, it's also a great way to show off some creativity by matching the treats to your desired theme!
Some popular items on a candy table might include cake pops, chocolates, cookies, macarons, fresh fruit, and hard candy. You can either let kids nibble on treats throughout the party, or let them fill gift bags to take home near the end of the celebration.
Add a few festive decorations to the table, like balloons and string lights, and your treat table can also be a great place to take photos!
Entertainment
If you're struggling a bit to figure out how to keep a large group of children entertained during the party, hiring a children's entertainer may be the perfect solution.
Depending on your child's interests, you can choose from a guest appearance from their favorite superhero, a clown, a magician, or a balloon artist.
Professional entertainers that specialize in kids' parties tend to have the experience needed to be able to keep kids engaged without leaving them overstimulated, a must for a successful party.
And, let's face it: the more adults at a party, the better! Having an extra adult around, especially one that's familiar with children's parties, is sure to make the entire party experience a little less stressful.
Crafts and Activities
When it comes to party activities, one of the most popular current trends is to forgo the standard party games and try a group craft experience or workshop.
Working on a special project is a great way to keep kids occupied, since they can let their creativity shine in their own way.
For younger children, consider cookie painting, making slime, creating with clay, or origami. Older girls may enjoy food styling or makeup lessons. Older boys might favor a sports lesson or a robotics workshop.
The Big Finale
Don't forget about arranging a memorable end of the party! After all, no birthday is complete without the traditional birthday cake celebration.
Blowing out candles on a birthday cake is a bright final point, but why not make it even more exciting?
Compliment the moment with a mini-performance using party poppers, confetti, or bubbles. It will make an already special moment one that your child (and their friends) are even more likely to remember!
Record The Memories
After all the time and effort you put into planning a perfect party, don't forget to take photos and videos of all the best party moments!
Professional photography and videography will allow you to capture all the party highlights. You and your child will both love looking through them days, months, and even years later.
There are a lot of different themes, activities, and entertainment options to consider when starting your kids' birthday party planning.
So, take your time, set a budget, and consider your child's interests before you get started. Then use these tips to put together a party to remember!