Pregnant? One of the best things you can do to prepare for the impending arrival of your little one (and loved ones who want to spoil them) is to decide what to put on a baby registry.
Whether you're having a baby shower or not, people are going to want to get you something to celebrate. Avoid ending up with 10+ baby rugs by curating a list of all the things you actually need.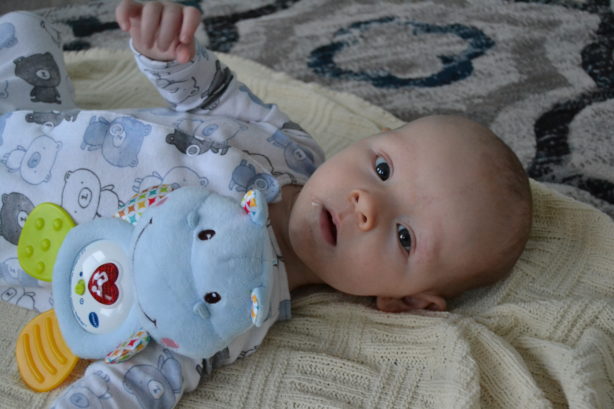 It can be time consuming and sometimes difficult to tell someone directly exactly what you want, which is just another reason a baby registry is ingenious!
Not sure what you should ask for? Keep reading for our top tips on the best practical gifts to add to your baby registry.
10 Best Practical Baby Gifts in 2022
Who said practicality couldn't be beautiful? The Elhee baby bottle is simply the most stunning drinking vessel we've ever laid eyes on, but it's also ultra practical.
This is a great one to put on your registry if you're going to be bottle feeding at any point.
It's designed to mimic a real breast and its velvety and delicate touch makes it the ideal bottle to ensure a smooth transition from breastfeeding to bottle feeding.
Features of Bottle:
Made of pure medical grade silicone
BPA-free
Includes medium flow, anti-colic teat
Dishwasher, microwave, freezer, and sterilizer safe

At almost $300AUD, this is on the pricier side of gifts to add to your registry, so it might suit a group of friends who want to go in together on a present you really need.
We can't recommend investing in a good quality carrier enough to save your back when you're out and about with your little one and don't want to lug a stroller around.
It's ergonomically designed for both you and your child, so you can be sure to keep them close without hurting yourself at the same time.
Features of Baby Carrier:
4 different seating positions
Pressure relieving waist belt
Padded back support
Made from breathable, supersoft mesh
Suitable for newborns – three years old
Machine washable
Comfort should be at the top of your list of priorities post birth, and the Snuggle Me pillow is really essential for this.
Use it against your body when sleeping during pregnancy, and then to aid nursing, bottle feeding, and helping baby sit up once your baby is born.
Features of Snuggle Me Pillow:
Made with GOTS certified organic fabrics
Filled with hypoallergenic polyester fill
Crescent shape
Comes in 4 different colours
A present you'll use literally everyday is the play mat from Little Wiwa. It's perfect for tummy time, or just giving you some much needed hands-free time.
We love how multi use this plush mat is too, you can even use it as a sleek floor centrepiece, diaper change station, or a Pilates mat!
Features of Little Wiwa Mat:
Super plush cushioning (15mm)
Reversible featuring two designs and colours
Round shape (140cm in diameter)
Weighs 3kg
Made from non-toxic, sustainable materials
It's a good idea to include a variety of price points on your baby gift registry. This gives people who just wanted to get you something little the opportunity to do so, without spending more than they bargained for.
The Nappy Rash Cream from Malo is perfect for this. Ultra practical (let's face it, your child will get diaper rash at some point!), yet beautifully nourishing.
It's enriched with natural plant extracts including soothing Kakadu Plum, which works as a healing remedy and antiseptic.
Features of Nappy Rash Cream:
Vegan friendly
Cruelty-free
Made in Australia
100% all natural ingredients
Have you heard about the benefits of putting your baby to sleep with white noise yet? It mimics the sounds they heard when in the womb, which can help with relaxation, leading to longer, better sleep.
It also drowns out noise which would otherwise wake them from their slumber.
The travel cube is a little white noise machine device that is designed to be ultra portable, so it's perfect if you're a parent who'll be on the move or travelling a lot. It's practicality at its finest!
Features of YogaSleep Travel Cube:
6 sound options
Portable white noise machine
Auto-off timer
Rechargeable battery
Whether you call it a dummy, a binky, or a soo-soo, we'd be remiss not to include a pacifier on the list of most practical baby gifts! Sure it's an easy present, but boy is it helpful.
The Bibs Dummy isn't just any pacifier though. This one glows in the dark, which is ultra useful during late night feeds so you can work out where it is without switching on every light in the house.
Features of Night Glow Dummy:
Made of 100% natural rubber latex
Glows in the dark
Round and soft shape mimics breast
BPA, PVC, and phthalates free
There's not a lot that gets more practical than bathing a baby! Enter the Shnuggle Bath – the perfect piece of baby gear to get this daily job done without having to lean over a full-sized tub.
It's the perfect size for baby and includes lots of grip and anti-slip features to make sure bathtime is just as safe as it is fun.
There's a bum bump to support your baby and prevent them from sliding, a comfy foam back rest and rubber feet for additional grip.
Features of Shnuggle Bath:
Includes plug
Portable
Bum bump for support
Foam back rest
Rubber grip feet
This one goes hand in hand with the Shnuggle bath, and is also another great option at a lower price point to include on your registry.
You'll want to have a little stock of baby towels at hand, so you always have something clean and dry to wrap them in after their bath.
And hooded towels are always a great choice for little ones, since they help keep baby's head warm – after all, that's where they lose most of their heat!
Features of Trixie Hooded Towel:
Made from 100% organic cotton terry cloth
Hood featuring animal face
Machine washable
Last but not least, crib sheets are an excellent practical gift for baby!
You'll want to have several cot sheets in your linen press to make sure you always have a spare on hand when there's an accident, and your other sheet is already in the wash!
These beautiful sheets from Go to Bed are made with soft 100% cotton muslin fabric that is lightweight, breathable, and suitable for use year-round.
Features of Cot Sheet:
Made from 100% cotton muslin fabric
Durable sheets
Measures 135cm x 77cm x 19cm
Cold machine wash
Feeling inspired to create your baby gift registry? Head to the memo now to start curating your wish list to share with your friends and family.