When it comes to throwing the ultimate kids' party, bounce houses are easily one of the most popular activity choices.
Not only do children love them, they provide great photo opportunities and an easy way for parents to ensure kids are happily occupied.
There are tons of different styles of bounce houses to choose from; go here to check out a few of the different options available.
And, depending on the age of the kids and the type of party you're hosting, some bounce houses may be a better fit than others!
Wondering what type of bounce house is best for your next party? Consider one of these popular choices:
Bounce House Types
Classic Themed Bounce Houses
When it comes to the classic one-room bounce house, most of them have a theme. Parents can choose from Harry Potter, Minecraft, super hero, or princess themed houses.
These classic themed houses are great for matching to a party with a similar theme. Pairing a Nintendo-themed bounce house with your Super Mario Bros. birthday party, for example, is sure to make the event even more memorable.
A themed house is also a great way of celebrating your child's current favorite movie or character. From Star Wars to Frozen and Batman to My Little Pony, there are bounce houses for all your little one's potential heroes!
For a more generic option that's suitable for younger and older kids alike, consider a castle-themed or sports-themed bounce house. Often, they'll come with extra props, like inflatable swords or a bouncing basketball court with balls.
Obstacle Course Bounce Houses
If your party is for older school-aged children or teenagers, an obstacle course bounce house may be the best option.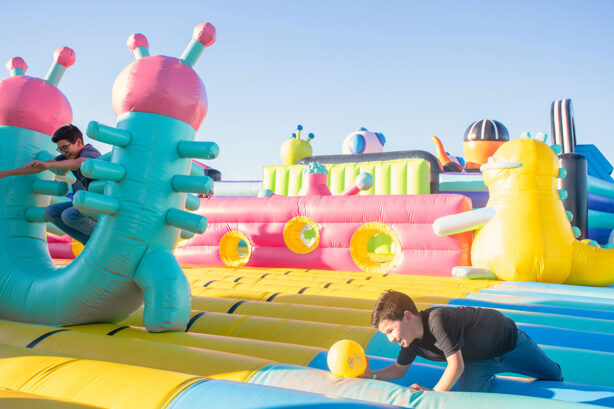 These bounce houses feature inflatable obstacles that might include climbing walls, slides, tunnels, or ramps. They come in various sizes to suit different skill levels, and are a great way of adding a challenge element to a bounce house.
It is important to keep in mind, though, that these larger obstacle course bouncers are usually quite big and heavy, and may have multiple pieces that need to be joined together.
If possible, rent from a company that offers free setup and takedown so you don't have to deal with any potential frustration getting the bouncer up and running.
Bounce Slides
One of the best styles of bounce house for all ages is one with a slide included. Kids can jump for a while, then switch to the slide when they're ready for a break.
Inflatable bouncers featuring slides are even sometimes available as waterslides for summertime fun! If you're planning a party for a hot summer day, renting one of these can be a great way of helping everyone stay cool.
Combo Bounce Houses
For a bounce house that really offers it all, combo bounce houses are sure to impress. Featuring three or more elements in one package, they're the ultimate entertainment choice for any children's parties.
Combo bounce houses are also the perfect choice for a wide variety of ages, since the different areas are often well suited to different age groups.
While younger children can spend time bouncing in one section, older children can climb, slide, play basketball, and more in the other sections.
As with obstacle course bounce houses, however, keep in mind that many combo bounce houses are quite large and heavy, so be ready with help for the setup!
With so many bounce houses to choose from, choosing the best one is never going to be an easy job. The type of bounce house you want will depend on the size of your party, the age of the kids, and everyone's interests.
So, take a look at some of the different themes, features, and accessories that the available bounce houses offer, and then make your pick. Whether you rent or buy, a bounce house is sure to be a hit with everyone that uses it!