When it comes to finding ways to make learning fun, there's no question that technology can help.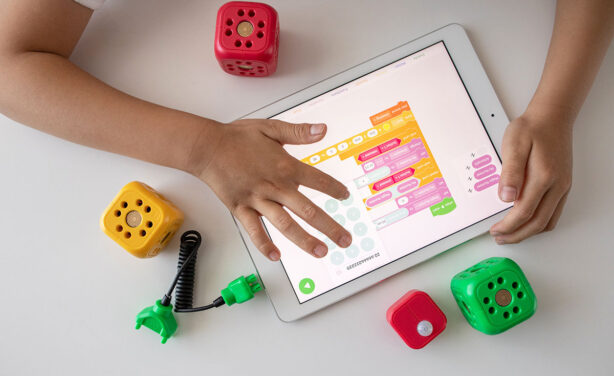 With a tablet or iPad and the right apps, you can help your kids learn about everything from spelling to drawing to coding.
Wondering what learning apps for kids you should test out? Give one of these nine options a try:
1. Animal Jam (iOS, Android, Amazon, PC and Mac)
Animal Jam is easily one of the most popular online games for children aged 6 to 12. This game was developed in collaboration with National Geographic, and teaches kids about animals and the environment.
Kids choose an animal avatar and then use it to explore the fictional land of Jamaa, playing mini games, earning rewards, and learning about animals as they go.
Animal Jam is a safe multiplayer environment for kids with over 160 million registered users. It also features parental controls, allowing parents to restrict use to certain hours.
2. ABC Kids (iOS and Android)
ABC kids game is ideal for kids between 2-4 years of age and a great way to jump-start early learning. The game is geared toward helping kids recognize and draw letters in the alphabet.
With colorful graphics and fun animal friends to provide encouragement, the app teaches kids to trace the different letters of the alphabet while also learning the sound each letter makes.
Free for iOS and Android, this app is especially appealing because there are no in-app purchases or third-party ads.
3. SplashLearn (iOS, Android, PC and Mac)
SplashLearn is a versatile educational app designed to engage young learners from Pre-K through Grade 5 in a dynamic and fun way. It focuses on two core subjects: math and reading.
Within its comprehensive suite of resources, SplashLearn offers a diverse range of interactive games, printable worksheets, and even live classes, providing a well-rounded learning experience.
What sets SplashLearn apart from other programs is its advanced algorithm that adapts content to each child's individual learning pace and style.
This personalized approach ensures that children receive the most effective and engaging educational experience possible.
Available on iOS, Android, and online via a web browser, SplashLearn offers a free 7-day trial, with monthly or yearly subscriptions available the trial ends.
4. Pictoword (iOS and Android)
Pictoword is a fun game choice for kids and adults alike. Part word game and part puzzle game, it will help kids develop logic skills while increasing vocabulary.
Each level shows players a combination of pictures that, when combined, create a complete word. A photo of a desert and a witch, for example, makes "sandwich."
Looking for ways to other ways to help your kids improve their vocabulary? Look for word search printable games for kids online to help them expand their word base even more.
5. Thinkrolls 2 (iOS and Android)
Thinkrolls 2 is a a logic game designed for children aged 3 to 8. The game helps develop your child's concentration and problem-solving skills.
Children will learn about concepts like gravity, buoyancy, and acceleration as they play, with levels that get increasingly harder as they progress.
Available on both iOS and Android, Thinkrolls 2 doesn't require internet to play, and doesn't contain third-party advertisements.
6. GoNoodle (iOS, Android, and Amazon)
A healthy body helps ensure a healthy mind, so get your kids up and moving with GoNoodle!
This movement-based learning app for kids is a hit with educators, and can also be used by parents to help kids dance and exercise as they learn.
Ideal for kids between 5 and 12, GoNoodle offers a variety of games and videos that feature everything from dance routines to deep breathing exercises. And with the ability to cast the app onto a larger screen, the whole family can join in the fun.
GoNoodle is available on iOS, Android and the Amazon app store, and can also be downloaded to Apple TV. It's also a great option for getting kids moving at a children's birthday party!
7. Curious World (iOS and web browser)
Everyone's favorite monkey is helping kids between 2 and 7 years old to get curious about their world in this fun-filled app available exclusively on iOS devices.
Kids can learn about science, math, art, reading, and more, with Curious George helping every step of the way.
Ad-free and kidSAFE certified, the app is free for 7 days, with monthly or yearly subscriptions available after the trial ends.
8. Robot School App (iOS and Android)
Does your child dream of building their own video games one day? The Robot School app is a great way for them to start developing their skills.
In the game, R-obbie the Robot crashes his spaceship in a faraway galaxy and needs help to get back to his home planet.
Children can help R-obbie by using the drag-and-drop system to create simple codes that will refuel the spaceship so that R-obbie can go back home.
Ideal for ages 7+, the game offers both a free and a premium version, and is a fun introduction to coding for children.
9. Toca Blocks (iOS, Android, and Amazon)
For the budding engineer, Toca Blocks is a fun and fanciful game that lets children build and share their own worlds using digital blocks and other objects.
The game helps kids develop creativity and imagination as they create everything from racetracks to obstacle courses.
While this isn't a free app, the low price of $3.99 is sure to provide your kids with hours of entertainment, making the price well worth it.
Learning apps for kids are a great way to engage little ones as they start building essential educational skills.
Give one of these fun apps a try and see how fun learning can be.