There aren't many countries that have perfected the concept of the mall quite as well as the United States has. And if you're a fan of shopping, you'll want to make sure to check out some of the top discount malls on your vacation.
A good mall is more than just a place to shop. Malls also offer great restaurants, fun activities, and other entertainment options as well.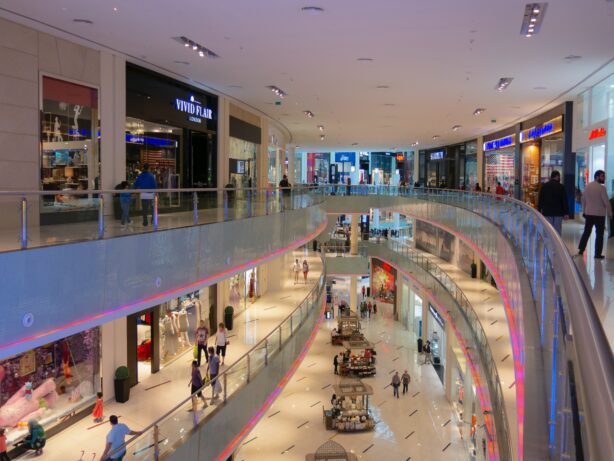 And for those that love a deal, there's nothing better than checking out discount malls! There are over 13,000 outlet malls in the United States, with each one covering an average of 200,000 square feet.
While almost every major city in the United States will likely have a fun and unique discount mall to check out, some locations are better than others.
So, if you're planning a trip to the United States, make sure to stop by one of these top 5 discount malls if they happen to be close by!
San Marcos Premium Outlets
San Marcos Premium Outlets has 140 stores, including many stores offering premium brands.
This popular outlet mall located between Austin and San Antonio is a famous shopping destination for home products, garments, shoes, accessories, and many more.
Visitors can walk to the many shops indoors, or stroll down the pathways around the outside of this beautiful structure.
The mall itself is modeled after Venice's Piazza San Marco and features a manufactured river that travels through it. Thanks to its popularity, San Marcos is continually expanding and adding new stores.
Gucci, Victoria's Secret, Pottery Barn, and Lululemon Athletica are among the brands available here. In addition to the stores, there is a playground for kids, a gaming plaza with giant chess and Jenga boards, and various restaurants.
Sawgrass Mills Outlets
Sawgrass Mills, located in Sunrise, Florida, is one of the largest outlet malls in the United States, boasting over 350 stores.
The mall isn't just home to some of the most popular brands and stores in the country. It's also a gorgeous building on its own, with a style that resembles an upscale resort.
Sawgrass Mills, which is enclosed and air-conditioned, is a short drive from both Fort Lauderdale and Miami. Tory Burch, Burberry, Ralph Lauren, and Tommy Hilfiger are among the designer brands available here.
There are also a few well-known department stores nearby, including Marshalls, Target, and Bed Bath & Beyond. Visitors can dine at one of the many restaurants serving everything from burgers and fries to fresh seafood.
Las Vegas Premium Outlets
Las Vegas is one of the most popular shopping meccas in the United States, so it stands to reason that one outlet mall isn't enough!
Instead, Las Vegas Premium Outlets is comprised of a North and South location separated by 10 miles. Each location offers almost 150 outlet retailers ranging from Armani to Ann Taylor.
The North's 150 stores are more upscale, and include Cole Haan and Armani, while the South's 140 shops offer more mid-range brands including Ann Taylor and Aeropostale.
You will undoubtedly find fantastic savings on a wide range of designer brands whether you visit just one mall or both of them.
The Las Vegas Premium Outlets offer daily discounts of up to 65 percent at many name-brand and designer stores, including Michael Kors, Tory Burch, Nike, Burberry, and many more.
Restaurants include The Cheesecake Factory, Chipotle, and a variety of other food court options. For the serious shopper, there's no better discount mall location to visit!
Tanger Seaside Outlets
Tanger Seaside Outlets in Delaware is ideally located in the middle of the beach excitement and is accessible to both beach-going tourists and residents.
The mall is located in Rehoboth Beach, Delaware, and is especially appealing thanks to Delaware's tax-free shopping. When combined with the already-discounted prices at each store, the savings are impressive.
The mall is spread out over a large area, so plan to spend at least half a day walking and browsing. Brands in the mall include GUESS, J. Crew, Vera Bradley, and Coach.
Keep in mind that since the outlet mall is in such a popular beach area, it can get crowded at times. But with so many great tax-free deals available, the crowds can be worth it!
Desert Hills Premium Outlets
No list of top discount malls would be complete without mentioning this famous California outlet. The center has traditional outlet mall styling with some of the country's most popular brands available.
This luxury outlet mall is located outside Palm Springs, approximately an hour and a half from Los Angeles. Offering tourists discounts with a side of sunshine, visiting the mall makes for a great day trip when in Southern California.
This is the only outlet mall in the United States with Alice + Olivia, Joie, and Alexander McQueen outlets. The shopping center's 180 luxury stores include designer home items, clothing, and cosmetics.
Treat yourself to something fancy with Jimmy Choo shoes, a new pair of Tom Ford sunglasses, or a Coach leather purse.
Desert Hills Premium Outlets also has a large number of sit-down restaurants in addition to the traditional food court options, making it a great place to spend the day with family and friends.
Shopping new stores when on vacation can be one of the most fun things about visiting a new city. And when you're shopping at an outlet mall, the great deals can make the experience even better!
So, if you're on vacation in the United States and asking yourself, "What are the best discount malls near me to visit?" make sure to check out these locations if they're close by.
And if you're in a different area, a quick online search will likely lead you to some great discount mall options to check out, too!
You may just find that hunting down the best deals becomes one of the highlights of your vacation.