Heading to Europe after graduation is a time-honored tradition for many, and there is nowhere in Europe more exciting, beautiful, and fascinating to explore than Italy.
A country absolutely bursting at the seams with remarkable culture, ancient history, gorgeous landscapes, and mouthwatering food, every corner of Italy offers something new to discover.
From the top of the Alps to the heel of the boot, Italy serves up a treat, and is the perfect destination for a celebratory post-graduation trip.
So whether you are celebrating with a graduation cruise to Italy or packing your bags for a wild solo adventure around Europe, here are the best places in Italy to visit once you've graduated.
Rome
The Eternal City is absolutely unmissable. Not only is it Italy's capital city (and as such the most vibrant and atmospheric place to explore) but it has an extraordinarily historical importance, being the center both of global Catholicism and the ancient Roman Empire.
The city boasts some of the most important art galleries and museums in the world, housing many of the most famous paintings and artworks in the world.
And its historical sights, which include the Colosseum, St Peter's Basilica, and the Vatican, are astounding. All in all, Rome is a city unlike any other, and no trip to Italy would be complete without a visit.
Capri
Slightly off the beaten path, Capri is a truly beautiful island in the Bay of Naples.
Once the favorite vacation destination of Roman emperors, these days its turquoise waters and dramatic coastline make it one of the best spots to relax and enjoy swimming and sunbathing.
Its most famous attraction is the Blue Grotto, a sea cave where the waters glow a vibrant electric blue due to the rays of sunlight that pass through holes in the ceiling.
Sicily
Sicily is sometimes overlooked by visitors, but it is one of the best places to visit in Italy if you like to explore. A little wilder, more rugged, and rougher around the edges than the traditional image of Italy, Sicily is perfect for adventurous travelers.
From exploring the stunning town of Taormina, perched on top of a craggy cliff, and taking in the remarkable mixture of Norman, Byzantine, and Arab history and culture, to discovering the lively and exciting city of Palermo, Sicily never fails to disappoint.
You can even take in the darker side of the island, with a visit to Corleone, the village made famous by Francis Ford Coppola's The Godfather.
Bologna
The student town of Bologna is a stimulating place, full of ideas and youthful energy, as well as being rather beautiful as well, decked out in red stone to match the left-wing politics that have typified this fiery spot.
As the heart of the Emilia-Romagna region, it is also one of the finest places in Italy to indulge your foodie side. Emilia-Romagna probably boasts the finest regional cuisine in all of Italy, which given the competition is no mean feat!
Don't miss out on the classic Bolognese pasta, as well as Parma ham, parmesan cheese, and balsamic vinegar, all from this abundant area of the country.
Pompeii
Any visitor on a post-graduation Italy trip should consider making their final stop a visit to Pompeii. This remarkable town is a must-visit for anyone with even just a passing interest in the Romans.
A town frozen in time, it was buried by molten lava and ash when nearby Mount Vesuvius erupted in 79 AD, and the lives and customs of the people who lived there were preserved forever as remarkable (if somewhat macabre) statues.
Don't miss the fascinating and rather bawdy graffiti, a snapshot of ordinary Roman life that is intriguing and amazing in its banality.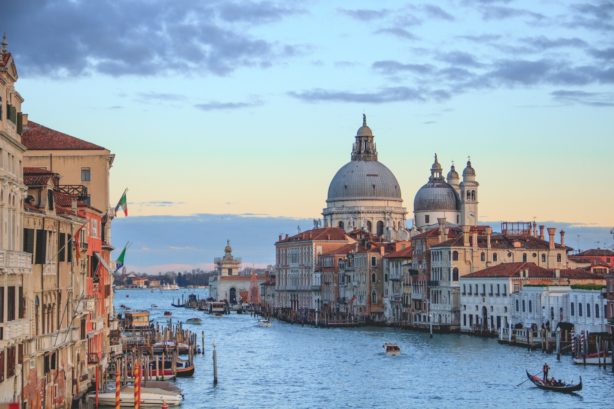 Italy is such a stunning and historic country that it will likely be impossible to fully explore in just one visit.
But making these areas a priority on your visit is sure to give you an insight into the countries culture, history, and appeal.
Whether you choose just one or two of these places or visit them all, you're sure to fall in love with Italy and come back with vacation memories that will last for years!