One of the best things about travel is getting the chance to try new experiences, especially when they're luxurious, one-in-a-lifetime ones!
And if you're looking for the ultimate luxury travel experiences to add to your bucket list, you're in the right place!
Whether you prefer luxury adventure travel or simply lounging in a private villa, these six luxury vacation experiences are ones you'll want to consider for your dream trip!
1. Exploring Monaco
When it comes to luxury travel, Monaco is a top destination for many. The small European city-state is known for stunning beaches, glamorous casinos, and high-end shopping malls.
Whether you prefer sunbathing on the beach or cheering on racers at the Monaco Grand Prix, you're sure to make some incredible memories.
For a true bucket list experience, you can even rent luxury cars in Monaco through Apex and take a drive up Tête de Chien to enjoy a view of the entire principality.
There are also plenty of fascinating museums and monuments to check out, including the Prince's Palace and Saint Nicholas Cathedral.
No matter how you decide to spend your time, visiting Monaco is a travel experience that you will never forget!
2. Safari in Africa
If you're the type that favors luxury adventure travel, there's no better vacation choice than a safari in Africa.
Getting the chance to explore the stunning African landscape up close, while also being able to see the exotic animals of the Serengeti in their natural habitat, is an experience like no other.
There are many luxury safari tour operators operating in different countries in Africa, but the most popular tend to be found in Tanzania, Kenya, and South Africa.
All three countries offer opportunities to see some of the country's most exotic wildlife, including the Big Five: lions, leopards, rhinoceros, elephants, and Cape buffalo.
A great choice for those looking for a truly unforgettable travel experience, taking an African safari trip is also educational and often helps support conservation efforts in the area.
3. Tropical Island Private Villa
Do you prefer relaxation and indulgence to adventure? Consider booking a vacation at a private villa on a tropical island.
Some of the most popular islands offering luxury accommodations in a tropical paradise include Bali, Fiji, and Maui.
And once you've visited, you may find yourself loving the islands so much that you want to buy a timeshare resale and make your visits a regular thing!
Whether you want to relax in your own private infinity pool overlooking the ocean, or go snorkeling in crystal-clear waters, there is something for everyone on these exotic islands.
Some villas also include maid service, a concierge to arrange excursions, and a private chef.
4. Gourmet Food Tour
For the traveler that thinks no vacation is complete without sampling local cuisine, a gourmet food tour can be an ideal luxury travel experience.
Gourmet food tours can be found in many of the world's most popular travel destinations, including Paris, Rome, Bangkok, Tokyo, and many cities in the United States and Canada.
A food tour is the perfect opportunity to experience the authentic cuisine of your destination, and also try expertly-prepared hard-to-find delicacies.
Whether you're sampling Wagyu beef in Japan, authentic Brie de Meaux cheese in France, or black truffles in Tuscany, gourmet food tours will introduce you to tastes and experiences you won't ever forget.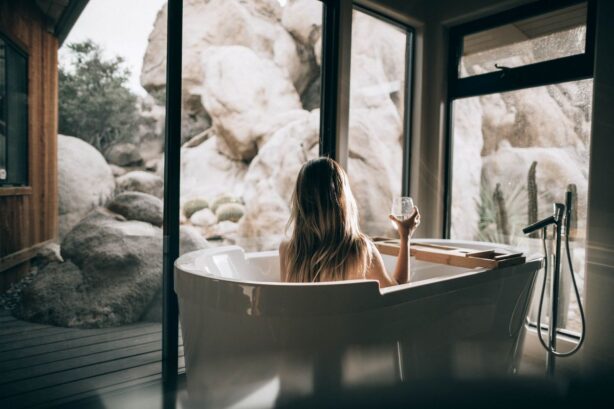 5. Luxury Spa Retreat
If you're feeling overwhelmed and in need of some stress-relief, treat yourself to a luxury spa retreat!
Luxury spas boast a variety of indulgent healing experiences ranging from full-body massages and deep-cleansing facials to reflexology and aromatherapy treatments.
And of course, most luxury spas also offer healthy gourmet cuisine and indulgent settings for relaxation.
Some of the most popular spa destinations in the world include California, Switzerland, Iceland, and Thailand.
Whichever destination you choose, you're sure to also love spending time away from the spa exploring stunning natural scenery and visiting local museums and art galleries.
6. Private Jet Trip
While luxury travel experiences are usually at specific destinations, the journey itself can be a luxury experience too, when you travel on a private jet!
Private jet vacations can be planned either by renting a private jet on your own, or by joining an all-inclusive group jet tour.
In either case, the price tag is going to be high. But traveling by private jet truly is the ultimate in luxury travel experiences, and worth doing at least once if you have the means!
The sky's the limit (literally) when it comes to planning the actual itinerary and customizing your experience.
So, look into the different private jet options available and consider treating yourself to the trip of a lifetime. ​​​­­­­​
When it comes to luxury travel experiences, there's no shortage of amazing options available.
But choosing any one of these six options is sure to result in a trip you'll remember for a lifetime.