If you've decided to use formula for your newborn, you may be feeling a little overwhelmed by the available options.
Choosing the best formula for a baby is no easy task. While every brand of formula sold in North America must meet certain nutrient requirements, the different ingredients used may cause different reactions.
An easy way to start narrowing down your options, though, is by considering organic formula.
Not only does it ensure that your baby won't be exposed to pesticides or other chemicals that may be found in traditional formula, it generally contains fewer ingredients, which may make it easier for little tummies to digest.
Wondering what type of organic formula might be right for your little one? Consider one of these five best organic formula brands:
1. Happy Baby Organic
This baby formula from Happy Family Organics is designed to be as similar as possible to breast milk.
Since the company believes that breast milk provides optimal nutrition to little ones, the ingredients have been chosen with the goal of providing the next best thing to breast milk for babies.
The milk-based formula contains probiotics for optimal digestion, and for babies with colic or digestion issues, there's also a Sensitive Formula available.
2. Earth's Best Organic
Earth's Best Organic has been offering high-quality infant and toddler food since 1985, and its high-quality baby formula is the perfect example of that.
The company offers four different varieties of milk-based organic formula: original, sensitive, gentle, and DHA/ARA-free.
No matter which one you decide to try, you can trust that all Earth's Best Organic formulas are USDA certified organic, enriched with iron, and made with milk from organic grass and grain-fed cows.
3. Löwenzahn Organics
Löwenzahn Organics formula is made in Germany and a beloved choice of mothers throughout Europe.
The company offers both cow's milk and goat's milk-based formula options enriched with prebiotics that are designed to mimic breast milk as closely as possible.
Löwenzahn Organics formulas are unique in using plant-based DHA, instead of using DHA from fish as most other formulas do.
This helps minimize allergen exposure, and also ensures the company is not contributing to overfishing of our oceans.
4. Burt's Bees Baby Organic
While Burt's Bees may be better known for their organic personal care and beauty products, they manufacture three high-quality organic baby formulas as well.
With a regular, sensitive and ultra-gentle formula option available, the company offers options for even the most sensitive little tummies.
The dairy-based formulas are enriched with DHA to encourage brain and eye development, and contain prebiotics to aid digestion.
5. Similac Organic
Similac is one of the best-known formula brands in the world, and the company now also offers an organic version for those that prefer organic formula.
Similac Organic is unique in that it's the only organic formula made with A2 milk protein, the easier-to-digest protein found in milk, to help make it more gentle on infant stomachs.
The blend of vitamins and minerals is designed to mimic breast milk and contains DHA, lutein, and Vitamin E.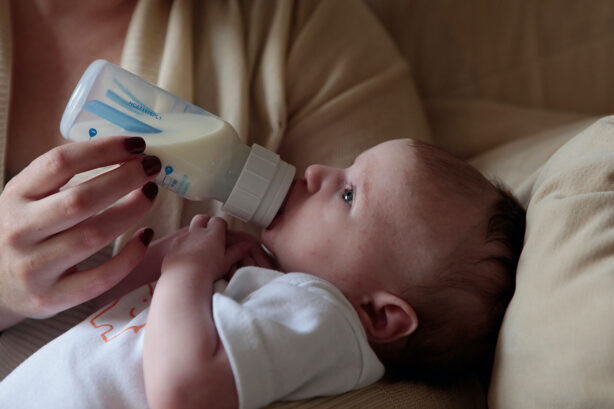 While there are many more organic baby formula options available, taking a look at these 5 popular options is a great place to start.
And whether you end up using one of these 5 brands, or another organic baby formula altogether, you can rest easy knowing that your baby is getting optimal nutrition with no exposure to pesticides, chemicals or hormones.