While most rooms in a house have specific activities that take place there (think cooking in the kitchen or sleeping in the bedroom), the living room is a little different!
Whether you love binging on the newest TV shows or hosting a group of friends, the living room is meant to be an enjoyable, comfortable space to spend time in.
Because of that, you want to make sure that the living room is a space that maximizes your family's enjoyment. And that means putting some thought into the little details, including the curtains.
While a lot of elements might come down to personal preference, keep these ideas in mind when deciding what curtains will suit your living room just right:
Net Curtains
If you want a little more privacy, but still want a living room that's filled with light daily, you might appreciate some net curtains.
They let most of the light in, while still stopping passers-by from being able to look into your room. They also diffuse the light so that you're not blinded by the sun.
If you also want something a little cosier during the night, you can also get normal curtains that hang over the net curtains – it isn't a choice of either one or the other.
Lined Curtains
Your living room is meant to be a space that's always comfortable to be in. That means nice and cosy in the winter, and not too hot during the summer months.
Lined curtains can be a great way of increasing the insulation of your room, stopping excessive heat from escaping or entering through the windows.
While most types of curtains can be lined, it's generally more appropriate for thicker fabrics – silk and linen curtains have their own qualities that you don't want to spoil with a thick liner.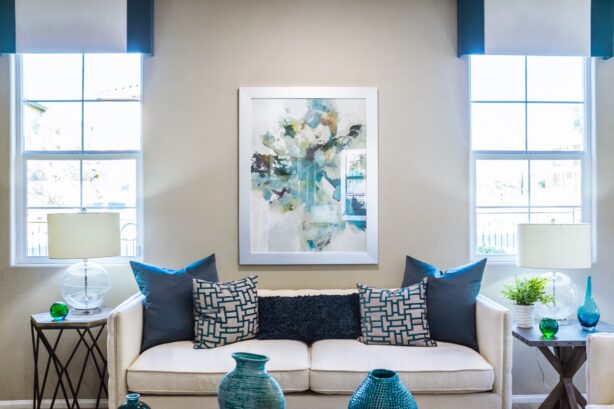 Add Pelmets
To create a formal and luxurious feel in your room, you can't go wrong with adding pelmets, coverings that fit over the curtain rails and fixings.
Pelmets can really bring the decor of a room together, and there are both traditional curved and carved options and more clean and modern versions available.
They can make a room feel bigger, and are also great for framing a window to make it seem taller than it actually is.
Match Curtains To Walls
An easy way of making your room seem bigger is by matching the colour of your curtains with the colour you've painted your walls.
It's likely that you put a lot of effort into the paint colour scheme, so why not continue with that theme if you're still pleased with it?
If you perfectly match the colour, it can make the curtains look like an extension of the walls when they're drawn shut.
This can be especially attractive if you have a more minimalist, Scandinavian living room, since it will help enhance the simple style of the decor.
If you're shopping for curtains and in need of some inspiration, take a look at the options offered by curtain specialists Woodyatt Curtains.
With plenty of styles to browse and experts to help if you have questions, it's a great place to get an idea of the curtains that might suit your style best.