When looking around a potential new home, people are often put off by two things – small kitchens and small bathrooms.
And while there are certain negative aspects in having a small kitchen, a small bathroom can actually be made into an absolute gem.
Wondering how to get started? Consider trying these top design ideas for small bathrooms, to help you make full use of the space that you've been given to work with.
Custom Cupboards
In any small room, it's incredibly important that you make full use of the space. And often, the only way to do this is to custom build the furniture to match the exact dimensions.
While this might sound like a pricey upgrade, it's definitely worth reaching out to a carpenter to get a quote on how much it might cost to maximize your available space.
You may find out that custom storage will be only slightly more expensive than buying a pre-built design, while also making your bathroom feel uniquely stylish.
Of course, the best part is that you won't have any wasted space – a big plus in any small area.
Pay Attention To Small Details
With small bathrooms, every detail matters more than in bigger spaces, since every detail will stand out.
It's important to think about every aspect of the room and how it will go together, from the shower mat to the choice of wall covering.
One way of achieving a wide range of beautiful effects is to use bathroom wall panels. You can get anything from imitation tile to fake slate, all of which are hardly distinguishable from the real thing.
They're easy to cut to size and install in small spaces, and can provide a luxurious look even when you're updating your bathroom on a budget.
Other small details to consider carefully include finishings like faucets and drawer pulls, wall decor, and greenery.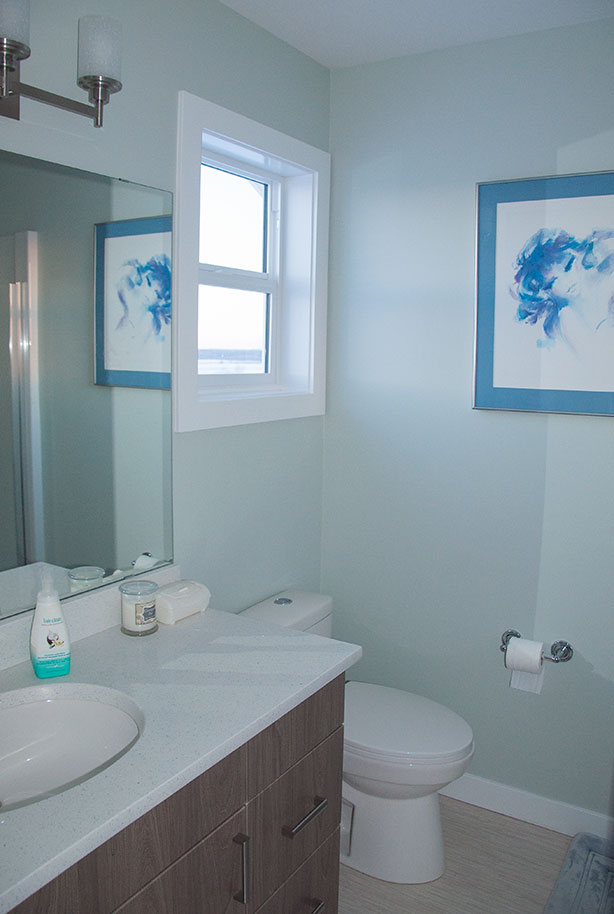 Think About Lighting
Lighting is important for any space. And when it comes to maximising the potential of a smaller room, it becomes one of the most important elements of that area.
That doesn't mean that you should have blinding spotlights – you need to consider the nuances of the bathroom, and light it accordingly.
You might choose to have a softly backlit mirror, and then lights shining in different directions. Try not to have any lighting that shines straight into a mirror, and also consider the harshness of the light.
If it's a bright space anyway, then a cool white bulb is likely the best choice. If you're going for a cosy look, try to get something a little warmer.
Go Cosy
A small bathroom is never going to be a big space.
So, while you can make the most of the space you have, it's always best to embrace the size with a cozy aesthetic, rather than trying to make it look like something it's not.
Your idea of cosy will be somewhat unique to you, but in general, this means using warm lights, painting it in slightly darker, natural colours, and having soft focal points.
Your small bathroom can still be an absolute prize – it will just take a bit of extra work to ensure you get the look you want while maximizing your space.
Use these design ideas for small bathrooms as a starting point and turn your small space into a cozy haven the whole family will love.