Are you looking for a hassle-free way to explore the Hawaiian islands? It may be worth considering using an auto transport company to ship your car to the island for your stay.
While it does mean some additional expense, the freedom you'll be able to enjoy can make the cost well worth it.
Here are some of the top reasons to consider car transport to Hawaii when visiting Oahu:
Why Ship Your Car to the Island?
Bringing your car with you to any of the islands in Hawaii may not always make sense. For a short trip, using taxis or renting a car may work just fine.
But, if you're planning a longer vacation or an extended stay, the cost of a rental car can quickly become unreasonable.
Check current rates, do some calculations, and see if it makes more sense budget-wise to car transport to Hawaii from the mainland.
Why Montway?
Montway is one of the most trusted auto transport companies in the world. The company has been in business since 2004 and has established a solid reputation for providing efficient, reliable, and affordable services.
They also offer 24/7 customer service, and online tracking so that you can be sure your vehicle will arrive safely and on time.
Plus, they provide a door-to-door delivery service, which is excellent for travelers who don't want to deal with the hassle of picking up their car from the port or airport upon arrival in Hawaii.
How Do I Learn More About Transporting with Montway?
If you're curious about the potential cost of shipping your car to Oahu, start by visiting the website and requesting a quote.
Checking out reviews of Montway Auto Transport is another great way to get a feel for the company and what you can expect in terms of service and cost.
And, when in doubt, don't be afraid to call and ask any questions you have so that you can get first-hand information and advice.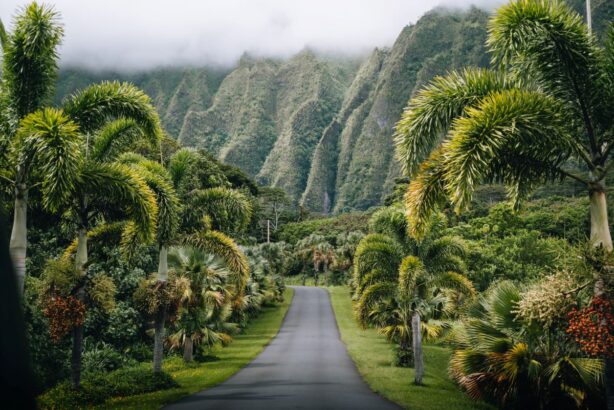 What Can You Do With Your Car On Oahu?
Having a car on Oahu opens up a world of possibilities for travelers. You can explore every nook and cranny of this beautiful island from one end to another.
With your car, you won't need to worry about relying on public transportation or overpaying for taxi rides and car rentals.
Plus, it makes exploring beaches and other attractions much easier, because you don't need to worry about finding transportation back after exploring each spot—just hop back into your car!
Also, camping, hiking, and biking are much easier to access when you have reliable transport to the trailhead or campsite. Not every taxi driver will be willing to head into the jungle or halfway up a volcano.
Enjoy the Night Life
A car can be essential if you want the complete Oahu experience, including the party scene, on your vacation.
Public transit and taxis may not always cover all the areas you want to explore for nightlife, and it can be stressful trying to make plans with the clock ticking.
Having access to your vehicle gives you the independence and freedom to spend your time in some of the hottest and most happening after-hours spots Oahu is known for.
When you're visiting late-night karaoke bars, beachfront bonfires, and Waikiki dance clubs, having your transportation coordinated in advance opens up opportunities for adventure without having to worry about being stranded later in an unfamiliar place.
Discover Natural Wonders
Of course, one of the best things about visiting Oahu is experiencing its hidden treasures that can't be found anywhere else in the world.
Oahu has beautiful beaches, hidden trails, secret waterfalls, and even shipwrecks. And with your vehicle available, you can explore them all at your own time and pace, without the stress of arranging transportation.
From the pristine beaches of Hanauma Bay to the wonderous waterfalls and gardens of Waimea Valley, experiencing the splendor of nature couldn't be easier.
And, of course, visiting the islands many attractions, including the Pearl Harbor National Memorial, the Byodo-In Temple, and the Dole Plantation, is easier as well.
If you're planning an upcoming trip to Oahu, there are all kinds of reasons to consider using Montway Auto Transport for your car transport to Hawaii.
Having a safe and convenient way to get around the island will help you to make the most of your time in Hawaii, and ensure your vacation is one you'll never forget!