If you want an ultimate holiday experience at sea, there's nothing quite as luxurious as renting a yacht.
And, believe it or not, chartering a yacht can be both simple and affordable. It's no longer an experience only for the super rich, as many people think.
Whether you're considering yacht rental Fort Lauderdale for a get-together with friends, or a European charter for a romantic vacation, you'll want to do some research before you take the plunge.
Start with these tips and information on what you need to know before renting a yacht:
Why Rent a Yacht?
A yacht is essentially a large boat with a full crew and other luxuries. Some yachts are like 5-star hotels on the water.
Unlike a smaller boat that you might rent, stock, and pilot yourself, a yacht is crewed by professionals, so no experience on the water is needed.
You can charter a yacht for one single day or multi-day trips. Best of all, most yacht rentals come with a captain, which means you're free to relax and enjoy your time on the water.
Types of Charters
There are three main types of yacht charters: bareboat, crewed, and cabin charters.
A bareboat charter is a term used when the yacht owner sublets their property to a second party, who then takes all the responsibility of hiring a crew and stocking the boat. The hiring party decides what to do with the yacht.
A crewed charter offers the full yacht experience, including a captain, cooks, cleaners, and all other provisions. All you do is show up and enjoy.
Finally, a cabin charter is ideal for solo travelers or a small group. Instead of chartering the whole vessel, you only charter a room or two. It's an excellent way to enjoy the yacht experience on a budget.
Destinations and Trip Duration
Yacht trips are limited to how much you are willing to spend, and on applicable local laws.
Most charters require you to pay for fuel on top of the chartering base price. You can visit as many seaports and cities as you want if you're willing to spend the money on fuel to do so.
Depending on the size of the yacht, you can even plan a multi-week trip to numerous destinations.
Keep in mind, however, that single-day fishing or sightseeing trips are much cheaper than trips to remote and harder-to-reach destinations.
While a half-day yacht rental may cost upwards of $1000, it's important to remember that most yachts have room for ten or more people.
When the cost of renting a yacht is split among a group, the experience becomes much more affordable.
Charter Brokers
If you're hesitant about handling the charter process on your own, you may want to consider working with a charter broker to help you through the process.
Consulting a charter broker is free, so it can be a good idea to talk to a few different ones and then decide on the offer that suits you best.
Once you do decide to move forward with renting a yacht, the charter broker takes a percentage of the package cost as payment.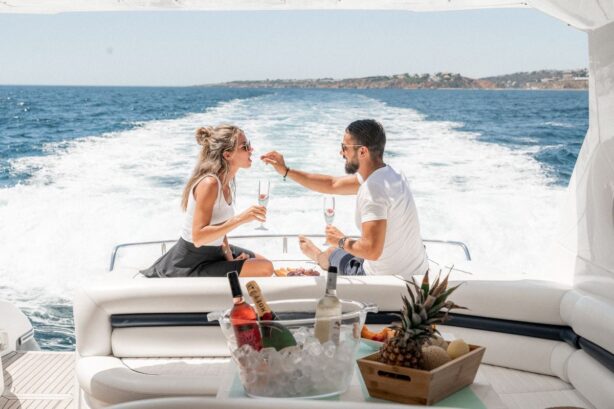 While renting a yacht isn't something a person can likely do on a regular basis, it is a great way to celebrate those big moments and extra special occasions.
Just decide on the type of charter that suits you, research the available rental options at your desired location, and get ready for a once-in-a-lifetime experience on the water!