A welcoming bathroom is one of the most appealing features of a home, but it's often overlooked when it comes to decorating.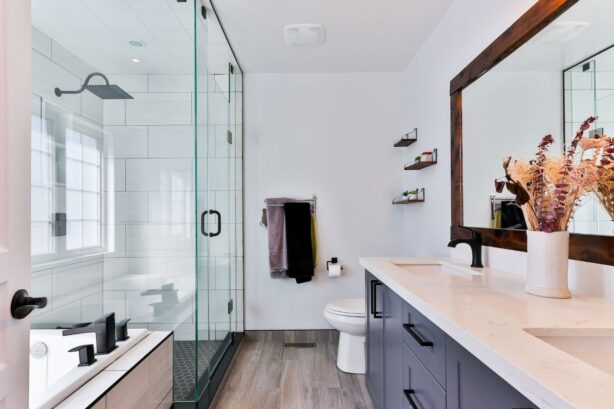 As the smallest room of the house, it can be surprisingly easy to make your bathroom a haven in your home.
Start by trying one of these six easy upgrades to your bathroom decor!
New Tiles
Upgrading a bathroom with subway tiles adds a luxurious look, and there are all kinds of great designs and colors to choose from.
Whether you decide on a simple tile backsplash or a fully tiled shower, the beauty and functionality of tile is always a great choice for the bathroom.
Or, if you want a look that's more modern, switch classic subway tiles for mosaic tiles, or combine a variety of tile types to create your own custom pattern.
Best of all, while installing tile does take a bit of work, it's relatively easy to do yourself. Consider practicing on a small area before diving in, and get ready to enjoy your bathroom's new tiled look!
A Rug
Hard floors are the standard in bathrooms for obvious reasons, but that doesn't mean the space can't still benefit from a rug!
Adding a bathroom rug helps make the space feel cozy and inviting, and there are plenty of options in bathroom-friendly materials available.
Ideally, look for a durable and machine-washable rug so that keeping it looking great is easier. Aside from that, the sky is the limit when it comes to choosing the perfect bathroom rug!
Adding a soft and cozy bathroom rug doesn't just make the bathroom look more inviting. It's a way to make the room feel more comfortable, too.
Choose a style to match your paint colors and accessories, and your bathroom will feel instantly elevated.
Stylish Accessories
A bathroom looks its best when it is outfitted with the right accessories. Try choosing any or all of the following items:
shower curtain
towels
bath mat
soap dispenser
toothbrush holder
tissue box cover
waste bin
shower caddy
a towel rack or hooks
toilet brush and holder
bathroom scale
magnifying mirror
Once your accessories are placed appropriately, consider adding some fun items to the space as well!
From decorative soaps to stylish artwork, there are all kinds of small details you can add to make your bathroom look inviting.
Want to add extra storage? Hang shelves for easy access to everyday items and try adding a stool or little table to contain additional toiletries or pretty knick-knacks.
Combining both practicality and beauty with the accessories you choose creates a bathroom that is both pleasant to use and appealing to look at!
Upgraded Lighting
Lighting can often be overlooked in the bathroom, but good lighting can make a world of difference in any space.
A stylish set of pendant lights above the vanity is a must, and you may also want to consider adding recessed lighting in the shower and your bathroom ceiling.
Finally, consider a way to bring in some natural light! If your bathroom doesn't already have a window, a light tube can be an inexpensive way to upgrade the bathroom and add natural light to the space.
Colorful Towels
Colorful towels can be a wonderful way to add a splash of personality and style to the bathroom.
Whether you choose bright, fun colors for a young family's bathroom, or muted tones for a more relaxing atmosphere, towels have always been an easy and inexpensive way to give your space some personality.
Visually inviting and functional, adding pops of color with towels can transform your bathroom from an everyday space into something fun and unique.
And, best of all, changing up the look of your bathroom in the future can be done by simply switching out your towels for different ones!
Houseplants
Houseplants are a great way to add life and color to any bathroom while bringing a touch of nature indoors.
There are many houseplant varieties that thrive in the atmosphere of bathrooms – a combination of air moisture and indirect light. Certain species will even be able to purify the air of toxins, creating a healthy ambiance in the room.
If you don't want to commit to caring for real plants, then consider adding one or two artificial plants to different areas of the room.
The touch of green will give your bathroom a fresh and welcoming feel, and you can enjoy all of the benefits of a houseplant without having to worry about watering or clipping.
Decorating a bathroom can be surprisingly fun, and its upgraded look will have you appreciating the bathroom even more.
Just remember, not every upgrade has to cost a fortune!
Whether you're looking for simple design ideas for small bathrooms or major changes like a new vanity, there are all kinds of easy and affordable ways to improve the look and feel of your bathroom.