From visiting the Eiffel Tower in Paris to letting loose in New Orleans during Mardi Gras, there's no shortage of popular travel experiences in the world.
But there are some destinations that offer a more unique experience, and some hidden gems in the world that may just touch your soul for a lifetime after visiting.
If you're looking for a truly breathtaking travel experience, consider one of these seven incredible bucket list destinations across the world.
Antarctica
If you want to visit an area that most people in the world will never set their eyes on, you'll want to plan a trip to Antarctica.
This unique environment is densely packed with exotic wildlife and magnificent landscapes that stretch from one end of the continent to the other.
For travelers who dare to venture into its icy depths, an Antarctic expedition will reward you with unforgettable experiences that you're sure to remember for a lifetime.
The opportunity to see penguins bunched together on icy plains, or majestic whales swimming gracefully beneath pristine glaciers is something that can't be found in any other place on Earth.
From breathtaking kayaking trips across glacial lagoons to hiking expeditions throughout some of the most remote regions on our planet, visiting Antarctica offers an adventure like no other.
Yellowstone National Park, USA
Home to some of the most awe-inspiring wild lands in the world, Yellowstone National Park is one of the most popular places to vacation in the USA.
From vibrant turquoise lakes and snow-capped mountains to sprawling forests and geyser basins, this wondrous paradise will take your breath away.
Set your sights on the majestic Grand Prismatic Spring, hot springs like Mammoth Hot Springs, the thunderous Old Faithful geyser, the abundance of wildlife, and scenic landscapes that make this park one of the country's gems.
Yellowstone offers an abundance of activities for visitors, whether you prefer hiking, camping, horseback riding or simply taking nature photos.
And each experience highlights the natural beauty of the park in a different way, so plan on trying a few different things when you visit!
Masai Mara, Kenya
If you have a passion for wildlife viewing, Masai Mara in Kenya should be at the top of your list of vacation spots.
The destination is renowned for its abundance of wildlife, and visitors will have the chance to see lions, cheetahs, elephants, zebras, and more in their natural habitat.
It's also one of the best places in the world to view one of Mother Nature's most picturesque events: the Great Migration.
Starting at Serengeti National Park in Tanzania and heading towards Masai Mara, several species of hooved animals including wildebeest, zebras, and gazelles, join together for a migration that covers thousands of miles.
Whether you prefer to stay on land and catch the herds from the comfort of a jeep safari, or soar above them in a hot air balloon, Masai Mara's abundance of wildlife will leave you spellbound.
The Great Wall Of China
Few human-made structures have captivated the eye and heart of travelers quite like The Great Wall of China.
Constructed over two thousand years ago, this impressive behemoth winds its way through lush mountain vegetation along China's northern borders.
It's no wonder some explorers consider it one of the most awe-inspiring man-made accomplishments in all the world.
While simply hiking up to the top and walking along the wall can be a moving experience, there are plenty of other more unique ways to enjoy a trip to the wall, as well.
Consider taking a helicopter tour to get a bird's eye view of the structure, camping on one of the wild sections of the wall, or even joining in the Great Wall Marathon.
But, no matter how you choose to experience it, you're sure to come away with respect for mankind's deep inventiveness and strength, even against a vast and powerful nature.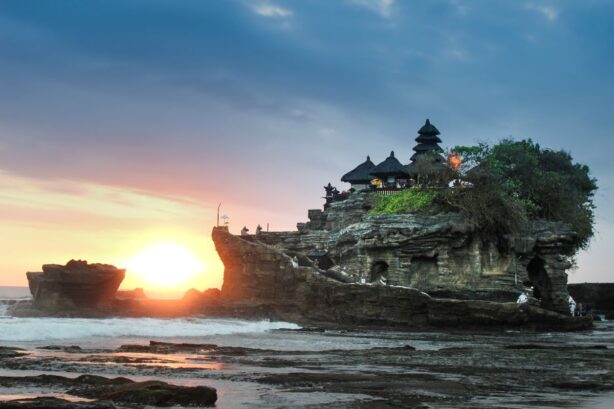 Bali, Indonesia
For those in search of bucket list destinations that will add spirituality and serenity to their life, the vibrant island of Bali in Indonesia is just the ticket.
With its lush terraced rice paddies, stunning beaches, spectacular waterfalls, and tranquil temples, this is one island that will linger in your heart for years to come.
Make sure you take time out of each day to explore some of the many Balinese cultural offerings, such as gamelan performances and yoga classes — you're sure to find an activity that speaks to your spirit!
Whether you prefer to make the challenging hike up Mount Agung or take part in a prayer ceremony at Uluwatu Temple, there's no shortage of ways to indulge in all Bali has to offer.
An unforgettable journey awaits those willing to explore the many hidden gems of this sacred isle!
Amazon Rainforest, South America
Covering about 40% of the entirety of South America, the Amazon Rainforest is one of the most diverse and important ecosystems in the world.
And for those that have a passion for eco-tourism, a trip to the Amazon will be one that offers an experience like no other.
Visitors generally choose to start their trip into the rainforest from Brazil, though Peru and Ecuador are also popular choices.
And once there, seeing the abundance of colorful flowers, towering trees, and exotic wildlife is sure to inspire a feeling of awe.
Since the Amazon is so vast, it can be intimidating trying to decide exactly how to delve into its depths. Consider staying at a jungle lodge, joining a guided rainforest tour, or booking a cruise on the Amazon River.
No matter what option you choose, experiencing the biodiversity of the Amazon in person is something that you'll never forget.
Machu Picchu, Peru
Exploring the ancient ruins of Machu Picchu is often a life-changing experience for travelers.
Nestled in a lush valley in Peru, this iconic marvel has been standing for centuries, captivating all who take the time to hike up its steep terraces and pathways.
For those in search of the ultimate adventure, consider taking a jungle tour along the Inca Trail to the ruins. You'll enjoy rafting, biking, ziplining, and more before touring the ancient wonder.
Or, stick with a simple day trip and explore the ruins at your leisure. Just don't miss out on hiking to the top of Machu Picchu Mountain to enjoy the breathtaking views!
These ancient Incan ruins are one of the most ancient and mysterious places in the world, and definitely deserve a place on any list of unique travel destinations.
Whether you favor adventure in the exotic wilderness or experiencing a unique culture, each one of these bucket list destinations has something to offer that will take your breath away.
Why not start planning a trip and see some of the most incredible places in the world for yourself!