Basements are often the most underutilized spaces in a home, and yet they hold the potential for so much.
With a little creativity and the right renovation ideas, you can transform your basement into a cozy and inviting space that you'll love spending time in.
From home theaters to home gyms, there are countless ways to make your basement renovation dreams a reality.
If you need some inspiration, check out the before and after photos from the Calgary basement development experts at Reborn Renovations to see what ideas appeal to you.
Wondering about the best way to make use of your basement space? Here are six basement remodel ideas to turn your basement into a comfortable and functional space you and your family will love to spend time using!
Add a Home Gym
If you're someone who values fitness and exercise, transforming your basement into a home gym could be the perfect renovation idea for you.
Not only will you save money on that gym membership, you'll also have the convenience of working out in the comfort of your own home.
Whether you're into strength training, cardio, or yoga, there are plenty of options for outfitting your home gym to suit your needs.
Start by deciding if you want the gym to take up your entire basement space, or if you want to section off one room.
Then, you can determine what equipment you want to add, how much space you'll need in total, and how you want to decorate the area.
Install Storage
Basements often become a catch-all space for storing items that don't have a designated place in the rest of the house. However, your basement can become more functional and organized with the right storage solutions.
Consider installing shelves, cabinets, and bins to keep your items neatly stored and easily accessible. Use wall-mounted organizers and hooks to take advantage of vertical space.
Whether you're storing seasonal decorations, sports equipment, or extra pantry items, having a designated storage area will make it easier to find what you need, when you need it.
With the right storage solutions, your basement storage area can become a clutter-free space that adds value to your home.
Create an Arts & Crafts Studio
If you're an artist or someone who enjoys DIY projects, transforming your basement into an art studio can be a great renovation idea.
Providing you with both space and privacy, your basement can become a creative oasis where you can explore your passions and express your artistic side.
Depending on your interests, you may need to consider factors such as lighting, ventilation, and storage for your supplies.
You may also want to add comfortable workspace with a desk or table, a comfortable chair, and other amenities such as a sink or storage shelves.
Add Some Lighting
Basements are often dimly lit spaces with limited natural light. Adding strategic lighting can transform your basement into a more bright and inviting space.
Consider installing recessed or track lighting to provide general illumination throughout the space. You can also add additional lighting over workspaces or seating areas for added functionality.
To create a cozy atmosphere, consider adding floor lamps or table lamps that provide warm, ambient light. If you're planning on adding a home theater or gaming area in your basement, dimmable lighting can help create a movie theater-like experience.
With the right lighting, your basement will become a more inviting space that you and your family will love spending time in.
Get Creative With Flooring
The flooring in your basement can greatly impact the overall look and feel of the space.
Most basements have concrete floors before being finished, so if you're starting from scratch, consider painting or staining them for a modern and industrial look.
Alternatively, you can install carpet or area rugs to create a more cozy and comfortable atmosphere. For a low-maintenance option, consider luxury vinyl tile or laminate flooring, both of which are durable and easy to clean.
If you're creating a home gym or workshop in your basement, rubber flooring can provide a cushioned surface that's slip-resistant.
Whatever flooring you decide on, you may want to consider working with skilled flooring installers for your project, to ensure you get the best results possible.
With creativity, your basement flooring can become a stylish and functional aspect of your renovation project.
Incorporate an Accent Wall
Incorporating an accent wall in your basement renovation can add a touch of personality and style to the space.
Whether you choose to paint a wall a bold color, install wallpaper, or create a unique texture with wood paneling, an accent wall can become a focal point in the room.
Keep the purpose of the space in mind when deciding on your accent wall. Metallic tile could be great for a home bar area, while a home gym could benefit from a mural of a tropical beach.
No matter what you decide on for your basement accent wall, it's a fun and relatively inexpensive way to really bring your own sense of style into your basement space.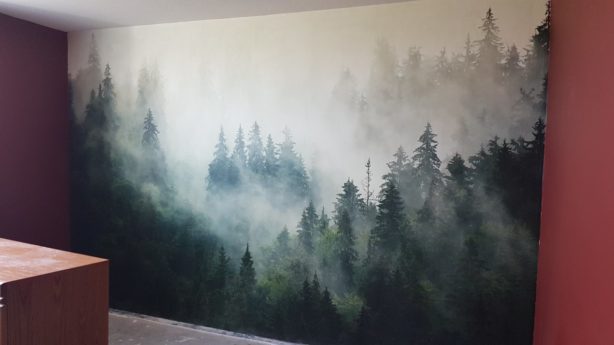 A basement renovation project can transform an underutilized space into a functional and inviting area that adds value to your home.
No matter how you decide to divide and use your basement space, the results are sure to have you glad you made the effort.
So, roll up your sleeves, grab your renovation plans, and get ready to turn your basement into a beautiful and useful living area.