Our family loves to travel, but we haven't been able to do much of it lately. With so much time spent at home, we're all starting to go a bit stir crazy!
But recently, we've found a way to experience a bit of the tropics, without even having to leave the house…all thanks to our new Photowall wall mural!
I featured the amazing mural wallpaper from Photowall Sweden last year, as part of our family's basement game room renovation. The foggy forest wall mural on the back wall of the room is a focal point that gets rave reviews every time somebody sees the space for the first time.
So, when Photowall offered to let me review another wall mural, I couldn't resist. This time, my husband and I decided to revitalize our work space by adding a beach mural to the wall of our home office!
Saskatchewan is no stranger to cold weather in the winter, and mid-January to late-February is usually when the cold is at its worst. So, my husband and I got to work turning our office into a tropical paradise.
As we learned with our first Photowall experience, applying this mural wallpaper is all about taking your time. Getting the first piece perfectly straight is crucial, since every other piece will be lined up with it.
We used the Wallpaper Kit that's available from Photowall for an extra $18 to mark the line for the first sheet of wallpaper and ensure it was perfectly level. Then we applied the paste and hung the paper.
My husband mastered smoothing each sheet to perfection when we applied the last wall mural, so he took the lead on that again this time.
The hardest part was hanging the last few pieces, since there were only a few clouds and the horizon line to use to line up each sheet. But by carefully eyeing the details, we got them just right!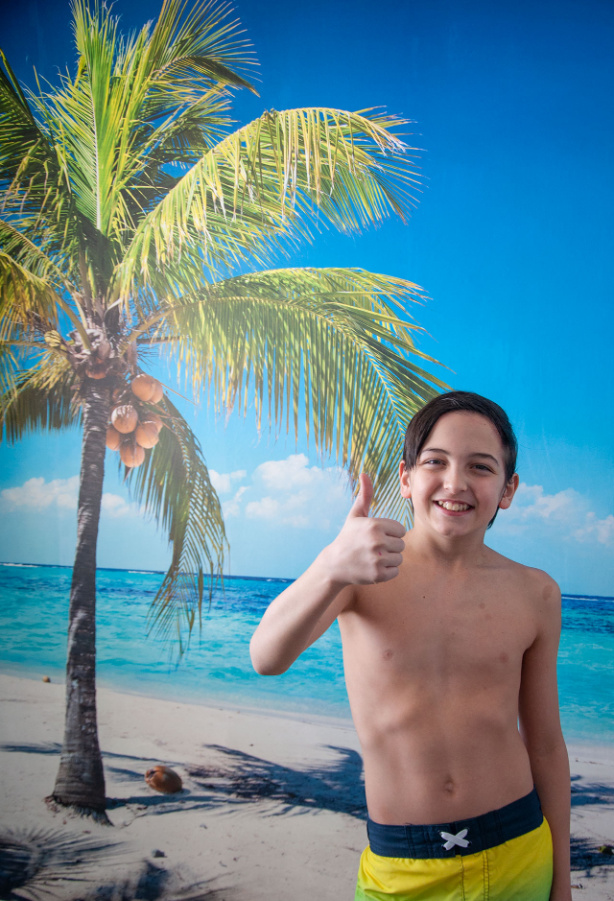 Once the wall mural was complete, I couldn't resist taking a few photos "on the beach" before putting the office furniture back into place. It may have been -40 outside, but my view had me feeling the heat!
Then we put the desk and computer back into place and got ready to enjoy work with a view. Reading emails and editing photos is definitely a lot more fun at the beach!
In fact, lately I head into the office first thing in the morning, kick up my feet and sip my coffee looking out over the water. It's the perfect pretend getaway to get me ready to tackle my day!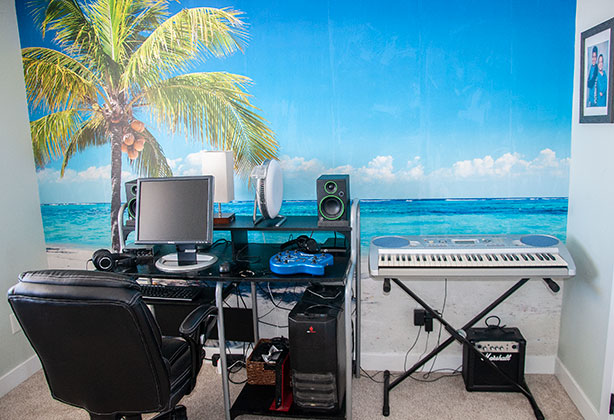 Ready to dress up a room in your house? You'll want to grab this exclusive coupon code just for Mommy Kat and Kids readers! Use code greatdiscount15 to save 15% off your entire purchase at Photowall!
Photowall's amazing selection of wall murals means that there's something for everyone, no matter what type of view you might be craving. Travel the African Savannah, enjoy the big city lights of New York or look out from a balcony in Paris, all without leaving your home.
No matter which one you choose, you're sure to love having an amazing new exotic view without ever having to step out your front door!