For about a year and a half now, I've been weight training once or twice a week. And I am in love!
Having a great class with a great group of women helps a lot, of course. But I'm also excited to see the muscle definition I'm building as I work up to heavier weights.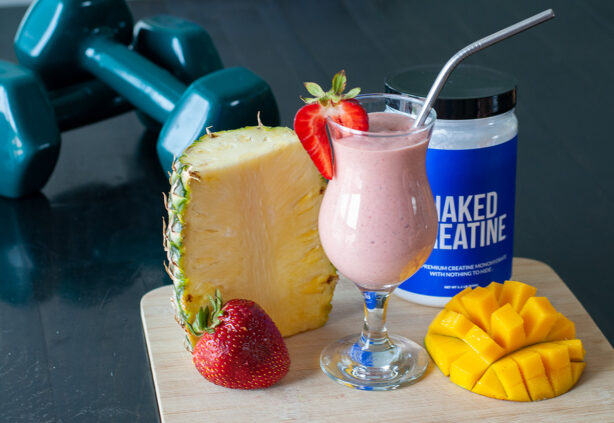 Still, I sometimes feel like I'm not progressing as quickly as I would like. And that's why I've started taking creatine to help build muscle a little faster.
Creatine has been a body-building favorite for decades, and while it takes about a month of daily use to start seeing muscle-building benefits, I did notice an increase in my energy level almost immediately after starting to use it.
While you can simply mix a scoop of creatine with water and gulp it down, I especially like adding it to a post-workout smoothie after my lift class.
And this Tropical Post Workout Smoothie with creatine is a great example of why!
Packed with vitamins, minerals, protein, healthy fats, and fiber, it's the perfect way to get your daily creatine while helping your body recover after a workout.
I created this smoothie specifically because I found that so many post-workout smoothies had banana as one of the ingredients.
While I do like bananas, I find that they overpower other flavors. I wanted a smoothie that had a great mix of fruits complimenting one another, and my Tropical Post Workout Smoothie was the result.
My go-to creatine brand is Naked Creatine, and it works great in this smoothie. I love knowing that my supplement is 100% creatine with nothing else added.
I decided to use fresh fruit for my smoothie, but frozen fruit works just as well. If you're using frozen fruit, you may want to add a quarter cup of milk or coconut water to get a good consistency.
And if you're using fresh fruit, but like an ice-cold smoothie, just toss in a handful of ice cubes!
Personally, I find the naturally occurring sugar in the fruit is the only sweetness I need, but if you like your smoothie a little sweeter, simply add two tablespoons of stevia, monk fruit sugar, honey, or your own preferred sweetener to the blender.
You can even add one of these healthy smoothie ingredients to up the nutrition even more.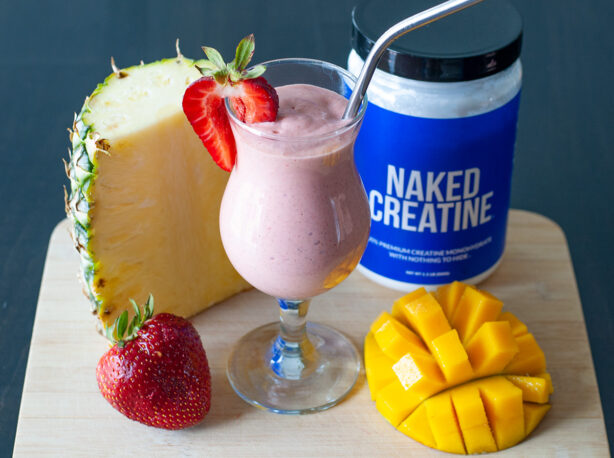 While this post-workout smoothie is designed to help your body recover after a workout, it's great as a breakfast smoothie as well!
And since it can be made with either fresh or frozen fruit, it's a fun way to enjoy a taste of summer all year round.
Give it a try and enjoy a burst of energy that will help you both recover from your workout and get through your day!
Tropical Post Workout Smoothie
A protein-packed post-workout smoothie with tropical flavors and creatine!
Ingredients
1 cup Greek yogurt
1/2 mango, fresh or frozen, diced
1/2 cup strawberries, fresh or frozen
1/2 cup pineapple, fresh or frozen, diced
2 tbsp. chia seeds
1 scoop (5g) Naked Creatine
2 tbsp. of desired sweetener (optional)
Instructions
Add all ingredients to blender.
Blend until smooth.
Pour into large glass and enjoy!
Notes
If using frozen fruit, adding 1/4 cup of liquid may provide a better consistency
Nutrition Information:
Yield:

1
Serving Size:

1
Amount Per Serving:
Calories:

430
Total Fat:

9g
Saturated Fat:

1g
Trans Fat:

0g
Unsaturated Fat:

7g
Cholesterol:

11mg
Sodium:

89mg
Carbohydrates:

64g
Fiber:

14g
Sugar:

45g
Protein:

29g