When it comes to Indian cuisine, finding a restaurant that provides authentic dishes in a comfortable environment isn't always easy.
But, if you're visiting the Orlando area, then Tabla Indian Restaurant has just what you're looking for.
Located just miles from Universal Orlando Resort, Tabla has a diverse menu that will satisfy even the most discriminating palate.
With dishes ranging from classic Indian favorites to more unique options featuring lamb and paneer, there's something to suit everyone at Tabla!
The inside of the restaurant is artistically furnished, with warm colors and traditional Indian artwork, providing a welcoming and friendly environment.
The dining room offers comfortable seats and enough space for large groups or quiet evenings. Tabla's staff is cheerful and knowledgeable, and they provide exceptional service and recommendations for dishes and drinks.
Classic Indian Spices
If you're new to Indian food, you may be wondering just what sets it apart from other types of cuisines. Often, in Indian cooking, it comes down to the spices.
Some of the most commonly used spices in Indian cuisine include cumin, coriander, turmeric, cardamom, cloves, and cinnamon.
When the spices are blended together, they create a unique flavor profile that's immediately recognized by any fan of Indian food. Even better, many of the spices offer valuable health benefits!
Wondering how best to sample the unique flavor of Indian spices for the first time? Any of Tabla's most popular offerings are a great place to start.
Tabla's Signature Dishes
A favourite in Indian cooking for many, butter chicken is one of Tabla's most popular signature dishes.
This traditional Indian meal features soft pieces of chicken cooked in a creamy tomato-based sauce with an aromatic spice combination called garam masala.
Tabla's butter chicken is rich and savory, with just the right amount of sweetness and heat. Pair it with basmati rice and warm naan bread for a complete and fulfilling dinner.
If you love a bit more heat in your Indian food, then lamb rogan josh is another must-order at Tabla.
This rich curry is made with delicious pieces of lamb, slow-cooked with a blend of spices in a sauce of tomato, onion, and garlic. A touch of chili helps to add an addictive bit of spice to this savory main course.
Order it with fluffy rice and raita on the side, which helps to balance out the rich flavors in the curry.
If you're looking for a vegetarian option, try the paneer tikka masala. Cubes of paneer cheese are marinated in a yogurt and spice combination, then grilled to perfection in this delicacy.
The paneer is then simmered in a creamy tomato-based sauce with a dash of honey sweetness that's sure to satisfy.
To try out these amazing food options and so many more, book a table now!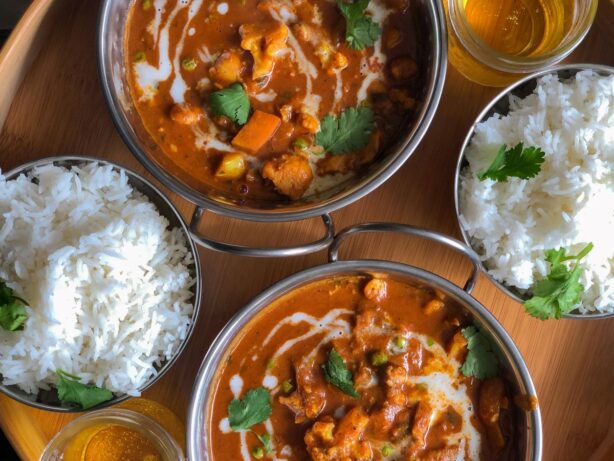 Overall, Tabla Indian Restaurant in Orlando is an excellent choice for anyone that's craving the robust and hearty flavors of Indian cuisine.
If you're planning a vacation to the Orlando area, the restaurant's pleasant ambiance, courteous service, and wonderful food are all great reasons to make it a must-visit restaurant when you visit!