The right bedroom layout can be a game-changer when it comes to maximizing both comfort and style.
It's estimated that we spend up to one-third of our lifetime in bed, so taking the time to make your bedroom a haven is well worth the effort.
Wondering how to get started? Try these layout tips that can help you design the best possible bedroom:
The Bed
First off, since the bed is most likely going to be the biggest piece of furniture in the room as well as the focal point, it is important to design around it.
Start planning your bedroom layout by finding the best place for the bed first, and then work your way out to the other areas of the room from there.
It doesn't matter if you have a bed in a box or a massive four-poster; finding the perfect spot for your bed will help everything else in the room fall into place.
Keep it Simple
Clutter and too little empty space can make a room go from relaxing to anxiety-inducing. One mistake many people make is trying to add too much to a room, valuing quantity over quality.
Instead, when choosing furniture and decor, think about how much value that piece will add to the room. If your time in the bedroom won't be improved by it, don't buy it.
Make the Most of Views
If your bedroom has a nice big window or a door leading outside, don't design the room to hide or obscure those views. Instead, plan to highlight and accentuate them.
Putting your bed parallel to a window will create one type of experience, while putting it facing the window will give you something different.
Play around with potential placements to see what creates the most relaxing environment for you.
Seating Areas
If you have the space, a seating area makes a brilliant addition to any bedroom.
Consider a couch and coffee table, a pair of wingback chairs, or even a simple cuddle chair and end table, depending on how much room your bedroom has.
A bedroom seating area creates a space for relaxation away from the rest of the house, something any busy parent will especially enjoy.
Consider Room Architecture
If you're wondering how to place a specific piece of furniture or decor, think about the architecture of the room as a whole.
More often than not, there will be elements of the room that can help you decide placement, whether that's an alcove in the wall for the bed, or space in a corner that can fit a chair or two.
When it comes to awkward corners and angles in a room, try to make the most of them with a piece of furniture designed to fit. Don't let the space be wasted by adding nothing. Instead, make it functional.
Keep the Room Cozy
Even if you're planning a bedroom layout that's clean and minimalist, you'll still want it to be cozy and welcoming. But remember, that doesn't have to mean adding clutter!
To make the room cozy, add small touches like candles, fluffy pillows, a thick accent rug, or pretty fairy lights. These little touches can help you feel comfortable and welcomed in your bedroom space.
Add a Mirror
No matter what room you're decorating, a mirror can be one of the most useful additions to your decor. And the bedroom is no exception!
Mirrors are great for reflecting light, helping a room that's lacking natural light to feel brighter and more comfortable.
A well-placed mirror will also help your bedroom feel bigger, by reflecting walls and giving the impression of a wider space.
Don't Forget Plants
There is nothing that instantly adds a sense of peace and tranquility when planning bedroom layout quite like live plants.
And, as an added benefit, choosing the right plants for your space can even improve the air quality of the room, helping to increase deep sleep.
Just make sure to put some thought into both the space you have available for live plants, and the amount of care you're willing to provide.
Luckily, there are plenty of plants that require minimal care to thrive, while also adding beauty and freshness to your bedroom space.
Try a Design Website
If, despite your best efforts, you find you're still struggling to design the perfect bedroom layout, it's time to head online!
There are a variety of free websites and apps available nowadays that can help perfecting your room layout both easy and fun, letting you add custom measurements and furniture to your digital room.
These types of websites and programs are also ideal for those looking to add a new piece of furniture to their room, and trying to decide just how it will fit.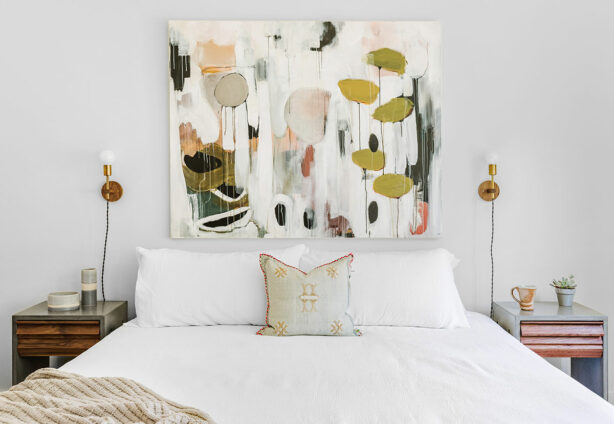 While any room design takes some planning, your bedroom layout doesn't have to be something that is difficult or time-consuming.
Follow these tips to help you create a bedroom space that's warm, welcoming, and a place you love to relax.