Southeast Asia is a mesmerizing region that offers a perfect blend of natural wonders, vibrant cultures, rich history, and warm hospitality.
With its diverse landscapes, exotic cuisines, and fascinating traditions, this part of the world has become a favorite destination for travelers from all corners of the globe.
If you're considering making a trip to the region, and are wondering where to go, come take a virtual journey through five of the best places to visit in Southeast Asia: Maldives, Vietnam, Thailand, Singapore, and Indonesia.
Maldives
Our journey begins in the tropical paradise of the Maldives, a collection of stunning coral islands in the Indian Ocean.
Known for its crystal-clear turquoise waters and pristine white sandy beaches, the Maldives is a dream destination for beach lovers and water sports enthusiasts.
Dive into the vibrant coral reefs, go snorkeling with manta rays, or simply unwind in a luxurious overwater villa.
When planning a trip to the Maldives, there are a variety of different travel packages available that cater to different preferences and budgets.
Whether you're seeking a romantic honeymoon retreat, a family-friendly vacation, or a thrilling diving adventure, Maldives packages offer a wide range of options to ensure an unforgettable experience in this idyllic island nation.
Vietnam
Next, we venture to Vietnam, a country that boasts breathtaking natural beauty and a fascinating history.
From the bustling streets of Hanoi to the tranquil waters of Ha Long Bay, Vietnam offers a unique blend of old-world charm and modern development.
Explore the vibrant floating markets of the Mekong Delta, visit the ancient town of Hoi An with its colorful lanterns, and immerse yourself in the rich history of the Cu Chi Tunnels.
Whether you're looking for a cultural immersion in Hanoi and Hoi An or a nature-focused adventure in HaLong Bay and the Mekong Delta, Vietnam offers something for travelers of all types.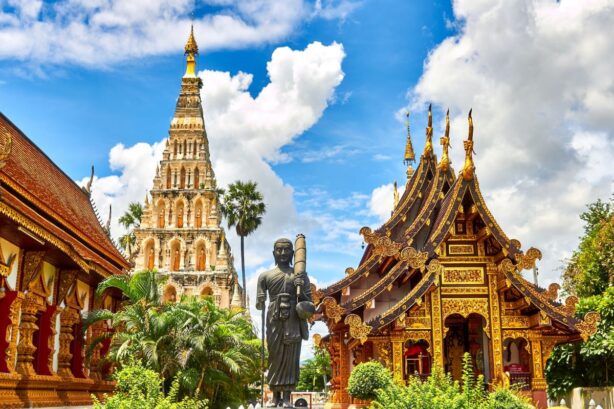 Thailand
Continuing our journey, we arrive in Thailand, a country that effortlessly combines ancient temples, bustling street markets, and vibrant nightlife.
Start your exploration in Bangkok, the capital city, where you can marvel at the opulent Grand Palace, stroll through the bustling Chatuchak Market, and experience the nightlife of Khao San Road.
Then, head north to Chiang Mai and immerse yourself in the rich cultural heritage of the region by visiting sacred temples and participating in traditional Thai cooking classes.
For those seeking relaxation, the idyllic beaches of Phuket and Krabi offer a perfect retreat with their pristine shores and clear waters.
Singapore
Our next stop takes us to the modern city-state of Singapore, where futuristic skyscrapers stand alongside traditional shophouses.
Explore the iconic Gardens by the Bay, a stunning nature park with towering Supertrees and exotic plant species.
Indulge in a shopping spree on Orchard Road, savor the diverse culinary delights of Chinatown, and take a stroll along the vibrant waterfront of Marina Bay.
Don't miss the opportunity to also visit Sentosa Island, a playground for thrill-seekers with its theme parks, beautiful beaches, and world-class entertainment options.
Indonesia
Our final destination is Indonesia, a vast archipelago comprising thousands of islands. From the cultural wonders of Bali to the untamed wilderness of Komodo National Park, Indonesia offers an endless array of experiences.
Explore the ancient temples of Borobudur and Prambanan in Yogyakarta, hike up the volcanic landscapes of Mount Bromo and Mount Batur, and dive into the vibrant underwater world of Raja Ampat.
Be captivated by the unique traditions of the Toraja people in Sulawesi and soak in the serene beauty of Lake Toba in Sumatra. Indonesia is a true gem of South East Asia, offering something for every type of traveler.
No matter what country you decide to make your destination, it's clear that Southeast Asia holds an abundance of treasures waiting to be discovered.
Whether you prefer the cultural richness of Vietnam, the natural beauty of the Maldives, the vibrant experiences in Thailand, the modernity of Singapore, or the diverse landscapes of Indonesia, it's clear to see why these countries are considered the best places to visit in Southeast Asia.
So, pack your bags, plan your itinerary, and get ready to set out on an enchanting adventure in one of the most popular regions of the world!