If you're planning your once-in-a-lifetime, bucket list experience of a safari in Tanzania, you've likely already figured out most of the major details.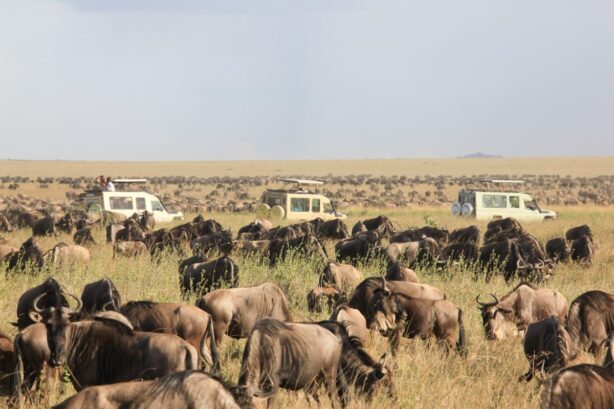 But, before you set foot in the land of enchanting wildlife, you'll want to make sure that you've packed everything you might need to make your journey efficient and comfortable.
If you're wondering how to get started with your Tanzania safari packing list, this guide will help you ensure you've got all the essential items for your adventure.
Gear Up With Appropriate Wildlife-Watching Essentials
Embarking on a Tanzania safari demands more than just packing your regular holiday items. You're going to be up close with some of nature's most majestic creatures, after all.
So, what are the crucial wildlife-watching essentials?
First, binoculars are an absolute must-have. Even though you'll get quite close to the animals, a good pair of binoculars enhances the experience by letting you see the fine details of far-off creatures.
Camera gear is another essential. Your memories will last a lifetime, but why not cement them in beautiful high-resolution photographs?
Plan to bring both your camera and its associated accessories like lenses, tripods, extra batteries, and memory cards.
Remember the golden rule of photography: It's better to have it and not need it than need it and not have it!
Pack Right, Pack Light!
Keep in mind that a safari is not a fashion show. You'll want to focus on practicality more than looking chic.
Quick-drying, breathable clothes in neutral colors (think khaki, beige, and brown) should dominate your clothing choices for your safari packing list.
Wondering why? Bright colors and whites can scare off animals or attract bugs. Plus, it's no fun removing stubborn stains from white clothing in the wilderness!
Pack long-sleeved shirts and long trousers to protect you from thorny bushes, biting insects, and the intense African sun.
Don't forget a wide-brimmed hat, sunglasses, and good-quality sunscreen. Even in cooler months, Tanzania's equatorial sun can be relentless.
And you'll definitely want to opt for a comfortable pair of walking shoes. Hiking boots may not be necessary, but shoes that are comfortable to wear all day are a must.
Health and Medical Preparations
Any trip should included some health preparations, and it's an especially important consideration when you're going to be off the beaten track.
Stock a compact medial kit with band-aids, antiseptic creams, anti-diarrhea medicine, pain relievers, and any personal medication. Anti-malarial pills are also recommended – after all, prevention is better than cure!
Also, different people react differently to safari rides in the hot sun, so motion sickness pills may be worth packing, especially if lengthy, bumpy rides aren't your thing.
Remember to stay hydrated to ward off potential dehydration headaches. Bringing a reusable water bottle is an eco-friendly way to stay hydrated.
Finally, make sure to bring copies of vaccination records and health insurance in case they're needed.
Gadgets & Gizmos
Wondering what tech extras could make your safari experience even better?
Consider a power bank for your electronic devices, as power may not always be reliable or available, especially in remote camps.
A solar-powered flashlight or headlamp can also be handy; it will become your best friend when navigating lodges and campsites after dusk.
Pack for the Tanzanian Climate
The most crucial task when finalizing your packing list to check the Tanzanian weather on the days you'll be in the country.
Depending on the time of year you're visiting, you might face scorching heat, torrential rains, or chilly misty mornings. Being prepared for these fluctuations is key to enjoying your journey.
Layers are your best friend when battling unpredictable weather. You'll want to be easily able to remove or add clothing throughout the day according to the temperature.
Include lightweight sweaters, a sturdy rain jacket, and even a scarf or shawl to ensure you're ready for whatever Mother Nature throws at you.
And for those chilly nights and early mornings? Good quality, lightweight thermal wear is your best bet.
Believe it or not, it's not always hot in Africa, and your Tanzania safari packing list should reflect this little-known fact.
Toiletries and Hygiene Essentials
Even on a safari, there are ways to ensure that you can still enjoy the basics of personal care and hygiene.
Compact, travel-sized toiletries and hygiene essentials can be a great help in maintaining comfort during your trip. And don't forget a high-SPF sunblock lotion and mosquito repellent!
Also, baby wipes, hand sanitizer, and lip balm can come in especially handy in the African bush, where tap water might not always be a step away.
The Little Extras That Make a Big Difference
It's often the little things that can help provide the most comfort. In this case, consider packing a few additional items that, while not essential, can enhance your safari experience in Tanzania.
Consider packing a good book for quiet evenings, or a journal to document your thoughts on your adventure.
A lightweight daypack can come in handy to keep your essentials accessible during day excursions.
Finally, consider bringing some personal or business contact cards. There are plenty of opportunities to bond with others on a safari, and being able to stay in touch afterwards can make the experience even better.
Practice Responsible Tourism
One of the most important things about visiting another country is making sure that we leave it in a way that will let future generations enjoy it, as well.
For this reason, consider packing eco-friendly items, like biodegradable toiletries, reusable water bottles, and solar-powered chargers.
Carrying a reusable bag for your dirty laundry not only keeps your luggage organized, but also prevents plastic bag usage.
Remember, leave only footprints and take only memories – and hopefully, tons of stunning photographs!
From clothing and gear to health essentials and toiletries, there are plenty of items you'll likely want to add to your safari packing list for Tanzania.
And once you're sure you have everything you need, you'll be ready to explore the landscapes, wildlife, and rich culture of Tanzania. Safe and unforgettable travels, adventurer!