A skunk isn't usually the first thing that comes to mind when you think about charm and suavity…unless that skunk is Pepe Le Pew, of course!
Everyone's favourite odorous charmer is being featured in a brand new DVD release from Warner Brothers, Looney Tunes: Pepe Le Pew Collection! Here's a brief synopsis: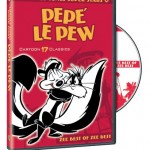 A new compilation featuring 17 iconic shorts of the loveable French Skunk, Pepe Le Pew! Pepe is always strolling around Paris in the springtime, where everyone's thoughts are of "love". While he is constantly seeking "l'amour" of his own, his huge turnoff to any prospective mate is his malodorous scent. Together for the first time are some of Pepe's most beloved and comical shorts.
I'll post a review of this Pepe Le Pew DVD shortly, so stay tuned and get ready to enjoy the romance, laughter and "thrill of the chase" with the world's most charming skunk!