Easter just isn't the same without a bowl of colourful dyed Easter eggs on the table but this year, why not try out some fun new egg colouring techniques?
One of my favourite ways to dye eggs with a little extra flair is to create marble eggs. The finished look is so unique and the technique is so easy!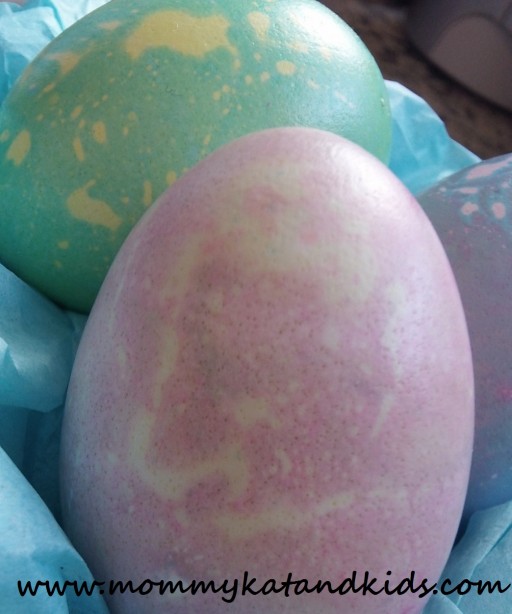 First, cook your eggs in boiling water for about ten minutes and let them cool thoroughly. While the eggs are cooling, mix your egg dye.
Combine one tablespoon of vinegar, one tablespoon of oil and about twenty drops of your favourite food colouring. Then add enough warm water to cover your egg.
Now swirl the dye with a spoon and while the liquid is swirling, dip an egg into the mixture. Leave it for about ten to fifteen seconds and pull it out. Repeat with a second and third colour if desired.
Then, either dab the excess dye off of the egg and polish it or leave it on a paper towel to dry. Leaving it to dry intensifies the colour but I prefer the soft, pastel look.
And there you have it! Fun, multicoloured marble Easter eggs! They are no more difficult than regular dyed eggs and look great nestled in a basket on Easter morning!
Looking for other fun ideas for Easter? These easy Butterscotch Macaroon Nests are a delicious treat that kids and adults will both love!
Easy Marble Easter Eggs
Simple and pretty Easter eggs with a fun marble pattern!
Materials
6-12 eggs
1 tbsp. vegetable oil
1 tbsp. vinegar
food coloring in desired shades
Tools
paper towel
small bowl
spoon
Instructions
Hard boil eggs using desired method.
Meanwhile, mix 1 tbsp. oil, 1 tbsp. vinegar and approximately 20 drops of food coloring in small bowl.
Add warm water until the bowl is full enough to completely cover an egg.
Swirl the surface of the water gently with a spoon, then dip an egg in and out of the water carefully.
If desired, repeat process with a second color.
Dab off excess dye with a paper towel for pastel marbled eggs, or let dry on paper towel for a deeply colored egg.
Repeat with remaining eggs. Store in fridge.