If you've glanced through a few Pinterest boards recently, you've probably noticed that one of the hottest new trends is serving food in canning jars.
From salads to main courses to desserts, there's something about serving food in a jar that's just irresistibly quaint.
So when I recently got the chance to review Desserts in Jars by Shaina Olmanson, I was pretty excited to have my first experience using jars in my cooking.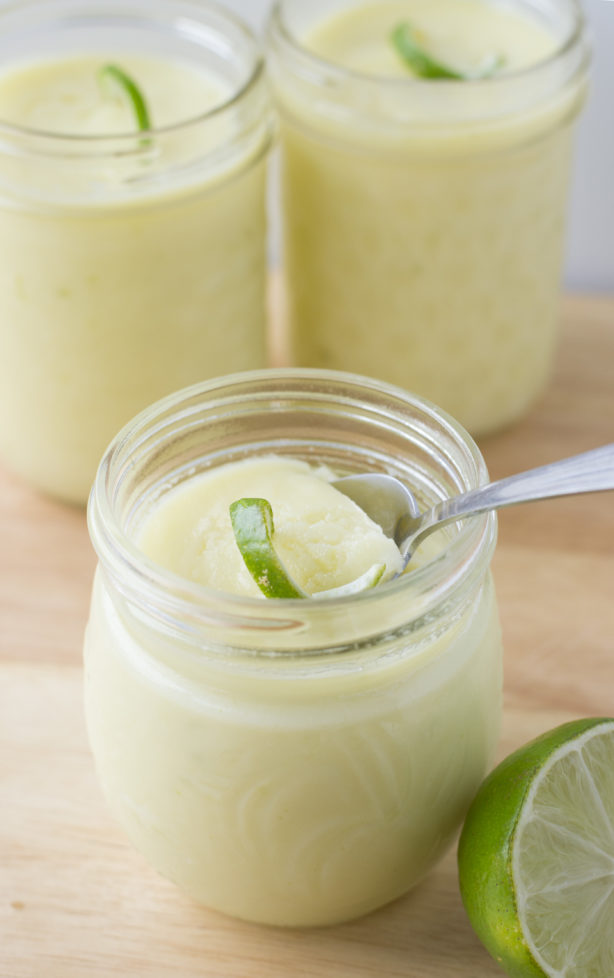 This book contains recipes for fifty sweet treats all served in pretty canning jars. After a lot of deliberation, I decided to make the White Chocolate Lime Puddings.
It seemed like a great choice for summer with its burst of citrus and creamy texture. The fact it was relatively quick and simple was an additional bonus!
The only real change I made to this recipe was to use flour instead of cornstarch. Flour is always an acceptable substitute as a thickening agent, but not an ideal one since it needs extra care to avoid lumping.
As long as the liquid is added to the sugar and flour mixture very gradually with plenty of stirring, the pudding should stay nice and smooth.
I also used free-range eggs, which is why my pudding has a slightly more yellowish tinge to it. Free-range eggs have dark yellow yolks packed with nutrients, as opposed to the pale yellow yolks of store-bought eggs. They also add great colour to custard desserts!
I used mismatched jars intentionally for a rustic look and served it with small silver spoons to complete the kitschy presentation.
Having made my first jar recipe, I'm very excited to try more and Desserts in Jars is ready to help with recipes for everything from frozen delicacies to pies and cakes.
Looking for more great summer recipes? You'll love this incredible No-Bake Berry Cheesecake!
If you want to dive into the "food in jars" trend in the sweetest way possible, check out the cookbook for yourself and start using your jars for more than just jams and pickles!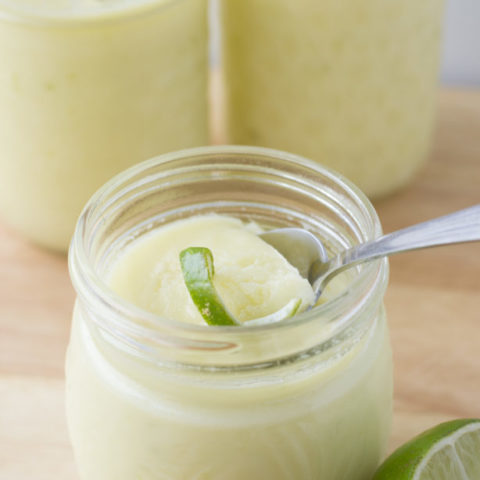 White Chocolate Lime Pudding
Total Time:
4 hours
10 minutes
A creamy and tangy homemade pudding served in individual mason jars.
Ingredients
2/3 cup sugar
3 tbsp. cornstarch
1/8 tsp. salt
1 cup heavy cream
2 cups whole milk
4 large egg yolks
6 oz. white chocolate, melted and cooled slightly
Grated zest of 1 lime
1 tbsp. unsalted butter
Instructions
Sift together the sugar, cornstarch and salt into a medium-size saucepan. Slowly whisk in the cream and the milk.
Beat together the egg yolks and add to the melted chocolate.
Whisk the chocolate mixture into the saucepan along with the lime zest. Heat over medium-high heat, stirring constantly, just until the mixture comes to a boil. Lower the heat to medium-low and cook, stirring constantly, for about 2 minutes, until the pudding thickly coats the back of a wooden spoon. Remove from the heat and stir in the butter.
Pour the pudding through a sieve to remove any lumps. Spoon into six 4- to 6-ounce jars. Cover and refrigerate for at least 2 hours, until cooled and thickened. Serve chilled.
Notes
Reprinted with permission from Thomas Allen & Son Ltd.
Recommended Products
As an Amazon Associate and member of other affiliate programs, I earn from qualifying purchases.
Nutrition Information:
Yield:

8
Serving Size:

8 Servings
Amount Per Serving:
Calories:

317
Total Fat:

24g
Saturated Fat:

14g
Trans Fat:

0g
Unsaturated Fat:

8g
Cholesterol:

164mg
Sodium:

126mg
Carbohydrates:

37g
Fiber:

0g
Sugar:

33g
Protein:

8g