I love to bake, but our house is 100 years old and holds heat like an oven, so baking in the summer just isn't an option for our family. So what's a creative mom with a dessert-loving family to do? Turn to the refrigerator, of course!
I have a great collection of delicious no-bake recipes, from my hearty Mexican Pasta Salad for a cool main course to my boys' favourite rich and creamy Confetti Squares.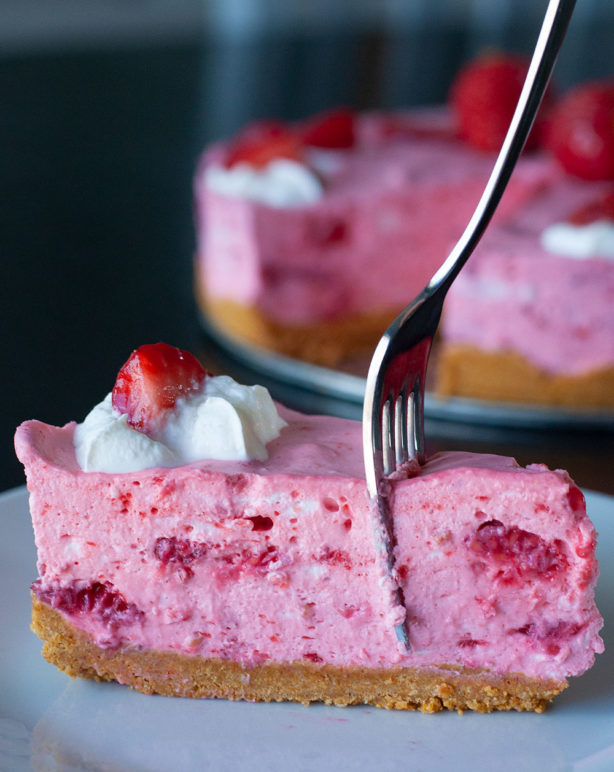 But one of my favourite recipes has always been this light, creamy and absolutely delicious Berry Cheesecake! With no baking involved, it's the perfect summer dessert. And it can be made with strawberries, blueberries, raspberries…or a mix of all three!
For the graham cracker crust, using softened butter instead of the traditional melted butter creates an amazing firm texture that doesn't require baking the way some graham cracker crusts do.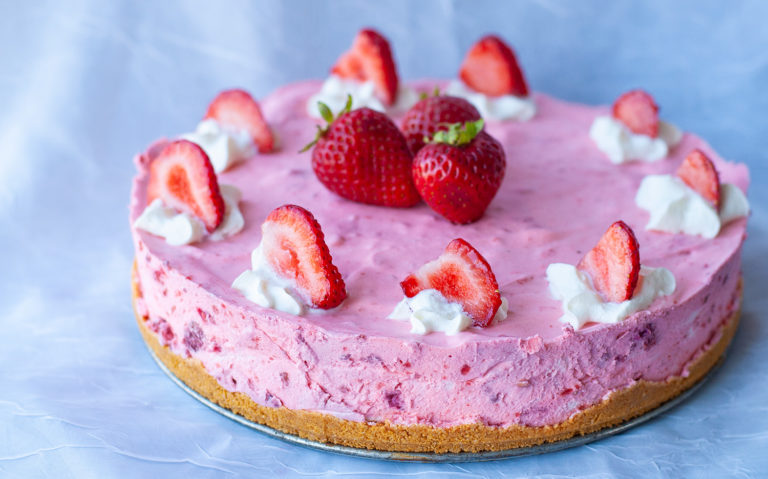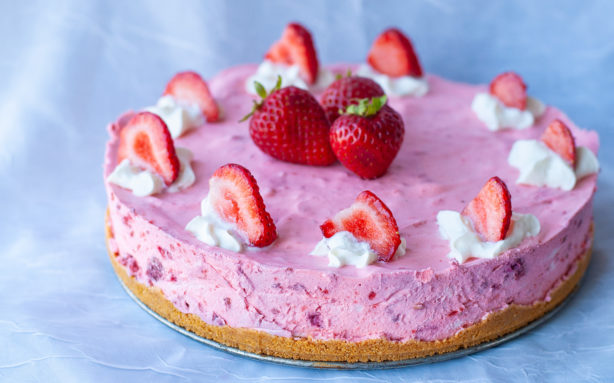 Then I simply mixed the gelatin, boiling water and berries and let the mixture partially set in the fridge. In the meantime, I whipped the cream and blended it with the sugar and cream cheese. Finishing off the cheesecake was as simple as folding everything together and pouring it into the crust!
Both fresh and frozen berries work wonderfully for this recipe and I've made it often with both. But when time is short, frozen berries are the way to go because the ice-cold berries help the gelatin to set faster. For this cheesecake, I used a mix of fresh raspberries and frozen strawberries for the best of both worlds.
When the berry cheesecake was done, I garnished it with a few fresh strawberries and some additional whipped cream. The dessert satisfied the sweet tooth of everyone in my family and best of all, the kitchen stayed nice and cool the entire time I was making it!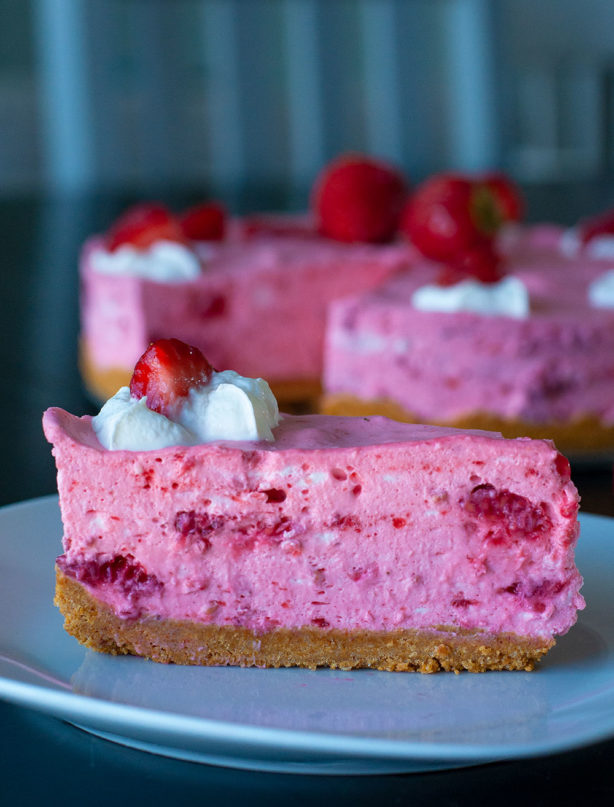 This berry cheesecake has always been one of my favourite summer desserts because it's so much lighter tasting than traditional cheesecake, but still has the rich and tangy flavour that makes cheesecake such a treat. Give it a try with your favourite berries and see what you think!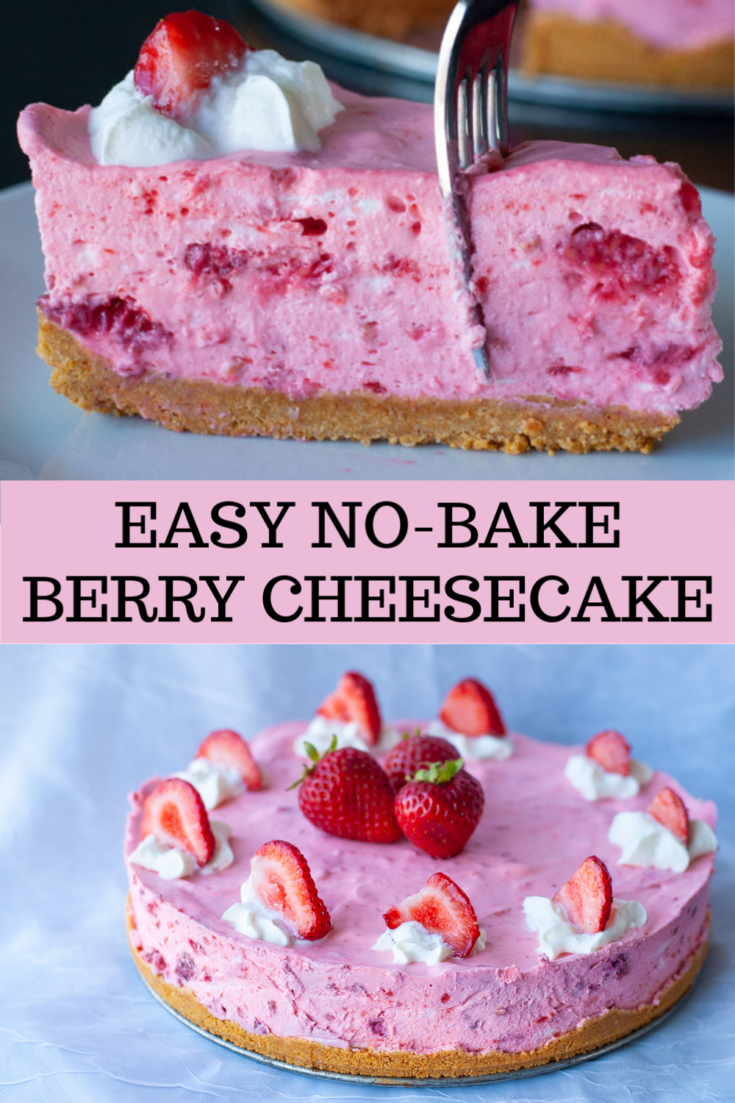 No-Bake Berry Cheesecake
Total Time:
2 hours
30 minutes
A delicious no-bake cheesecake made with your choice of berries!
Ingredients
1 1/2 cups graham cracker crumbs
1/4 cup granulated sugar
6 tbsp butter, softened
2 cups fresh or frozen berries (blueberries, strawberries, rasperries, etc)
1 cup boiling water
1 box (4-serving size) strawberry-flavoured gelatin, or berry flavour of your choice
1 package (7g) unflavoured gelatin
1 pkg cream cheese, softened
2/3 cup icing sugar
1/4 tsp vanilla extract
2 cups whipping cream, or whipped topping
Instructions
Mix graham cracker crumbs and granulated sugar until combined. Blend in softened butter until mixture is crumbly. Press firmly into springform pan. Chill until needed.
Place strawberry-flavoured gelatin and unflavoured gelatin in small bowl and mix together. Add boiling water and stir to dissolve. Mix in berries and chill until syrupy.
Beat cream cheese, icing sugar and vanilla extract together until blended and creamy.
Whip cream until stiff. Fold into cream cheese mixture. Fold in thickened gelatin. Pour over crust and chill until firm.
Decorate with fresh berries and additional whipped cream if desired.
Recommended Products
As an Amazon Associate and member of other affiliate programs, I earn from qualifying purchases.
Nutrition Information:
Yield:

12
Serving Size:

12 Servings
Amount Per Serving:
Calories:

297
Total Fat:

22g
Saturated Fat:

14g
Trans Fat:

1g
Unsaturated Fat:

7g
Cholesterol:

63mg
Sodium:

116mg
Carbohydrates:

22g
Fiber:

1g
Sugar:

16g
Protein:

3g