Every year I plant zucchinis in our backyard garden and every year I seem to end up with more than I can use, but this year has really been something else. I literally have a countertop full of zucchinis.
I'm not sure how I'll use them all, but I do know many are going to be used to make my very favourite zucchini recipe of all time: Chocolate Zucchini Cake.
Whether or not you like zucchini, you will LOVE this recipe. And if your kids turn up their noses at vegetables, it's a great way to sneak a little extra nutrition into their sweets!
Making Chocolate Zucchini Cake
The steps to making this cake are pretty much the same as for any cake. First, mix eggs, oil, and sugar.
Next, in a separate bowl, sift together all the dry ingredients: flour, baking soda, cinnamon, salt, and cocoa powder. The cinnamon is an unexpected addition to this cake that adds an extra special flavour, so even if you're hesitant about it, make sure to give it a try the first time!
While the original recipe uses a jellyroll pan for the squares, I find it much more effective to double the recipe and pour it into three 13x9x2 inch cake pans instead. Since that means I need a full six cups of zucchini for my double batch, I always use my food processer to shred the zucchini rather than hand grating. If you have a food processor, I highly recommend using it for this recipe.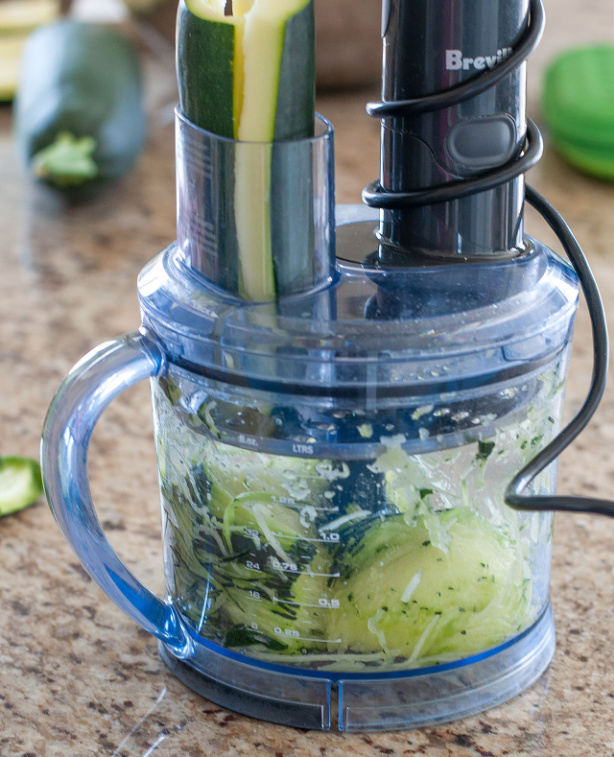 Finally, blend the dry ingredients into the egg mixture until well-mixed, then stir in the zucchini and vanilla. It may not look appetizing now, but just wait until it's finished!
I use the disposable foil pans that are available at most grocery stores for this recipe, because they cost only a few dollars and give me the ability to freeze pan after pan of Chocolate Zucchini Cake without spending a fortune on bakeware.
Freezing Chocolate Zucchini Cake
In addition to being absolutely delicious, this chocolate zucchini cake freezes beautifully. The zucchini keeps the cake nice and moist even after months in the freezer and unlike some cakes and squares, these can even be iced before they are frozen so that your treat is ready to eat as soon as it's thawed.
I have yet to meet anyone that doesn't love this recipe; men, women and children of all ages find it absolutely irresistible. The squares taste a great deal like rich, fudgy brownies and the zucchini is undetectable.
The only downside? After doubling the recipe and making three big, moist, delicious cakes, I used a grand total of TWO zucchinis. One was a big one, but…well, what do I do with the other 27 zucchinis?
In the mood for a savoury snack instead of a sweet one? These Lightened Up Zucchini Chips from About a Mom are crispy and addictive!
And for those that just can't get enough of any type of squash, this Pumpkin Cream Cheese Roll is another delicious dessert choice that's easy to make and looks amazing!
If you have a surplus of zucchinis and you're wondering how to use them, you really have to give this recipe a try. Having a few pans of these chocolaty treats in the freezer is always a good idea.
If you do try it, let me know how they turned out! I'd love to hear if your family loves this Zucchini Cake as much as mine does!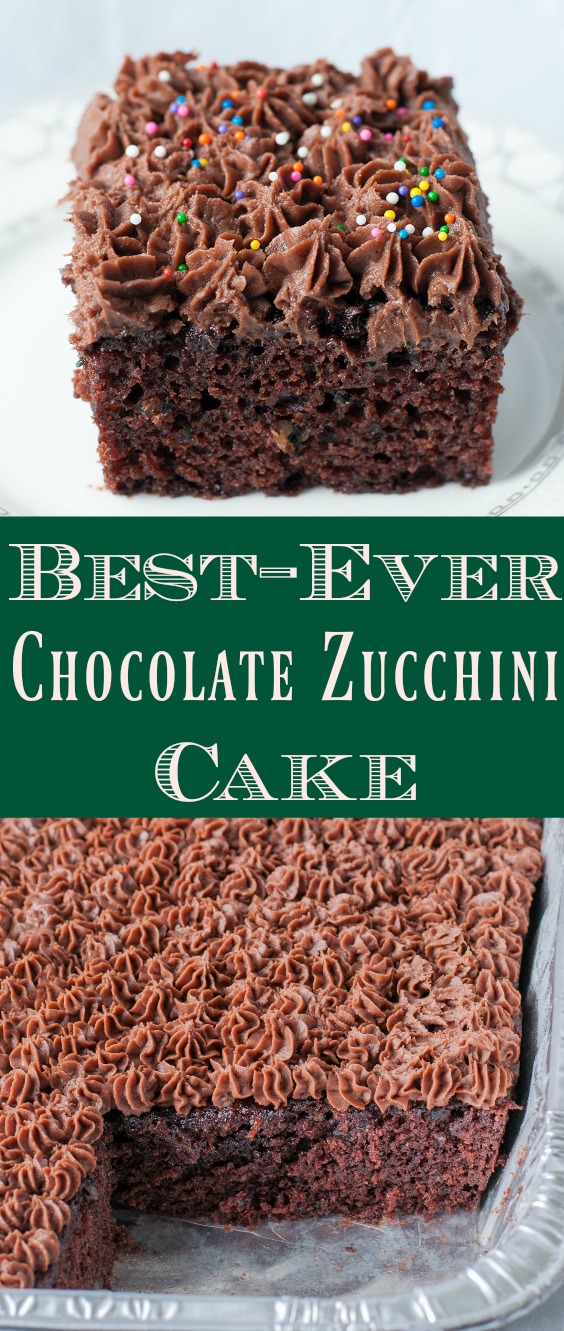 Chocolate Zucchini Cake with Chocolate Cream Cheese Icing
Moist and tender chocolate cake with the nutrition of added zucchini and an addictive chocolate cream cheese frosting!
Ingredients
Cake:
4 eggs
1 ½ cups vegetable or canola oil
2 cups sugar
2 cups flour
2 tsp. baking soda
2 tsp. cinnamon
1 tsp. salt
¼ cup cocoa
1 tsp. vanilla
3 cups grated zucchini
1 cup chopped nuts (optional)
Icing:
4 oz. cream cheese
1/2 cup butter, softened
2 tbsp. cocoa powder
2 cups icing sugar
1 tsp. vanilla
Instructions
Cake
Beat together eggs, oil and sugar.
In separate bowl, combine flour, baking soda, cinnamon, salt and cocoa until well mixed.
Add dry ingredients to wet ingredients and mix well.
Add vanilla, zucchini and nuts, if desired, and mix well.
Pour into greased and floured 15x10x1 inch pan.
Bake at 350 degrees for thirty minutes or until toothpick inserted into cake comes out clean.
Icing
Cream butter and cream cheese together until light and fluffy.
Stir in cocoa powder, then gradually blend in icing sugar until icing is smooth and creamy.
Add vanilla and mix well. Spread on completely cooled cakes, or use a piping bag to cover cake with rosettes of icing.

Notes
Freezes well! Wrap tightly and freeze uncut for up to six months. A double recipe makes the perfect amount for three 9x13 pans; just bake for an additional 15-20 minutes.
Recommended Products
As an Amazon Associate and member of other affiliate programs, I earn from qualifying purchases.
Nutrition Information:
Yield:

36
Serving Size:

1
Amount Per Serving:
Calories:

218
Total Fat:

13.4g
Saturated Fat:

3.2g
Trans Fat:

0g
Unsaturated Fat:

3g
Cholesterol:

28mg
Sodium:

173mg
Carbohydrates:

24.1g
Fiber:

1g
Sugar:

18g
Protein:

1.9g