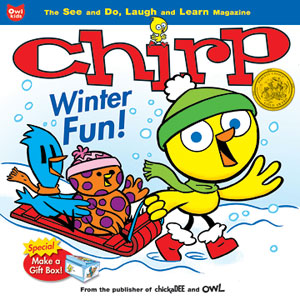 When I was a child, my Mom helped to begin my lifelong love of reading before I even started school.
From spending time reading storybooks out loud to me every night to making sure that there were always colourful books out for me to look at, I learned early on that reading was something wonderful and magical.
But one of my very favourite introductions to the world of reading was my subscription to the great magazines from Owlkids.
From Chirp magazine for preschoolers to OWL magazine for older children, every child in our family had an age-appropriate subscription to a magazine that they loved.
Chirp has been introducing preschool children to the world of reading for fifteen years now and this October, it's the little bird's birthday! But the presents are for your child with Chirp's Birthday Contest!
Between now and October 31, 2012, children between two and six can draw a picture of Chirp and send it along with a completed entry form to Owlkids. They'll be entered to win a Chirp Birthday Prize Pack containing a birthday prize pack and loot bags for fifteen friends.
Of course, my own little preschooler wanted to join in the fun, so Owlkids very generously sent me a loot bag full of fun Chirp merchandise.
Benjamin fell in love with the cheery t-shirt at once but what I was most excited about was the gift certificate for a six-month subscription to our favourite Owlkids magazine!
While I know Zackary would love a subscription to Chickadee, the magazine for children between six and nine, I couldn't resist getting a subscription to Chirp for Benjamin.
I still remember how much fun it was to get that magazine in the mail every month when I was young and I couldn't resist giving my son that same experience!
Chirp magazine is such a great way to let pre-readers learn more about the concept of reading and with stories, pictures, poetry and fun activities, it's interactive and entertaining for little ones too!
So why not ask your child to draw a picture of the loveable little chick and enter to win a birthday party package that will be lots of fun and encourage learning!