When my boys were younger, one of their very favourite toys was our ExerSaucer. They both had so much fun bouncing in the seat and loved being upright so that they could look around the room. Evenflo has simply the best and most interactive ExerSaucers for babies and recently I received the new ExerSaucer Jump & Learn Safari Friends to check out for myself.
With a newborn niece in the family and a nephew on the way in just a few weeks, I knew that this jumper would come in handy. And the Jump & Learn Safari Friends theme is the absolute ultimate fun-filled activity centre for any baby! The ExerSaucer features 45 different activities to help babies learn and engage with the world around them.
The seat features fun lights and music to help captivate a baby's interest and teach some important lessons about cause and effect. An assortment of safari animals make for extra tactile fun for baby. But that's only the start of the features that make this ExerSaucer so fantastic!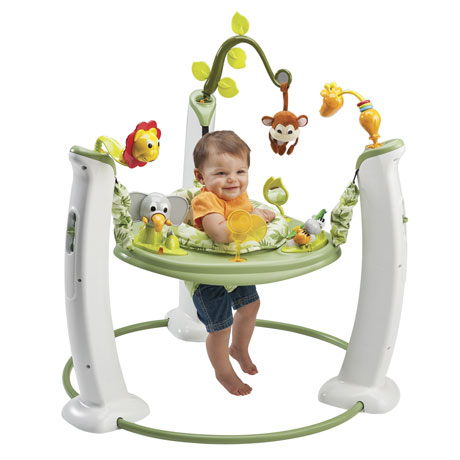 One of my personal favourite features is the fact that the toys on the ExerSaucer are detachable so that they can be taken on the road our out of the house for playtime fun elsewhere. Often one or two toys on a device such as this will especially capture a baby's interest. How awesome is it that those special favourite toys can be used off the ExerSaucer as well?
And because babies can be messy, the Evenflo ExerSaucer Jump & Learn features a removable, washable seat to make cleaning up easier on Mom. Having a fabric seat that can be quickly popped into the washing machine is always a huge advantage on an ExerSaucer. The one I had for Zackary had a seat that took ages to remove so we actually resorted to spraying it with the hose and leaving it in the sun to dry. That's not something that will be an issue with the ExerSaucer Jump & Learn bouncer!
I cannot wait until my niece is old enough to have fun in this activity-packed ExerSaucer and thanks to the great unisex design, my nephew will be able to have just as much fun in it when she's outgrown it! If you have an active infant that loves to bounce, play and look at everything that's going on around him, the Evenflo ExerSaucer Jump & Learn Safari Friends is for you! Check it out for yourself at Walmart, Canadian Tire, Sears and Babies "R" Us stores across Canada and have fun watching your little one jump, learn and play!