When I was younger, I had insomnia that would sometimes keep me up until dawn and it made functioning during the day so much harder. That was when I first learned just how important a good night's sleep is, and when I get enough rest I can sure notice a difference in my day's activities!
The severe insomnia of my childhood and teenage years has passed and my sleep habits are a lot better now, but there are still some nights when I can't seem to settle down and get the rest I need. So I was pretty excited to learn about the new Febreze Sleep Serenity line designed to promote rest with three relaxing scents: Moonlit Lavender, Warm Milk & Honey and Quiet Jasmine.
Unwinding during the hours before you climb into bed can make a big difference to good sleep too. So Febreze has partnered with the National Sleep Foundation for some recommended tips that will have you counting sheep in no time:
Establish a regular bedtime: Try to go to sleep and wake up at the same time each day, even on the weekends. Trying to catch up on sleep on the weekends can actually have a reverse effect on the body, and make you feel more tired when Monday rolls around.
Create a sleep haven: Create an environment that promotes sleep – one that is quiet, dark, cool and comfortable. Fresh sheets, cooling pillows and black out shades seem to do the trick.
Fill the air: Incorporate soothing fragrances into your bedtime routine to help relax and unwind. Febreze Sleep Serenity collection's calming scents in Moonlit Lavender, Warm Milk & Honey and Quiet Jasmine help create a soothing bedtime atmosphere.
Exercising: Getting your body moving is one of the best things you can do to help you sleep. Exercise anytime, as long as it doesn't cut into your shuteye.
Nighttime beverages: Avoid drinking caffeinated drinks such as coffee, tea and soft drinks after noon. Caffeine-free herbal tea or warm milk are great options prior to nestling into your sheets.
I have to admit, there are a few of these tips that I need to be better about following. I have a bad habit of drinking black tea in the evening and I know it's not the best choice for a good night's sleep. But I have been adding relaxing scents to my room thanks to the new Febreze Sleep Serenity line and even during the day, the scents help me unwind and feel calm! I love that the products are available in a Bedside Diffuser, Bedding Refresher and Bedtime Mist so that you can add sweet, relaxing aromas to your room in the way that you most prefer.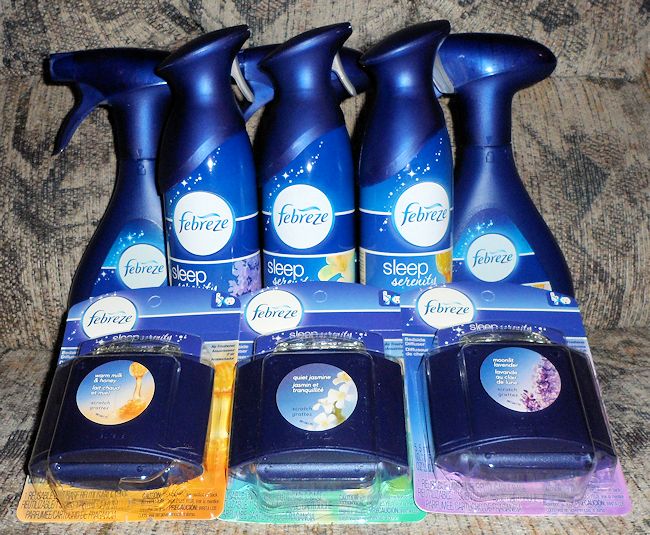 To help you get a good night's sleep, Febreze is very generously offering one lucky Mommy Kat and Kids reader their very own Febreze Sleep Serenity Prize Pack! The package includes a Bedside Diffuser, Bedding Refresher and Bedtime Mist in each of the three scents, a $40 total value! To enter to win, just leave a blog comment about which of the three Febreze Sleep Serenity scents you think would be your favourite.
There may be some nights that I can barely keep my eyes open when my head hits the pillow, but there are other nights that my brain just won't settle down to let me get some rest. But with the new Febreze Sleep Serenity products, letting go of the day's stress so that I can get a proper sleep is going to be a lot easier. Check out the new line for yourself and get ready for sweet dreams!
a Rafflecopter giveaway