Living in a small town all my life, I've always known that small town tend to be havens that harbour the most delicious food imaginable. And my own hometown is certainly no exception. From the local butcher shop's famous beef jerky to the local bakery's decadent brown butter brownies to the family restaurant's infamous pizza, there are all kinds of culinary delights in Lumsden! And when I'm in the mood for Mexican, there's no better place to get it than the local tavern. An ice-cold Corona and a Grilled Chicken Taco Salad are always a great way to satisfy my craving!
So when Old El Paso Canada gave me the challenge of indulging in a Mexican meal at a restaurant and then recreating the dish at home, I was only too happy to head out for the evening and spoil myself with a little Mexican food and a tasty beverage. I snapped my picture of the meal and got ready to recreate my favourite Mexican indulgence…with a little help from Old El Paso!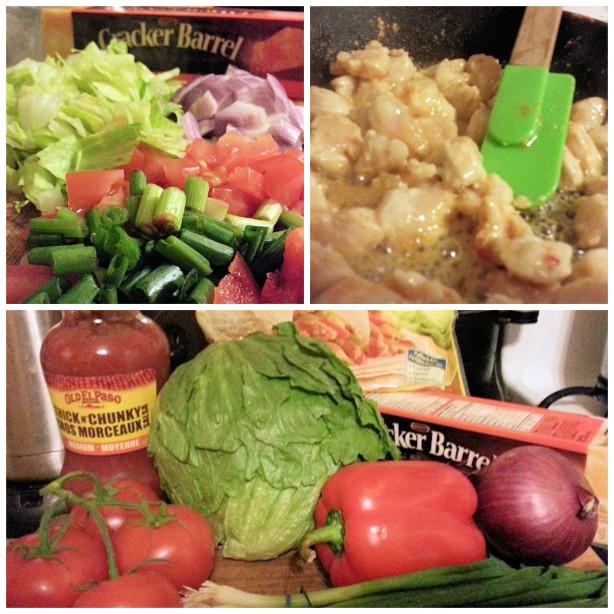 I picked up all the essential ingredients, including Old El Paso Soft Flour Tortillas and Old El Paso Thick N' Chunky Medium Salsa. Then it was time to get cooking! The first task was making the taco bowls. Now I have to admit, the main reason that I love my Grilled Chicken Taco Salad so much is the fact that it comes in a crispy, greasy, deep-fried taco bowl. But it's definitely not the healthiest choice, so I decided to lighten up my salad by baking a taco bowl instead. I brushed both sides of an Old El Paso tortilla shell with olive oil, popped it into an oven-proof bowl to form the shape and baked it at 375 degrees for about ten minutes until it was crisp and golden. Then it was time to fill it up!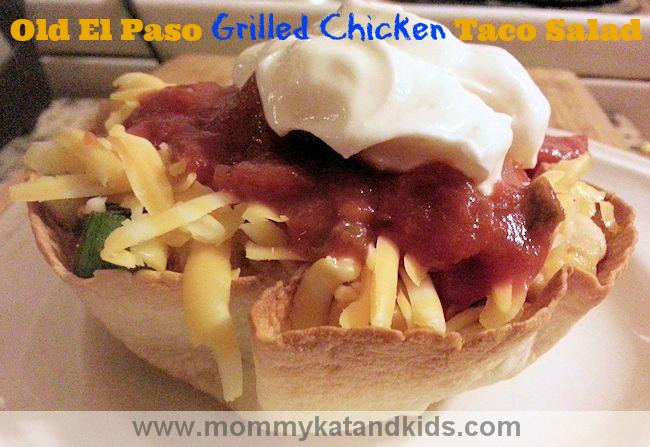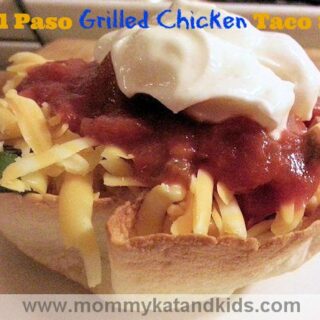 Old El Paso Restaurant-Style Grilled Chicken Taco Salad
A tasty Mexican-style salad that's filling enough for dinner, served in a homemade taco bowl
Ingredients
4 Old El Paso Soft Flour Tortillas
2 tbsp. olive oil
4 chicken breasts, cubed
2 cups chopped lettuce
1 to mato, diced
1 red pepper, diced
1 red onion, diced
2 green onions, diced
4 oz. marble cheddar cheese, grated
Old El Paso Taco Seasoning Mix
Sour Cream and Old El Paso Thick N' Chunky Salsa, to serve
Instructions
Preheat oven to 375 degrees. Brush both sides of tortillas with 1 tbsp. olive oil and place inside ovenproof bowls to form a bowl shape. Bake for 10 minutes, until golden brown and crisp.
Meanwhile, heat 1 tbsp. olive oil in frying pan over medium-high heat. Add chicken and cook until no longer pink. Add Old El Paso Taco Seasoning Mix to taste and saute until fully cooked and light golden.
Remove taco bowls from oven and let cool slightly before placing on plate. Fill bowls with lettuce, red onion, tomato, red pepper and green onion. Top vegetables with chicken and cheese.
Serve with sour cream and Old El Paso Thick N' Chunky salsa.
Nutrition Information:
Yield:

4
Serving Size:

1 grams
Amount Per Serving:
Unsaturated Fat:

0g
My Grilled Chicken Taco Salad might not have been quite the same as the greasy, delicious version I enjoy when I eat out, but the fact that I could load it up with extra fresh vegetables and seasoned chicken made it every bit as good. And while the baked taco bowl might not have been quite as tasty as a deep fried one, it was still crispy and delicious…with a lot less fat!
Old El Paso has inspired me to see what other Mexican favourites I can recreate in my own home and I have a feeling new Mexican delicacies are going to be making their way onto my meal plan fairly often. If you have a favourite Mexican restaurant with a dish that makes your mouth water, why not head into the kitchen and see if you can recreate it at home? Chances are your homemade creation will be healthier and just as delicious. And with Old El Paso, creating restaurant-style Mexican delicacies at home is easy and fun!
Disclosure: I am an Old El Paso #YouMexiCAN ambassador and receive special perks as part of my affiliation with this program. Opinions expressed are mine and are not influenced in any way.