If there's an iconic symbol on the Internet, it has to be the Google logo. The classic red, blue, yellow and green lettering is instantly recognizable and something that always makes me grin. Yet part of the reason the logo is so distinctive is because Google is so creative about altering it to celebrate different events, both popular and obscure.
I still remember sitting for at least half an hour playing with the Muppet logo Google created to celebrate Jim Henson's 75th birthday. And beating the Google Dr. Who flash game that was released to celebrate the 50th anniversary of the series took up my entire morning just a few short weeks ago. Now, Google is redesigning its logo once again, and Canada's children have a chance to be a part of it!
The Doodle 4 Google Canada competition gives children in grades K-12 the chance to create their own version of the Google logo using the inspiration, "If I could invent anything, I would invent…" Google Canada sent my boys a fun doodle kit to help them participate in the contest and they were eager to get started. With the template in front of them and a new box of markers, Zackary and Benjamin started innovating!
This contest has one fabulous prize too! Judged by Canadian astronaut Chris Hadfield, the CEO of the Royal Ontario Museum Janet Carding and Google Science Fair Winner Ann Makosinski, the winning doodle will be featured on the Google Canada homepage for 24 hours and the winning student will also receive a $10,000 scholarship, a Google Chromebook, and a $10,000 grant to their current school along with a trip to Toronto to view a special exhibition of the top doodles at the Royal Ontario Museum in 2014.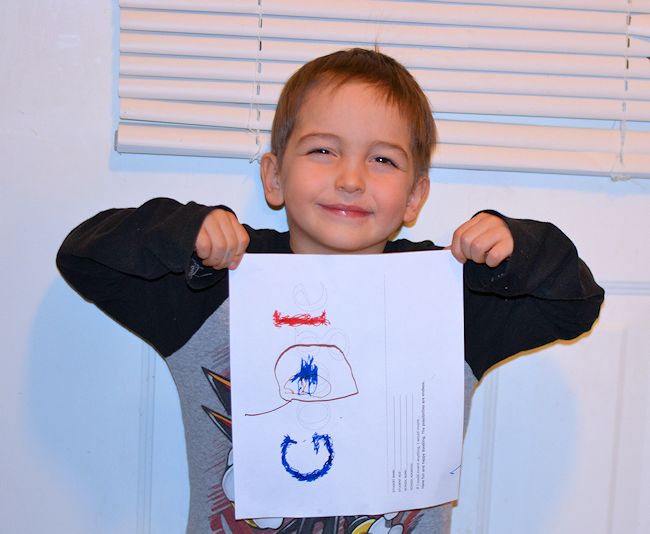 The deadline for the contest is December 31, 2013, so time is running out to enter! For a fun activity over the holidays, why not head to www.google.ca/doodle4google and download a template and entry form for your own child to take part in the contest? You may just see his creation featured on the Google homepage!