I've mentioned that my boys are always in my mind when planning a vacation, but of course, I want to have fun too!
So, while activities for kids at may be a big part of my consideration when travelling, I also want plenty of adult entertainment and activities.
And on my family's recent trip to Beaches Negril in beautiful Jamaica, I experienced the full scope of the more grown-up activities that the resort has to offer, in addition to all the Beaches Resorts kids activities!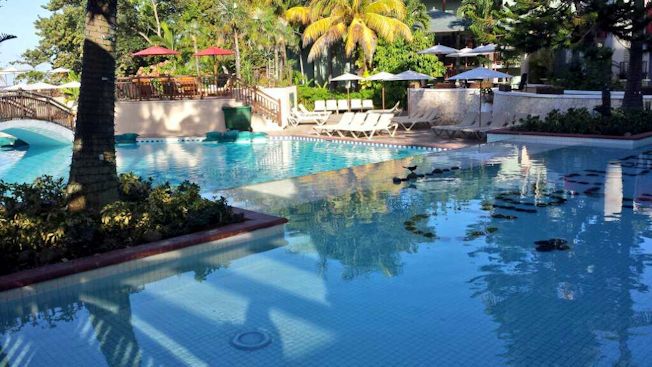 Relax at the Spa
The luxurious Red Lane Spa is a haven for any parent that just needs to unwind. Featuring a full range of spa services including massages, facials, manicures, pedicures and more, it's such a great way to enjoy a little pampering while the kids are having fun at Kids Camp!
And for a little mom and daughter bonding, the Red Lane Spa has recently introduced the new Ginger Lily spa menu offering special parent/child spa treatments!
I had the chance to experience one of the new treatments for myself and since I knew I'd be heading back to harsh winter weather soon enough, I decided to indulge in the Front Porch Punch Shea Butter Massage.
The mango, melon and strawberry scented Shea butter lotion left my skin so velvety smooth and the massage had me feeling even more relaxed than I had when I first stepped onto the resort. For a totally sensual treat, a trip to the Red Lane Spa is an absolute must when at a Beaches Resort!
Get Adventurous
While kids indulge in the many fun-filled activities available, it's only natural for parents to want to experience something new and different as well. And Beaches Negril is happy to oblige!
Every visitor to a resort can enjoy included water sports including Scuba Diving lessons and either beginner or expert Scuba Diving adventures without additional cost.
I've always wanted to try Scuba Diving, but the cost is usually so prohibitive. Luckily, Beaches Resorts makes it easy to take a peek under the sea! And for those that prefer to stay above the water, there's the catamaran!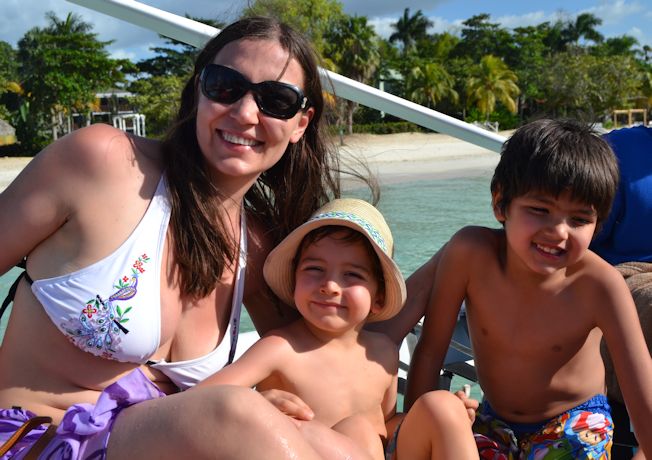 One of the highlights of any trip for me is getting to experience the landscape and culture of a difference country and at Beaches Negril there are plenty of ways to do that too!
In fact, visitors that book six nights at a Beaches Resort are eligible for a free Island Routes catamaran cruise and I was so excited to see that the cruise was one of the activities on our itinerary. The catamaran travels to one or two of Jamaica's must-see destinations and on our adventure, we headed to the Pirate Caves.
After watching local Jamaicans diving off the top of the cliffs, we had the chance to jump into the water and swim through the caves ourselves. It was a completely unique experience swimming through the echoing caverns and I loved having the chance to say goodbye to the luxury of the resort for a minute and do something new.
Afterwards, we passed the famed Rick's Café and watched locals and tourists alike stepping off the rocky cliff face and plunging into the water. While we didn't stop at the cafe on that voyage, it's something I can't help wanting to try next time!
Fine Dining Feasts
While the scrumptious all-you-can-eat buffets may be a huge part of the appeal of a Beaches resort, especially for hungry youngsters, there are also fine dining options available by reservation only.
Beaches Negril features two reservation restaurants, The Venitian and Kimonos, and on the last night at the resort we headed to Kimonos, a teppanyaki-style Japanese restaurant featuring delicious Oriental cuisine prepared fresh right in front of us.
I absolutely love teppanyaki dining and having tried it before, I was prepared for the skillful artistry of the cook preparing our food. What I wasn't prepared for was the singing! Our chef not only dazzled us with his cookery but with music as well as he sang his way through each course that was served. Adding new lyrics to popular melodies, he had the entire table laughing and singing along as he created our meal.
While the restaurant would be a fabulous choice for a romantic night out alone, Beaches Negril also makes it easy for parents to enjoy a delicious gourmet meal even with the kids along. My boys not only loved the experience of dining at Kimonos, they ate every bite of their food too!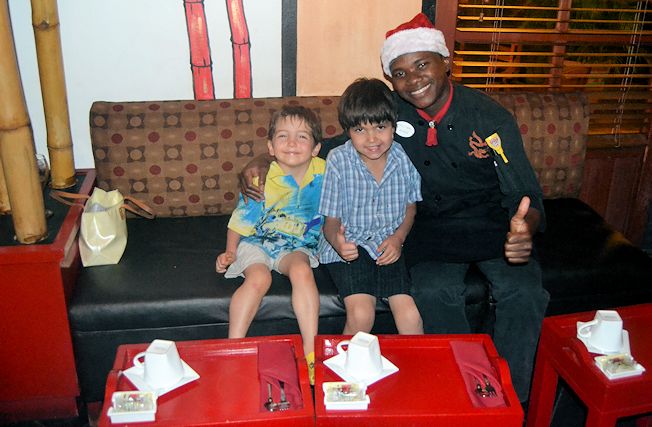 Experience Evening Entertainment
When the sun goes down, it's time for evening fun and once the nightly Sesame Street show has come to a close, the entertainment gets distinctly more mature. But that doesn't mean it's not still plenty of fun for youngsters too!
Special events each night include beach parties, chocolate buffets by the pool, exclusive musical performances and so much more! On our first night at the resort, we headed to the beach for a special night under the stars complete with Jamaican delicacies and fabulous entertainment. The Amazing Leroy performed a thrilling fire-eating show that had us on the edges of our seats and both adults and children were captivated.
The next night, we had the chance to watch the Silver Birds Steel Drum Orchestra perform, and it was a must-see experience at its finest. The band started out with fairly mellow, traditional songs and quickly built up to an energy-packed performance of popular hit songs that had the crowd cheering in approval.
But while the music had been incredible, it was the final song that really swept me away. Each member of the band was introduced and stepped forward to take a bow…or rather, a moment in the spotlight to perform a few fabulous break-dancing moves! It was easily one of the best performances I've ever seen.
Then it was off to the chocolate buffet, where a tempting array of treats awaited us. While of course the kids were delighted by the decadent display, adults enjoyed the indulgence just as much. Paired with a scrumptious champagne spritzer, it was the perfect relaxing and romantic end to the day and a great example of how Beaches Negril ensures that parents get time to enjoy themselves with experiences that are still equally suitable for children.
In addition to the many adult-oriented activities at Beaches Negril, the resort's "luxury included" benefits will ensure that parents have a great time from dawn until dusk.
I loved the fact that I could enjoy unlimited premium drinks and snacks at the resort, and had so much fun trying some fun and fruity cocktails. The Ambrosia was my personal favourite with its tasty tropical flavours.
And for those adults that love their home gyms or exercise swims spas, the included watersports and large, airy fitness centre ensure that there are plenty of ways to get a great workout while on vacation too!
Creating a satisfying and memorable experience for every member of the family is what Beaches Negril prides itself on, and the resort definitely succeeds at that! Adults have just as many fabulous choices for activities and entertainment as children do. In fact, there are even adult-only restaurants and nightclubs!
Whether you're planning a vacation for yourself, your loved ones or your whole family, visitors of all ages are sure to have the time of their lives at a Beaches Resort!