When I'm planning a vacation, my boys are always at the front of my mind. I want our experiences to be ones that they can embrace…ones that will create memories to last their entire lives. Recently Beaches Resorts invited my family to the Beaches Negril resort in Jamaica to give us a first-hand look at what Beaches has to offer. And within minutes of arriving, I could tell that a Beaches Resorts kids vacation would be any child's dream come true!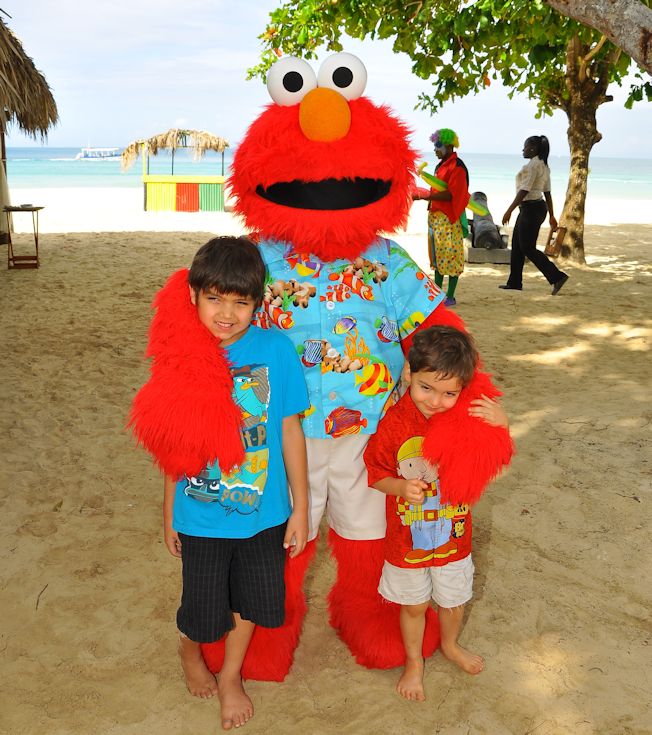 Family Fun
So what makes Beaches vacations for families such an ideal choice for children? It starts with the variety of family activities that give parents a chance to bond with their kids in amazing ways. And because the company believes in innovation, it is constantly offering new options that are sure to delight children and parents alike.
One of the newest events at Beaches Negril is the Sesame Street Carnival Celebration parade in celebration of the ten-year partnership between Beaches and Sesame Street. Featuring all the favourite Sesame Street characters in beautifully elaborate Carnival costumes, it's sure to be magical experience. We had the chance to see the parade just minutes after arriving at the resort, and I couldn't help but grin when I saw Oscar the Grouch's flag made of an old sock on stick!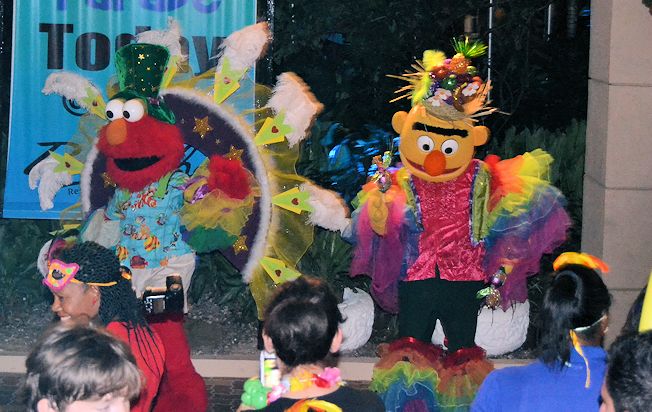 Also new to the resort this year is the Pop-Up Adventure Playground, a unique play concept that encourages child-directed play through the use of kid-friendly objects. As a huge believer in the importance of learning through play, this concept was one that resonated especially well with me.
With nothing more than a pile of different materials and a ton of imagination, kids were creating everything from toy pirates to airplanes to placemats and having a great time doing it. My boys walked away from the Pop-Up Adventure Playground with an armload of crafts that they couldn't wait to show off to family back home.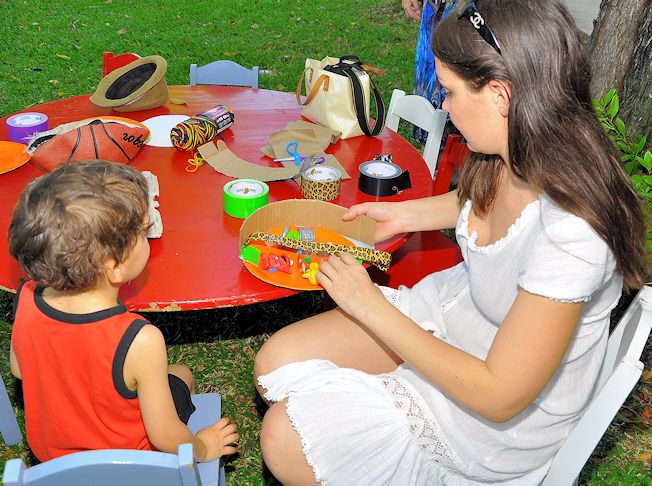 Top-Notch Childcare
Of course, there are always times when Mom and Dad need a little break and that's why Beaches offers a supervised Kids Camp for all ages featuring certified nannies, numerous activities and plenty of interaction.
In fact, Beaches is the only major resort to offer included childcare services for babies as well as older children! Every Beaches Resort Kids Camp staff member is a member of the International Nanny Association and has met the minimum requirement of 2,000 hours of child-care services to ensure that they are providing the absolute best care to the children that attend a Kids Camp.
I was impressed with the great variety of activities that the Beaches Resorts Kids Club provided. From crafts to playground time to free play with toys and games, there was plenty to keep little hands and minds occupied. And at a Beaches Resort, there's no need to hurry back if you have lunch plans. The staff will even take the children out to eat while the cleaning crew sanitizes the play areas so that everything is ready for an afternoon of fun. Even better, sometimes one of the Sesame Street characters stop by to say hi and play with the kids too!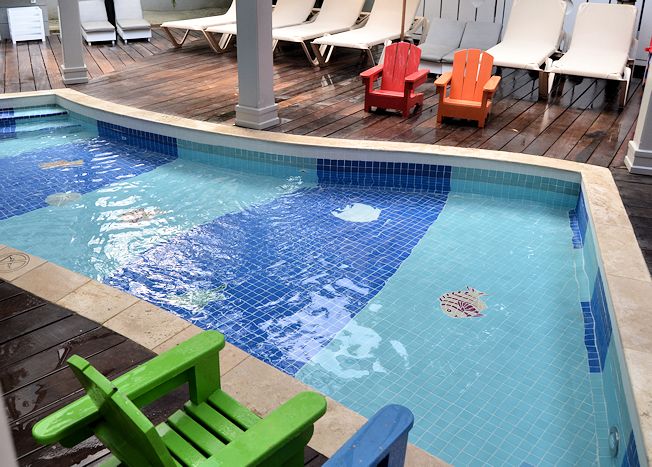 Water Fun for Everyone
Of course, a vacation in beautiful Jamaica wouldn't be complete without plenty of time in the water! The Beaches Negril resort features two larger, deeper pools for families and adults and the incredibly popular Pirate's Island Waterpark. Featuring 200' long waterslides, a misting pool, a Kiddie area, pop-up jets and a winding current-driven waterway called the Lazy River, it's packed with kid-friendly fun for all ages! And because Beaches takes the safety of children very seriously, trained lifeguards monitor the pools and the swimming area on the beach.
The large pools were a little deep for my beginning swimmer boys, so even though we had to have an icy drink at the swim-up bar, it was the Lazy River and the Kiddie Area that really captivated my boys. The Kiddie Area featured fun shooting jets and mini waterslides perfect for toddlers and preschoolers to enjoy some refreshing fun.
And riding tubes around the Lazy River was something children and adults alike embraced. The current made walking around the watery path a speedy thrill for those that preferred to navigate the river without a tube, and thanks to the variety of life jackets available, even young children could hop into a tube and float around the river on their own.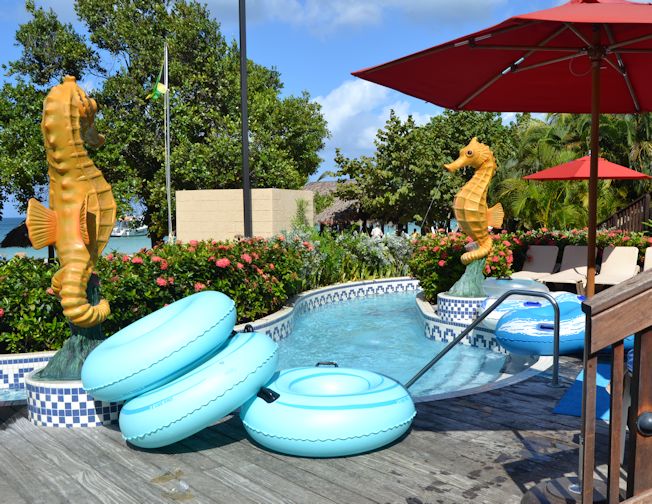 Entertainment for All Ages
There were so many fun activities for kids at the Beaches Negril resort but what impressed me most was the fact that the resort puts so much effort into ensuring that there is plenty of variety so that toddlers, school-aged children, tweens and teens can all find something fun to do.
My video game-obsessed oldest son was in paradise when he discovered the Xbox Play Lounge, an air-conditioned haven featuring tons of Xbox screens and games for kids with unlimited play. And with two Xbox Kinect systems set up as well, even parents often get in on the fun! I tried out the Kinect system for the first time playing a round of Dance Central and it was absolutely addictive!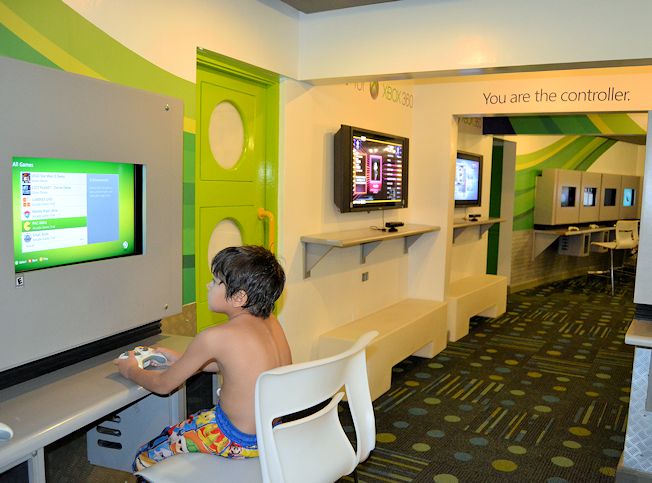 For younger children, daily activities and crafts featuring the characters from Sesame Street are sure to be a hit. From a Trash to Treasure craft experience with Oscar the Grouch to a Bake with Cookie Monster experience that lets junior chefs whip up their own tasty snack, the activities are made extra special when a child's favourite Sesame Street character stops by to lend a hand! And in the evenings, the fun continues with nightly Sesame Street shows followed by great family entertainment for kids and adults alike.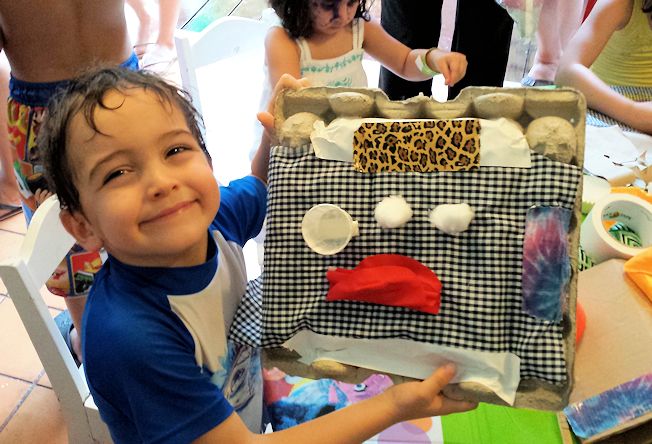 For tweens and teens, special clubs such as Trench Town and Club Liquid give older children a place to relax, get away from their parents and enjoy a little time with other teenagers at the resort. Club Liquid is a "no parents allowed" nightclub that teenagers are sure to love. And Trench Town features a range of games and activities including Air Hockey, Foosball and Basketball cages.
There are even exclusive experiences geared especially towards teens, such as the hugely popular Scratch DJ Academy. Working with real, trained DJs, kids get a chance to mix, blend and scratch on vinyl, CDs or even their iPods! Teens will love having a chance to earn the rank of Ultimate DJ!
Whether you're heading on a vacation with an infant, a younger child or a hard-to-please teenager, Beaches has put a huge amount of effort into making sure that your child's vacation will be one to remember for a lifetime. That attention to detail is why Beaches Resorts are the top pick for family vacations, and why it's going to be at the top of my list when I'm planning another family trip!